Welcome to Sugarbeat's Books – The Home of the Romance Novel!
It's time to announce a change here at Sugarbeat's Books. I've decided that I won't be accepting anymore outside submissions for my blog. I won't be accepting books from authors in exchange for a review, I won't be doing any other features by request.
To be honest, I haven't been accepting reviews requests in some time. I found it upsetting to have to tell an author I didn't like their book. Frankly, I don't want to finish a book that I'm not enjoying. I have lots of books in the house so I would rather just move on to the next one in my TBR pile.
In August 2010 when I first started this blog, it never really occurred to me that anyone would read what I had to say. I've been pleasantly surprised and honored to have met some wonderful fellow readers via my blog. I remember reading a post early on about a blogger getting free books and was amazed. It never occurred to me to start blogging to get free books – I just wanted the technological challenge of creating a blog, and the freedom to express my thoughts on the books that I loved.
The free books started coming. With them were authors who wanted someone to talk about their book. Someone to like their book and to help them promote it.
Isn't the expression, "There isn't any free lunch"?
With free books comes not only a responsibility, but it also turns a hobby into work. Along with the increased visibility of a blog comes an increase in the requests from authors. I get hundreds of requests each month. There's only me. I don't have a staff of reviewers. I quickly found the requests overwhelming. In fact 6 months ago, I figured out that I was spending about 10 hours each week simply responding to emails. 10 hours that I could be reading. So I started only responding to emails for the books that I was interested in.
Stories periodically bubble to surface on social media about authors responding poorly to what in some cases aren't even bad reviews. That made me even more nervous about accepting requests from authors that I didn't know in some fashion.
The latest fervor to hit social media was an author stalking a reviewer for comments about a book that frankly weren't as bad as others that were posted. This situation was recently discussed at a conference that I attended. The blogger that was giving the talk stated that she had contingency plans in place to protect her kids  and her family if she was threatened. My mind came to a screeching halt. The fact that my hobby would put my family in danger was appalling to me.
At that point I knew that I needed to put my family's safety ahead of my hobby.
From now on, I'll be posting my thoughts about books that I like, that I've acquired from the used bookstore or the library – just like I did when I was first starting out. I won't be taking any outside requests. Going back to the way I started!
It pains me to be writing this post, but the world that existed when I first started blogging all those years ago isn't the world that exists now. I hope that my readers will continue to enjoy my thoughts on the books that I've read, and share their thoughts with me. I also hope that authors understand the position that I have been forced to take.
Welcome to Sugarbeat's Books!
Today we are going to do something a bit different. A collection of bloggers have gotten together to share our thoughts following the most recent uproar on social media regarding the actions of an author in response to some sharing their thoughts about her book.
We invite you to not only read all our thoughts, but to join us with your thoughts. Either leave comments on one of the posts, or create your own and in blogger fashion – link your post to ours using the Linky Thing at the bottom of my post.
 Reviewers vs Book Bloggers vs Readers
Yet again, we find ourselves in the middle of a fervor over another author and Goodreads member interaction gone bad. Every time a situation like this occurs on social media, terms are thrown around like weapons. "Authors" point at "Book Bloggers" and vice versa. "Authors comment on the skill level of 'Reviewers." It seems that anyone who shares their thoughts on books is called a "reviewer", but are they? And why is it necessary for us to use these term?
Reviewer….Book Blogger….Reader.
I'm a science grad, so I'm really big on definitions! Let's define these terms.
When I look the term 'Reviewer' up in the dictionary I find the following:
 a person who writes critical appraisals of books, plays, movies, etc., for publication.
 a person who formally assesses or examines something with a view to changing it if necessary.
I looked up the term 'reviewer' in several dictionaries and the definitions were all very similar. They all contained the words formal and critical. In other words, a reviewer creates something that is well thought out, detailed, possibly follows an accepted pattern and involves finding pros and cons.
Seems like a pretty complicated thing, this review! Sounds like something that I've read in major newspapers or some leading literary publications. Honestly, it sounds like something I would read in the New York Times, not something that I would write on my blog.
Is there any wiggle room in the term 'Reviewer?' For example, some Reviewers seem to have a professional certification in the task of reviewing? I would image Reviewers that work for some of the major publications have some qualifications that I don't have – degree in Literature or Creative Writing at the very least. I don't have these qualifications – I just have a love of books.
So maybe we should have "Reviewers" and 'reviewers.' When we create two types of reviewers, we allow for professionals and amateurs.
Let's think on this for a bit.
A Book Blogger is someone who has created a blog or website where they talk about books. The key point here is that they need the website or blog. Someone who talks about books on their Facebook page is someone who talks about books on their Facebook page – they are NOT Book Bloggers. Likewise, someone who shares their thoughts about books on Amazon or Goodreads but does not have a blog or website is also NOT a Book Blogger.
Let's think on this for a bit and move on to the term reader.
Let's define a reader as anyone who picks up the written word in whatever language and peruses it. Notice I didn't say 'read.' I'm a voracious reader, but sometimes when I pick up a book, I skim. I wouldn't say I read. Sometimes I'm trying to get to the 'good part'…
Readers are pretty cool people, if I do say so myself. If you sit down beside someone reading a book – on the subway, in the dance studio, or wherever you find one – and ask them "Is that book good?" They'll tell you.  They may tell you in one word, or you may start a half hour conversation. Most readers love to share their opinion of the books that they read. When you get to the end of a good book, don't you just want to talk about it with someone? I know that I do.
Let's talk about the places you can talk or share about that book that you just finished reading.  For those of us who kick it old school, we tell a friend. We meet them for coffee or pick up the phone and gush over how great a book was. When we go into work the next day, we tell coworkers.
I have a book blog and I share my thoughts about the books that I love on my blog. I don't have anyone in my real life that reads the same books that I do, but I have many followers who share my reading tastes. What is also interesting is that I can share my thoughts with people around the world. Within minutes of my posting some thoughts about a book, my friend from Qatar can be reading them.  Pretty cool! I don't just share my thoughts with one or two people, I share them with thousands.
A reader that doesn't have a blog or website (and even those who do) has other options than just sharing with a neighbor or co-worker. They can post their thoughts on a wide variety of platforms, including Goodreads, Booklikes, Shelfari, Library Thing, or any of the retailers (i.e. Amazon or Barnes & Noble).
Let's face it, people have been sharing their thoughts on books for many, many years.  They share their thoughts to the level of their ability.
Do we expect the same level of detail or knowledge from an amateur as a professional? Of course not, that would be silly. Would we expect the same level of coherency in a review from a 12 year old as we would from a university graduate with a degree in Literature? Of course not, that would also be silly. Just like in life, we don't expect 12 year olds to have the same level of maturity as adults. But we still encourage them to share an opinion.
Would you be offended if someone sat beside you on the bus, asked you your opinion about the book you were reading, and then told you, you weren't old enough to have an opinion? Or told you that because you don't have a university degree, that your opinion is invalid. I know I would be.
I rarely pay attention to 'professional' reviews. I put more stock in what my friends say about a book. I also frequently pick up a book because of something I read in a fellow blogger's review – especially a negative review. Either I can't believe that a book I was looking forward to reading is REALLY THAT BAD and I need to find out for myself, or something that my friend finds objectionable makes me want to read that book.
Do we want to live in a society where only other authors can have an opinion on books? Wouldn't that be the same as one where only chefs can tell us if our meal is good, and only other artists can have an opinion of a painting?
I don't want to live in that kind of world. I love the look on the face of someone who just read a book that I recommended to them. Equally, I love an hour's discussion on the pros and cons of a book the lady sitting next to me at the dance studio is reading. This makes my day, if not, my whole week sometimes.
I'm very careful with words. I'm an author. Am I splitting hairs over terms? When they are used as weapons, you betcha.
Instead of using the labels of 'Reviewer' or 'Book Blogger' as weapons, or dismissing someone's opinion about a book that they have just finished reading, shouldn't we be thankful for 2 things:
1)   The fact that someone is talking about a book – I would think that silence is worse
2)   The fact that books are being bought and authors are being paid.
To think that someone expressing a negative comment about a book will ruin a career is to dismiss the intelligence of readers. In fact, if negative reviews ruin an author's career, JK Rowlings and EL James should not be millionaires!
We don't have to be 'Book Bloggers' or 'Reviewers' to determine the difference between someone venting in a nasty way and someone sharing their honest thoughts about a book they have just read. Most readers can do that.
[inlinkz_linkup id=464019 mode=1]
A little taste of the entertaining and informative columns in November BTS Book Reviews magazine.
See all 6 sexy books covered in Nikki's column.
Heat Diva
Sizzling It Up Indie Style
By Nikki McCarver
Many people are on the fence when it comes to indie publishing. I can't help but ask them why. The indie explosion is quite fascinating and has opened so many doors for so many incredibly talented people to share their work. I say don't knock until you try it . . . and the Diva has quite a few naughty nibbles for you to sink your teeth in. The great thing about indie publishing is that the rules don't apply. You end up having a literal smorgasbord of raw sex scenes that will make your toes and other areas . . . curl . . .
Heat Level: 3 Flames
Hot, Hot, Hot Indie Paranormals.
Dead Sexy by Paige Tyler (Indie Book— available now)
http://www.goodreads.com/book/show/18218005-dead-sexy?from_search=true
My vote is that this lovely lady should go from Paige Tyler to Paige Turner . . . such is the way of her books. This unique and incredibly hot partial-zombie wonder is a masterpiece of love, suspense, and panty-drenching sex scenes. If paranormals are not your forte, but contemporary BDSM (bondage, discipline, dominance, submission, sadism, masochism) scenes are? Please take a look at some of her other books. They will absolutely make your nights more memorable.
Discover great tips on promotions from author Mary Manners. Read the full column for full details on "getting twitterpated".
Get Twitterpated
By Mary Manners
So, you've just signed a contract for your first book or perhaps even published as an indie author. Or, maybe you're on the journey to publication and looking for a great editor or agent while you're hashing out the final edits. Whether a seasoned author, a newbie author, or a wannabe author, how does one connect with other writers and readers who share the same interests without losing an abundance of precious writing time?
One of the answers is Twitter. With a little practice and a bit of patience, navigating Twitter is fairly easy. Here are the basics:
- Set Up an Account
– Choose a username that is as close to yours as possible, so others can easily find you. Avoid using underscores if possible. If someone shares your name, you can add a numeral after yours. For example, my username is marymanners1.
- Add a short bio that's catchy and gives viewers a snapshot of who you are. Be sure to include both a
touch of professionalism and a tidbit of personal. Do you love dark chocolate? Consider flavored coffee a food group? Hike the Himalayas for kicks and giggles? Let viewers know. A bit of humor goes a long way.
– Find Friends and Colleagues
One way to do this is to start with people from your writing circle and see whom they follow and who follows them. By checking out profiles, you should begin to easily build your follow group. Most people will acknowledge new followers with a thank-you and are happy to follow back. Another way to do this is to search hashtags that highlight
your interests, such as #writing, #inspyromance, etc. This type of search will bring up others who share your
interests. You can subgroup your followers into lists so each may be located quickly and easily.
Compose Your Tweets
#K8chat is a weekly chat for authors AND readers. Every week we join together to talk about a new book/publishing topic, usually with an awesome special guest and prizes! #k8chat is held every Thursday at 9pm Eastern. You can check out our previous chats log on the #K8chat page.
This week on #K8chat Kate Tilton (@K8Tilton) will be will be hosting with me as the special guest! (@sugarbeatbc). I'll be on to chat to talk romance in writing! What are your favorite romance stories? How much romance do you like in your book? Bring your recommendations!
We hope to see you there!
"Love Bites" Pre-Release
Event & Giveaway Line-Up
On May 10th at 6pm EST, a virtual kick-off party is scheduled to take place where readers will have an opportunity to interact and ask questions of the anthology authors: Lori Foster, Brenda Jackson, Virna DePaul, Catherine Mann, and Jules Bennett.
RSVP for the event at  http://www.eventbrite.com/event/3434726359/  for a chance to win a complete signed set of the Primal Instinct series plus "Deadly Is the Kiss" by Rhyannon Byrd (9 books total)!!
During the live event, each of the anthology authors will be giving away one autographed book to a guest from the pre-registration sign-up.  You must attend the event and be present to win a prize.  One of the books being given away is a Limited Edition Print Copy of "Love Bites" signed by all five authors!!
Other ways to win more books:
Exclusively for my newsletter friends: Those that pre-register by clicking on this link: http://www.eventbrite.com/event/3434726359/ and providing your information will be entered to win an autographed copy of Tawny Weber's upcoming Blaze "Blazing Bedtimes Vol. VII" (with Rhonda Nelson).
Follow along on the anthology website, http://www.lovebitesantho.com, to see author and blogger pet pictures.  Each week we'll be giving away more books to commenters!
Coming on May 10th, the same day as the live kick-off event, the "Love Bites" Facebook page will launch. This page will allow readers to stay connected with the anthology authors during the pre-release. Additionally, US residents will be able to share their own "love bites" pet story in order to be entered into a sweepstakes for the chance to win more autographed books donated by each of the anthology authors! The sweepstakes will run from May 10th – June 1st.
The "Love Bites" anthology is set to release on June 1st, and will be available in digital eBook format.
Stay up to date on the latest "Love Bites" event news by visiting
http://www.lovebitesantho.com
Welcome to Sugarbeat's Books – The Home of the Romance Novel!
Welcome to Friday! We're going to take some time to talk about upcoming events!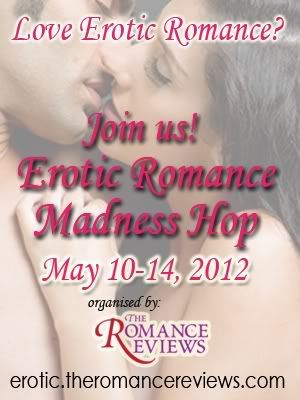 The Romance Reviews is hosting an Erotic Romance Madness Hop.
The date is approaching fast – May 10th to 14th.  Put this on your calendar and stay tuned for more details. Events on The Romance Reviews are always fun and filled with great prizes! I'm not participating in this hop as a blogger/host, but I'm planning on winning some cool prizes and books!  For more information click HERE.
*     *     *     *     *
Now on to books to be released soon….I guess I need to hope for a late season snowstorm to allow me enough time to read….
On May 29th, I'll be sitting waiting for the bookstore to open to get: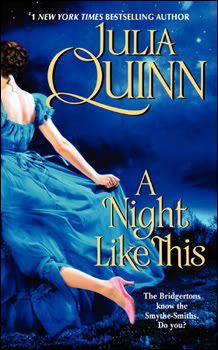 Anne Wynter might not be who she says she is…
But she's managing quite well as a governess to three highborn young ladies. Her job can be a challenge— in a single week she finds herself hiding in a closet full of tubas, playing an evil queen in a play that might be a tragedy (or might be a comedy— no one is sure), and tending to the wounds of the oh-so-dashing Earl of Winstead. After years of dodging unwanted advances, he's the first man who has truly tempted her, and it's getting harder and harder to remind herself that a governess has no business flirting with a nobleman.
Daniel Smythe-Smith Might be in mortal danger…
But that's not going to stop the young earl from falling in love. And when he spies a mysterious woman at his family's annual musicale, he vows to pursue her, even if that means spending his days with a ten-year-old who thinks she's a unicorn. But Daniel has an enemy, one who has vowed to see him dead. And when Anne is thrown into peril, he will stop at nothing to ensure their happy ending…

May 22nd is D Day for the next in Karen Hawkin's series.
The fourth book in the Hurst Amulet Series
A DETERMINED EXPLORER
When famed Egyptologist Michael Hurst discovers that the infamous Hurst Amulet is hidden in Scotland, he insists his trusted assistant, Miss Jane Smythe-Haughton, accompany him north. Strangely, the usually unflappable Jane seems perturbed by their destination—the mysterious Isle of Barra. A fascinated Michael watches as his staid assistant transforms, revealing intriguing layers of mystery and vulnerability. Could he be about to uncover not one, but two, precious treasures?
A DAUNTLESS PRINCESS
Once her clan's princess, Jane fled Barra years ago to avoid a forced marriage. Since then, she has made her living as efficient Miss Smythe-Haughton—the perfect (and highly paid) assistant. Now she must confront her secrets . . . including her feelings for her irascible employer, too-handsome-for-his-own-good Michael Hurst.
A PERILOUS PLEASURE
Others are also searching for the missing amulet, however. Can Jane and Michael learn to trust each other in time to solve two riddles: the location of the Hurst Amulet, and the meaning of the vivid passion flaring between them?

And on May 29th, the highly anticipated book from Elizabeth Boyle!  Check out this blurb:
Along Came A Duke
The Duke of Preston is about to take a Bride . . . or so he thinks
The Duke of Preston has ruined more young ladies than Society can tolerate and turns their collective back to him and his family. In order to retake their place in Society, his aunt insists he take a bride to regain their respectability.
What Preston never imagines is that he will fall in love with the most unlikely of ladies–Miss Tabitha Timmons, a vicar's daughter who is cursed in love and vowed never to marry. Now it is up to the notorious duke to change her mind and teach her lesson in love–before the infamous Kempton curse catches up with them.
With 2 books being released on the same day, I guess we know where I'll be for the next few days after that!
What's new on your Friday?
So….you can imagine my surprise when I logged onto my computer this morning…..coffee in hand and spotted this:
I stared.  Clutching my cup of coffee.  Really??  Were they referring to me?  I need time to finish my first cup of coffee to decided if I was really seeing what I thought I was seeing.
Very Cool!
I have had people dropping to visit all day!
My day got even better!  Just before lunch the courier showed up and my door with my new collection of swag from Avon!  In addition to my t-shirt
I also got another pile of books! See?
Pretty exciting! Not only did I get a Lynsay Sands beach ball and a Jeaniene Frost notepad, but I also got 5 copies of Confessions from an Arranged Marriage by Miranda Neville, Wicked Road to Hell by Juiana Stone, Kiss of Pride by Sandra Hill and Rescue Me by Rachel Gibson!
Do you see a giveaway in your future?? Stay tuned….I'll read these as fast as I can and then I'll pass them on!
I'm enjoying being an Avon Addict!
Related articles