Welcome to Sugarbeat's Books – The Home of the Romance Novel!
Welcome also to Series Sunday!
Series Sundays is the day when I celebrate books written in series.  For the past few weeks I have been posting reviews for Sabrina Jeffries' latest series – The Hellions of Halstead Hall. This series started quite some time ago – don't we always wish that our favorite authors could write faster – and publishers publish books faster – anyways, it is nearing an end.  Today I'm posting my thoughts on the 4th book in this 5 book series.  I have to admit, I've finished the 5 th book – I had to haunt the bookstore on release day – but that's another story
  The 5th book, as you'll find out next week is a wonderful conclusion to this latest series.
Today's topic is Gabe – the youngest male in this interesting group of siblings – and the woman who can challenge him!  Enjoy!
To Wed a Wild Lord by Sabrina Jeffries
ISBN: 978-1-4516-4240-7
Publisher: Pocket Star Books
Release: 2011
Source: I purchased a copy of this book to read and review

 To Fulfill his grandmother's ultimatum, Lord Gabriel Sharpe pursues a spitfire he believes desperately need him. Then the tables are turned….

Like everything daredevil Gabe Sharpe does, wooing Virginia Waverly is a high-stakes game. Ever since her brother, Roger died racing Lord Gabriel, Virginia had yearned to take her revenge on the reckless lord by beating him at his own sport. But when she challenges Lord Gabriel to a race, the hellion called the "Angel of Death" counters with a marriage proposal! Gabe knows Virginia is in dire financial straits – so why not marry her and solve both of their problems? She claims to be appalled by his proposal, but her response to his kisses says otherwise. And when the two of them begin to unravel the truth behind Roger's death, Gabe takes the greatest gamble of all, offering the courageous beauty something more precious than any inheritance: true love.
To Wed a Wild Lord is the fourth book in Sabrina Jeffries's The Hellions of Halstead Hall series. This series is about a group of siblings who lost both of their parents in what was assumed to be a murder/suicide many years ago. These siblings – the Sharpe siblings were brought up by their maternal grandmother – a brewer and a commoner. Hetty Plumtree, the grandmother is getting on in years and none of her grandchildren show any signs of settling down and providing her with grandchildren. She decides to take matters into her own hands and announces that none of her grandchildren will get a penny of her considerable estate if they don't ALL marry within the year.
To not giveaway any of the details of this delightful series, we have had the pleasure of reading the stories of 3 of the siblings, and there are two more to go. To Wed a Wild Lord is the story of Gabe, the youngest of the boys. He is a hellion in his own right, gambling and horse-racing to keep him in pocket cash. One unfortunate accident several years ago saw the death of his friend, Roger Waverly during one of these races. Since then, Gabe doesn't seen to care if he lives or dies and races one risky race after another to the extent that he is referred to as the "Angel of Death". When he is challenged to a race by Virginia Waverly, Roger's sister, he sees a solution to the ultimatum from his grandmother. He figures if he courts and marries Virginia, he provides for her financially because her brother can no longer, and he makes his grandmother happy. Convincing Virginia to marry the man she holds responsible for her brother's death is a stretch, but Gabe is up to the task.
I found this book to be another delightful installment in the story of the Sharpe siblings. Starting with the first book, the story of the parent's supposed murder/suicide starts to be investigated and the information that is uncovered in this book takes us one step closer to finding out the truth. There are alot of the aspects of the story that weave themselves through each part of this series. I'm not certain each book could be read as a stand-alone. Read in order, the books form a cohesive group. I like the different view of the siblings in this book. I found this book somewhat darker than the rest, I think because of Gabe's fatalistic attitude. Sabrina Jeffries does such a wonderful job of creating characters. Each book of her's allows us insight into a new set of main characters as well as a continuing look at the characters that have already been talked about. What was particularly interesting is that Hetty gets a potential love interest in this book. I'm looking forward to reading more about that hopefully in Celia's story which is due in the spring.
Sabrina Jeffries has the ability to create a world in which the reader immerses themselves and just experiences that story as it is unfolded before them. Time passes without notice, and the story is weaved like a tapestry with all the connecting threads.
Although I am a long time lover of Ms. Jeffries work and quite biased, I am really enjoying this latest series, and recommend it highly! I'm looking forward to Celia's story!
Related articles
Welcome to Sugarbeat's Books – The Home of the Romance Novel
Welcome also to Series Sunday!
For the past few weeks we have been looking at Sabrina Jeffries latest series – The Hellions of Halstead Hall.  The first book was the Truth of Lord Stoneville, the second book was A Hellion in Her Bed, and that brings us to the third book in the series, How to Woo a Reluctant Lady.  I've included a short excerpt from this book to give you a feel for the story.
How to Woo a Reluctant Lady by Sabrina Jeffries
ISBN: 1439167559
Publisher: Pocket Star
Release: Jan 18, 2011
Source: I received a copy of this book from the author to read and review
When a charming rogue proposes she marry him to meet her grandmother's ultimatum, the Sharpe clan's strong-willed sister makes a tempting counter-offer that preserves her inheritance and ignites his imagination.
Lady Minerva Sharpe has the perfect plan to thwart her grandmother's demands: become engaged to a rogue! Surely Gran would rather release her inheritance than see her wed a scoundrel. And who better to play the part of Minerva's would-be husband than wild barrister Giles Masters, the very inspiration for the handsome spy in the popular Gothic novels she writes? The memory of his passionate kiss on her nineteenth birthday has lingered in Minerva's imagination, though she has no intention of really falling for such a rakehell, much less marrying him. Little does she know, he really is a covert government operative. When they team up to investigate the mystery behind her parents' deaths, their fake betrothal leads to red-hot desire. Then Minerva discovers Giles's secret double life, and he must use all the cunning tricks of his trade to find his way back into her heart.
What happens when you take a strong-willed, on the shelf, gothic romance writer and a barrister that is actually a spy for the goverment? You get the latest hair-raising ride in the "Hellions of Halstead Hall" series! Get set for fast action, incredibly sensuality, and a clash of strong-willed characters destined to be together.
Welcome to the world of Sabrina Jeffries' latest series about the Hellions of Halstead Hall!  These "Hellions" are the strong willed Sharpe children. There are 5 of them, Oliver, Jarret, Minerva, Gabe and Celia. They were orphaned many years ago when both of their parents died. Some say it was a murder-suicide, but Hetty Plumtree, their maternal grandmother did whatever she could to quiet the scandal hide the true details, and took the 5 children away to live with her. She was a working class woman who's family owns and runs a brewery. She had arranged for her only daughter to marry a title, a decision that, in hindsight, she heartily regrets! She is now getting older and having some health problems and is determined to hold some great-grandchildren before she dies. Since none of her grandchildren seem to be willing to settle down and marry, she makes an ultimatum. If they don't all marry within the year, none of them will inherit her money.
Here we are at book three already! These Sharpe "children" are a strong willed lot! We have had a chance to look at Oliver and Jarrett's attempts to foil their grandmother, now it is Minerva's turn. Minerva has had a lifelong attraction to Giles Masters, one of her brothers' friends. After one unfortunate encounter several years ago, she has decided that he can go to the devil. When she starts writing torrid gothic romances, she models her villian after Giles!
When Giles finds out that Minerva has published an advertisement for a husband in a popular lady's magazine, he decides that enough is enough. No other man is going to have Minerva and he heads over to to Halstead Hall to interview for the position of "husband". Minerva has decided that if she creates enough of a scandal around her Grandmother forcing her to marry, the old woman will back off. What better way to get a rise out of her grandmother than advertising for a husband and have crowds of men appear wanting to interview for the position. She doesn't count on Giles appearing, but after some thought decides that a pretend engagement is just the thing to piss of her grandmother and both her brothers!
"Over my dead body!"

Hetty heard Oliver's roar from two halls over and hurried toward it as fast as her cane could take her. He must have found Minerva. Damned girl. Why couldn't she just marry some decent fellow and be done with it? Why did she have to drum up this nonsense about interviewing fools she solicited in the papers like a common whore?

Well, Oliver would put an end to that-he wouldn't want Minerva marrying some stranger either, thank God.

She followed the sound of heated voices into the Chinese drawing room, then stopped short. Oliver was squared off against that rogue Giles Masters-God only knew when he had snuck in. And Minerva stood with her hand tucked in the crook of Giles's elbow.

"What has happened?" Hetty demanded.

Oliver shot her an angry glance. "Masters has some idiotic idea that he's going to marry Minerva."

Hetty dragged in a breath. Masters? With her granddaughter? Never. ……

Minerva shot Hetty a sly glance. "You gave no rules for whom we could marry, Gram, just when we had to marry"
Sabrina Jeffries has the ability to create characters so real that they leap off the pages of her books! You cheer for them, boo at them, and encourage them along. Time passes, and you are oblivious, because you are wound up in the story. The historical details that she throws in adds depth to the story that is being woven around these characters. She provides just enough history of what has gone on in previous stories to keep the thread of the characters going, yet each book could easily be read as a stand-alone. In this particular series, I just love the character of Hetty. She's had a hard life. She's made bad decisions. But she lives life to it's fullest, trying not to dwell on her mistakes. She's determined to be the strong woman that she is and not show weakness in front of her grandchildren.
We are given more details of the Sharpe parents' deaths – some questions are answered, but we still don't know what happened yet. I think that we meet Gabe's "nemesis" and are given a glimpse into a possible attraction for Celia. According to Ms. Jeffries' website, the next book is called To Wed A Wild Lord
For those of you uninitiated into the world of the Hellions of Halstead Hall, you need to pick up the previous two books and find a comfy chair and hang on for the ride!
Related articles
Amazon Purchase Link for How to Woo a Reluctant Lady (The Hellions of Halstead Hall)
Welcome to Sugarbeat's Books – The Home of the Romance Novel
I'm trying something new today!  While my blog was down in late December and early January,  I had a chance to think about what I wanted for the direction for my blog when I got everything back up and running again.  The thing that I missed was the social aspect of having a blog.  When my blog first stared, I spent every Friday wandering from book blogger to book blogger saying hi to old friends and meeting new ones.  I've gotten a bit too busy with work to be able to devote a whole Friday to being social.  I thought I'd try something along the same lines.  I'd introduce all of you to some of the interesting people I've met over my time being a book blogger!
Today we are going to start with my friend Theresa from Fade into Fantasy.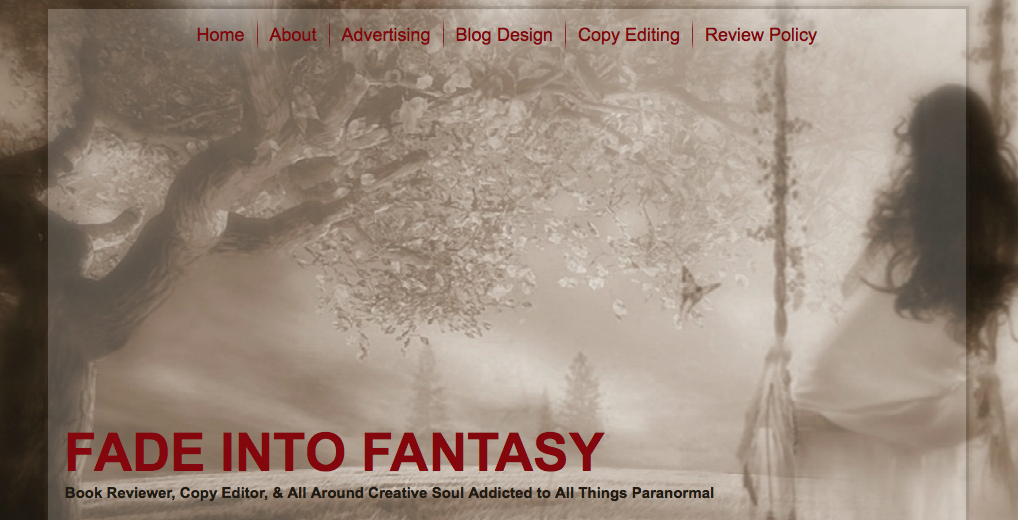 This is what you see when you bring up Theresa's blog!  She is the designer of this blog and as you can see – she's way more creative than I am
  I gave Theresa a set of questions a couple of weeks ago to answer, so let's learn more about her and then I'll send you all over to visit her blog and say hi
Barb -Tell us a bit about yourself.
Theresa – Just for the record, I hate these questions. LOL I see myself as a boring, part-time bookstore employee who is addicted to words and books, but from what I'm told, I'm more complex than that. Basically, I'm just a creative soul with a passion for all things paranormal who didn't figure out what I wanted to do with my life until discovering book blogging at the age of 34.
Barb – How long have you been blogging?
Theresa – My first blog post was probably a couple of years ago, but I didn't really start blogging until my first book blog post on October 13, 2010 (yes, I remember the date LOL).
Barb – What made you decide to start book blogging?
Theresa – Living with hubby and 5 boys who don't like to read makes it very hard to talk about books. I really just wanted to be able to document my thoughts on what I was reading and what I was excited about, while throwing out the occasional "me" post. I had no clue what book blogging really was and I'm so thankful that the community was (is) so fabulous and helpful!
Barb – How did you come up with your blog name?
Theresa – My blog started out as The Creative Well, where I posted about all of the creative endeavors I was trying. When I decided to start book blogging and committed myself to blogging regularly, I realized that I needed a name that was more relevant to my preferred genres. To me, fantasy = everything other than reality, so when you Fade Into Fantasy, you're escaping reality. Makes sense in my head, anyway. lol
Barb – Describe your blog.
Theresa – The tagline for my blog is: Book Blogger, Copyeditor, and all around creative soul addicted to all things paranormal. Over the last 6-8 years, I've taught myself how to create hemp jewelry, crochet, sew, paint, art journal, and dabbled with photography. Now that I've narrowed my focus to everything book related, I've learned copyediting, blog design, and have started to play with cover designs. My blog is a book blog that focuses on all paranormal genres, but I wanted people to know that creativity is a big part of my life and there may be posts about my latest experiments. Hopefully, the tagline portrays that.
Barb – What is your favorite genre to read and why?
Theresa – Paranormal romance always has been and always will be my favorite genre. I'm drawn to bad boys and if they're sexy and dangerous, then even better!
Barb – What is your most favorite book(s) and author(s)?
Theresa – Really? This must be payback for all of the times that I've asked other people this question. LOL I absolutely love the Black Daggar Brotherhood series by JR Ward, the Changeling series by Dani Harper, Danann Frost Falls From Grace by Joann Valiukas, but those are just the tip of the iceberg. I also read Children of Paranoia by Trevor Shane this fall and I still catch myself thinking about that one. I wasn't my normal genre, but has stuck with me.
Barb – What entices you to read a book – the cover or the blurb?
Theresa – Honestly, I'm a cover whore. I'm a little ashamed to admit it, but we all know how important a good cover is, right? Of course, I still won't read the book if the blurb doesn't sound interesting enough.
Barb – Have you written a book yourself or are you planning to in the future?
Theresa – I've started a couple of books, but never tend to make it past a few thousand words. Organization and outlining have never been my forte, but I'm convinced that if I ever want to finish something, I'm going to have to outline first.
Barb – Is there an Author that you would really like to meet?
Theresa – Many! Lauren Oliver — because she took the time out of her day (even when sick with a cold) to write a post for my little blog, Tina Folsom — because her writing is beautiful and sexy at the same time and I would love to get some pointers from her, and if I'm allowed to meet someone who is dead, it would be Edgar Allen Poe — because I would love to be able to look into the eyes of that man and see what he was really like.
Barb – Do you prefer ebooks, paperbacks or hardcover? Why?
Theresa – There is something special about hardcovers, but since I do most of my reading in bed, I prefer paperbacks. I own a nook, but nothing compares to holding a good book and turning pages.
Barb – What book are you currently reading?
Theresa – Right now, I'm actually reading two books. Green by Jay Lake, and The Darkening Dream by Andy Gavin. I'm enjoying the both, but Green is one of those books that a person needs a break from.
Barb – What genre of book do you know that you will never read?
Theresa – I will never read a western, do not like sci-fi, and can't bring myself to read a zombie book. I tend to stick pretty close to my preferred genres, but am not opposed to trying something new IF it peaks my interest.
Barb – Are there any new Authors that have grasped your interest recently and why?
Theresa – I am really liking Andy Gavin's book, The Darkening Dream. It's a paranormal/historical/YA that takes place in 1913 Salem, Massachusetts. There are ugly vampires, religious relics, warlocks, demons, and young adults who not only have to deal with the creeps, but also have to deal with arranged marriages, and teen pressure. All while the world is just discovering the first Ford Model T. Mr. Gavin has done a remarkable job writing an original story!
Barb – Roughly how many review requests do you get each month?
Theresa – Since I've been a bit slack with my blogging schedule lately, they have cut down. When I was posting every day, I would get at least one request per day. Lately, it's about three per week.
Barb – How often do you blog?
Theresa – At this time, only a couple of days per week. I'll be back to 4-5 days per week by the beginning of February, though.
Barb – How many books do you read in a month – roughly?
Theresa – That's a tricky question since I'm also a copyeditor. LOL I read at least 2 per month for editing, and try to read 2 for pleasure.
Barb – How many of these books do you buy?
Theresa – Well, working at a bookstore has it's advantages, you know. lol I admit that I don't buy a ton of books because I can't afford to, but I do buy the books that I am anxious to read (and didn't get an ARC of), and I also buy a copy of a book that I love after reading the ARC. Of course, I buy books from series that have been raved about by other bloggers, too. Right now, I have the entire Mortal Instruments series, the Mercy Falls series, (and a few others) waiting patiently on my bookshelf for me to start reading them.
Barb – Where can we STALK you?
My blog: http://fadeintofantasy.com
My facebook page: http://www.facebook.com/FadeIntoFantasy
My Goodreads page: http://www.goodreads.com/user/show/4109659-theresa
Twitter: http://www.twitter.com/FadeIntoFantasy
Google+ https://plus.google.com/u/0/b/112340074281620397087/112340074281620397087/posts
I'd like to thank Theresa for being such a good sport and humoring me in my quest to introduce you all to my favorite bloggers!
Now, let's go over to Theresa's blog and say hi
Welcome to Sugarbeat's Books – The Home of the Romance Novel!
Today we are welcoming Donna Cummings to the blog!  She and I were talking about luscious highwaymen in romance novels and how there doesn't seem to be enough of them.  All a Highwayman needs to bring him around is a good woman – we all know this from the stories that we have read.  Really, a man dressed all in black robbing a damsel at gunpoint but is so gallant that he leaves her with a kiss on the hand – swoon worthy, isn't it.
Donna has a great book out, Lord Midnight.  You can tell the book is good from the cover (at least in my opinion!)  She is offering a copy to one lucky reader.  Just fill out the form at the bottom of this post to be entered!  This giveaway is international as it is an e-book being given away!
Let's find out what she has to say about our subject today!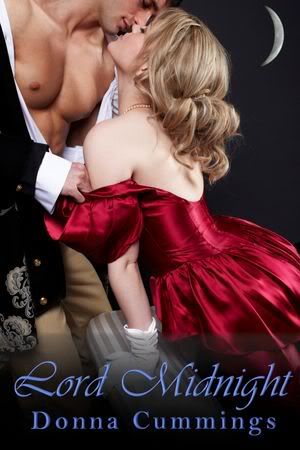 The Hero-Villain Spectrum by Dona Cummings

Every story needs at least one hero and a villain. They are opposing forces, trying to move toward a goal while keeping the other from reaching his or her objective. It's the push-pull of their efforts that keeps us turning pages when we should have turned out the light hours ago.
However, the hero isn't 100% pure goodness, nor is the villain 100% nasty evilness. That would be 100% predictable, and probably 200% boring. It's a lot more interesting when there is a 51%-49% split, with that 2% determining who is praised as a hero and who is booed as the villain.
In my Regency historical, Lord Midnight, Gabriel is a highwayman, living on the wrong side of the law. He does so because he has been robbed of his birthright and nearly killed by his uncle Edmund. Since Gabriel can't get justice, he seeks revenge, plotting to seduce his uncle's bride-to-be, in the home that once was his own.
Edmund has his own goals, ones which he considers worthy, even laudable. He wants a son to inherit his estate, the very one he stole by trying to kill the rightful heir. However, the world believes him to be a highly respected peer of the realm, a trusted adviser to the Prince Regent.
On the surface, Gabriel would seem to be more villain than hero, since he robs coaches for a living. He's also plotting revenge, and while it is based on righteous reasons, it would completely ruin an innocent's life. Gabriel has to decide if he is willing to let an act of vengeance transform him into the sort of person he has despised for years.
A villain, on the other hand, is not likely to struggle with the moral rightness of his motives. Edmund is convinced he's on the correct path, and when he thinks someone is trying to thwart him, he's genuinely hurt and puzzled. He's capable of tender emotions, just not for the same things that touch a hero's heart.
Here's a scene where the heroine, Marisa, has had to decide quickly who is villainous, and which man she can actually trust. She's just gotten Edmund to leave her bedchamber before he could discover Gabriel was hidden in her bed:
She whirled around at the sound of the laughter emanating from her bedcovers. The interloper lounged on her bed, his head resting on one upraised hand. Her knees nearly buckled from his heart-melting smile; the devilish blue eyes peering at her left her unaccountably breathless.

She could only assume her reaction was the aftermath of her experiences, first at seeing the highwayman in her bedchamber, followed by Edmund's unwelcome visit. Yet she had never responded to fear in this fashion, and it made her waspish.

"What do you think you were doing?"

"Hmm." He tossed the entangling bedcovers aside. "I think—no, I'm fairly certain on this point—I was nibbling on your delectable skin."

Her stomach plummeted, causing a tingling in regions of her body that seemed only remotely connected. How did he manage to cause such a wealth of unfamiliar sensations? Edmund had never incited such responses.

"You might have given yourself away," she chided.

"No, my sweet, you would have given me away."

"And well I should have," she retorted, knowing she was unable to do so. "It took all I possessed to retain my composure."

"A most admirable feat," he said as he approached her. "I must offer my abiding gratitude for your brave deed."

Marisa's gaze roamed the wickedly handsome man. He towered over her, yet not in the menacing fashion Edmund did. His smile was not a dastardly one, not with that dimple. And Marisa was certain real villains did not possess such startling white teeth.

Would a genuine scoundrel be the cause for the fluttering in her stomach, that unsettling feeling that something momentous was about to occur?

"Have you a weapon?"

His lips twitched as he reached into his boot. "I have this wee pistol, but in my profession, it is more for show than to do real harm."

Marisa watched as he replaced the gun.

"I do not possess the nerve to place the loaded thing into my boot, for I am dashed fond of my toes." His theatrical grimace made Marisa laugh. "And you could be safe in the next shire in the time it would take for me to ready the shot."

Marisa sighed.

"Are you frightened of me, angel?" He lifted one of her curls with his index finger.

"Not of you, no. Had I known of the pistol's proximity earlier, however, I might have prevailed on you to dispatch my betrothed."

He raised his eyebrows in an exaggerated fashion. "A bloodthirsty lass. Perhaps it is I who should be frightened of you."

Marisa laughed aloud. "I am the spawn of the devil. Or so Father has told me time and again. Unfortunately I cannot convince my father that the commotion attributed to me is not my fault, at least not due to genuine sinfulness."

"Indeed." He twisted her blonde curl about his finger, as spellbound as he had been during the robbery. "Perhaps it is because you are afflicted with other character defects as well."

"I will admit that my quest for knowledge has often led me down paths avoided by the fainthearted." Her curiosity could not be contained a moment longer. "Why are you here? Should you not be on the roadways?"

"I am a different sort of highwayman," he answered.

"Then you could take me with you! I could ride with you, just until I am so far away from here that Lord Westbrook is unable to find me. You would not need to concern yourself with me any further."

"It grieves me to refuse such a delightful invitation, but I fear I must."

"Why? I shall be no trouble. And I shall not sound the alarm against you. I have proven myself in that regard already. Twice in fact."

He studied her for several long moments. Hope and fear mingled together in those long moments of indecision.

He did not frighten her. Perhaps it was because her instincts assured her she would come to no harm with this man. He had had numerous opportunities, when he had stopped her carriage, and again when he had entered her bedchamber. Yet he had not availed himself of any, even when she was at the most vulnerable.

In truth she viewed him as an ally, unlike her traitorous brother. She could not pass up this chance to flee, to rescue Aunt Althea from the dire fate that awaited her if Marisa were to fail. It was not likely the highwayman would continue to appear each time she sent a prayer heavenward, asking for deliverance, so she had to avail herself of this opportunity.

At last he shook his head. "I cannot bring you with me. It is much too dangerous."

"It will not be dangerous, I assure you. I am an excellent horsewoman."

"It is dangerous for me as well," he said. "I have already tempted Fate more than is wise this evening. I must leave, and I must leave you behind."

"Of course," Marisa said, ducking her head, feeling the heat rise in her cheeks.

What had she been thinking? It had been a reckless notion, one she would have left unexpressed were it not for the need to take quick action. She was grateful he was a highwayman, and thus possessed of the chivalry to deny such a wild request.

So tell me, who are your favorite heroes? What type of villains do you like best? One lucky commenter will receive an e-copy of Lord Midnight.
Donna Cummings:  I have worked as an attorney, winery tasting room manager, and retail business owner, but nothing beats the thrill of writing humorous contemporary and historical romances.
Currently I reside in Massachusetts, although I fantasize about spending the rest of my days in a tropical locale, consuming mojitos for breakfast and wearing flip flops year-round.
I can be found on Twitter (@BookEmDonna), talking about writing and coffee, or on my blog at www.AllAboutTheWriting.com.
My books are available for purchase at Amazon, Barnes & Noble, and Smashwords.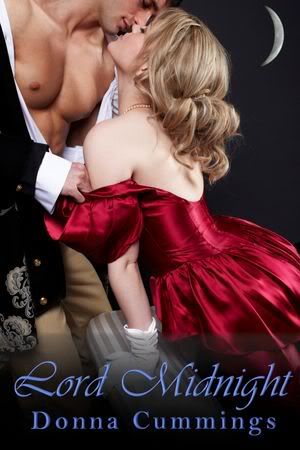 GABRIEL DeVAULT, a dashing highwayman, lives to avenge himself against the uncle who stole his title and tried to kill him as a child. One night's robbery yields unexpected riches when his uncle's spirited bride-to-be falls into Gabriel's arms. Now his plans for vengeance include seduction of the innocent miss, in the home that once was his own.
MARISA DUNSMORE is blackmailed into wedding the cold and calculating Edmund DeVault, Lord Westbrook, to protect her beloved aunt. When her attempts to escape the upcoming marriage fail, she turns to the man she knows as Lord Midnight, entrusting him with her love, and her future.
Soon Gabriel must choose: saving the woman who stole his heart, or destroying the man who stole his life.
I'd like to thank Donna for dropping by and sharing!  If you are interested in winning an e-copy of Lord Midnight, please fill out the form.  You'll notice that I'm adding extra points for anyone who follows Donna on Twitter
Good luck!
Welcome to Sugarbeat's Books – The Home of the Romance Novel
Today we are welcoming E. M. Tippetts to the blog!  She is the author of several books, including her latest, Someone Else's Fairytale. I must admit, I asked for a copy of this book and I'm about half way through.  I'm really enjoying it!!  Stay tuned for a review in the future!  I hope you enjoy her post and I hope that you give some thought to picking up a copy of her book!
Grab a coffee and sit back and enjoy E.M.'s post!
Crafting a Fairytale
by E.M. Tippetts
I had spent weeks wracking my brain for a novel concept I could get excited about. It seemed like every sweet story with a happy ending had been told already, and I reminded myself that I didn't have to let that stop me. New writers have breathed life into old tropes before, but I just wasn't feeling it. It was in a moment of exasperation that I hit upon my idea. I was skimming entertainment headlines and thinking about how so many women seemed to think that meeting and dating a famous guy would be a modern fairytale come true. Ridiculous! I thought. If I got hit on my an actor, I'd be annoyed, and not just because I'm already married. Who wants to deal with all the insanity that a famous person deals with? And there it was. My new novel idea. What if, I thought, I had a modern woman who isn't looking for a fairytale, and then I bring in a Hollywood actor who worships the ground she walks on.
Soon all sorts of funny situations and scenes popped into my head. He'd have hordes of adoring fans, but she wouldn't care. Millions of women would die to be in her shoes, but that also doesn't affect her. In fact, she find the actor more than a little annoying, so when he tries to do things that would make any other woman swoon, my main character would just roll her eyes and walk away.
But this is, obviously, still a very one dimensional idea. Since I wasn't interested in writing a farce, I had to dig a little deeper. I thought about fairytales, how much I loved them as a child and how they seem out of place in modern times. While most women wouldn't turn down a handsome prince, we don't tend to do the damsel in distress thing anymore. A modern woman is capable of slaying her own dragons and would most likely get around to it before any anonymous hero came calling. So did this mean fairytales are no longer relevant?
That made no sense to me. Fairytales still speak to us, or else we wouldn't know what they were these days. They'd have gone the way of Odes and Greek epics. Sure, we still know what those are, but they aren't as much a part of our modern literature and entertainment as our classic fairytales. So why do we still love the fairytale ending? What is it about the way it plays out that makes us yearn to read or watch it again and again?
That is the question I tacked in this novel. If my heroine doesn't dream of being rescued, is there anything any man can do to turn her head? Is it possible for him to find a way to carry her off in the sunset without diminishing her as a mere prop in his heroic feats? I think there is. I think my main character does find her Prince Charming, and I think you'll enjoy the journey she takes in the process.
Someone Else's Fairytale is about Chloe Winters, a senior in college and her own woman, and Jason Vanderholt, who is so famous that women flock to him whenever he sets foot in public. When these two meet, it isn't exactly a match made in heaven, but it is the beginning of a good story about life, love, and having the courage to hold out for our dreams.
Blurb:
Jason Vanderholt is the hottest actor in Hollywood with legions of screaming fans.
Chloe Winters is a college student who hasn't gotten around to seeing most if his movies.
When they meet by chance, he is smitten and she becomes the woman every other woman in America is dying to be, but it just isn't her fairytale.
Excerpt:
Jason looked up at me again, as if unsure what to say next. "Look, can I get your phone number?"
"Not to be rude, but why?"
"You seem really cool. Real down to earth. Talking like this? It's been nice."
"And you seem very nice." I looked past him at his security guys– that's what I assumed they were –all trying to look like they weren't with us. A group of girls headed in our direction and one of the men got up to block them. "You also have one of the weirdest jobs on the planet. Sorry, that's-"
He laughed. "The truth? Like I said, you seem really cool. I'm in town sometimes to see my family. We should hang out." He pulled out his phone.
It seemed rude to say no, so I gave him my number, and keyed his into my beat up little flip phone. More women and girls were streaming into the restaurant.
Jason turned and surveyed the scene. "Maybe this'll be good for business for you?"
"I can disarm the alarm so you can go out the back door?"
"That'd be great, but in a few. I can sign some autographs and stuff. Get them to buy food, I hope." He got to his feet.
"You don't have to-"
"It's cool." He and his guys all rallied together and turned to face the growing crowd.
I stole away. It was cowardly, but I had the feeling that if these women noticed me sitting at his table, they might lynch me. Besides, it was past time for me to get back to work. I ducked behind the counter and tied my apron on. Abby was wrestling with the Red Stuff machine, which dispensed a mix of cranberry juice and red tea that was very popular in the summer.
"Here," I said. I grasped the handle and twisted it back so that the machine would work again.
"Okay, so spill. How do you know him?"
Everyone behind the counter looked at me. "Shh," I said. "I don't want to get beaten up by a bunch of fans."
"Are you involved with him?" Abby asked.
"Um. No. He's dating Corey Cassidy, right? I barely know him. Like I said, he kind of knows my family and recognized me when I was an extra in his movie. He grew up in town."
"Yeah, I know," said Abby. "I have a friend of a friend who had a locker next to him at La Cueva. Junior year."
"Oh," I said. "Cool." He'd just told me that he hadn't been there for his junior year, but whatever. I felt a little sorry for anyone who felt the need to make up a claim like that. Surely they'd done something more interesting in their life than have a locker next to a guy who now pretended to be other people for a living?
The crowd surged as people mobbed Jason for autographs, and we sold four hundred to-go orders for coffee in an hour. It was insane. What was also insane was the number of girls who were crying and shaking as they paid, as if they were in the presence of divinity. Jason was "sooo sexy" and "sooo nice". I let him and his crew out the back door when he texted me to explain he needed to catch his plane to LA.
"I'll see you, Chloe," he said as he put his sunglasses on and stepped out into the brightness.
*
Usually I walked to and from work, but that day I'd driven. Big mistake. I walked around to the parking lot at the end of my shift and found the tires on one side of my car had been slashed. It listed to one side, like a sinking ship. I called my insurance company, then the police – their non-emergency number. "I need to file a report," I told the woman who picked up. "Someone vandalized my car."
"Do you know whom?"
"No."
"Have you got any enemies or-"
"You know, this is really stupid, but I vaguely know Jason Vanderholt. We had coffee this morning and, maybe I'm paranoid but-"
"One of his fans vandalized your car?"
"Dumb theory?"
"No. There's a cruiser that should be there any minute."
"Thanks."
"You really know Jason Vanderholt?"
"Not well."
"What's he like?"
I shut my eyes and turned my face skyward. The sun still shone down, scorching hot. I got a detailed view of the blood vessels in my eyelids. "He's nice. When did you say the cruiser would get here?"
"Should be there any second."
Much to my relief, a shiny silver police car rounded the corner right then. "Okay, here it is. Thanks!" I hung up.
"So you've got celebrity connections?" the cop said as he stepped out.
I just pointed at my car. "Need to file a report. I didn't see it happen. Don't know about any witnesses."
"Name?"
"Chloe Winters."
"Chloe Winters?"
"Yeah."
He took off his sunglasses and looked at me. He was middle aged, graying black hair, wrinkled skin. Kind, brown eyes. "I'm Officer Baca. You probably don't remember me."
I shook my head.
"I was a rookie way back when. Helped them airlift you."
"Oh. Hi."
"How are you?"
"I'm good."
He looked down at my leg. I was wearing a skirt, so he could clearly see the little silver scar on my calf. "I'm glad to hear it. Have a daughter your age."
"Oh, uh-huh."
"How long did he get put away? The guy who did that to you?"
"Twenty five years maximum or something? It was a few consecutive sentences, but I don't know how all that works with parole or whatever."
"Not long enough." He started scribbling away on his notepad. "Okay, this is your car?"
I nodded.
"You got insurance?"
"Yeah. Tow truck is coming."
"Just gimme a sec to write this up." He looked up at me again. "It really is good to see you. Had nightmares about that incident for years, but you look great."
About the Author:
Emily Mah Tippetts writes chick lit as E.M. Tippetts and science fiction and fantasy as Emily Mah. Originally from New Mexico, she now lives in London with her family, where she also works as a jewelry designer. She is a former attorney who specialized in real estate, contracts, and estate planning. To find out more about her, visit her website at www.emtippetts.com.
I'd like to thank E.M. for dropping by and sharing about her latest book. Stay tuned for my review of this cute book!


Amazon Purchase Link for Someone Else's Fairytale
Welcome to Sugarbeat's Books – The Home of the Romance Novel

I'd like to welcome Dianne Venetta to the blog today!  She is the author of Lust on the Rocks and she is touring with Goddessfish Promotions to spread the word about this latest book! Dianne is giving away a $25 Amazon or Barnes and Noble GC to one randomly drawn commenter during the tour. Make sure that you leave a comment with your email address so that you can be contacted if you win.  Also if you want to increase your chances of winning, click HERE and find the list of stops for this tour so that you can leave a comment at all the stops!
Dianne was tasked with answering the question: Do you model characters after real people or are they creations of your mind?  Let's see what she has to say!
My characters are a mix of real, imaginary and fantasy wanna be!  Now mind you the "real" portion does not necessarily mean someone I know. It may be a conglomeration of people I know or my character may share attributes with people I know, but in a more general fashion.
Take for instance the heroine in my current release, Samantha Rawlings. I don't know any woman like her, that's for sure. She's definitely one-of-a-kind. But she's drawn from three individuals I know—three very different individuals I know—which is one reason she's so much fun to write.  She's crazy! (In a good way.) On the other hand, heroine Dr. Jennifer Hamilton from my first novel, Jennifer's Garden, represents more generally today's career professional and the challenges she faces as such when it comes to choosing a partner for marriage.
It's also true that in every character there is a piece of the author. As a professional woman, I can identify with the themes in each novel, to be sure. They are the issues of my generation, like how does a career woman meet and choose a husband? Over stocks and bonds, or chips and dips? Do money and social status matter or should the compatibility of friendship take center stage?
In Sam's case, the issue is sexual freedom and society's viewpoint thereof, as well as the consequences. Today's independent career woman has more choice when it comes to conducting her sex life, yet she still faces negative labels where a man does not.  How come?  Is it impossible to believe a woman enjoys sex just for the pleasure of it?  Is it impossible to believe that a woman would NOT want a husband and children?  Interesting how things change…  (Or don't!)
My third book in this character series deals with a woman's appearance—both physical and emotional—and her feelings in regard to the same. A tough exterior may prove useful in business, but will it sustain the woman inside? Can she be both tough and confident on the outside, yet soft and insecure on the inside?  Men can bluster and power their way through doubt. Can women?
So yes, my characters are modeled after real people and then embellished by my imagination. I write what I call romantic women's fiction which means we'll immerse ourselves in the issues, but we'll also enjoy some romance—and always a HEA. Otherwise, I won't sleep at night!  And a tired author makes for a cranky writer—no fun.
Thanks for allowing me to share today and I'd love to hear your thoughts.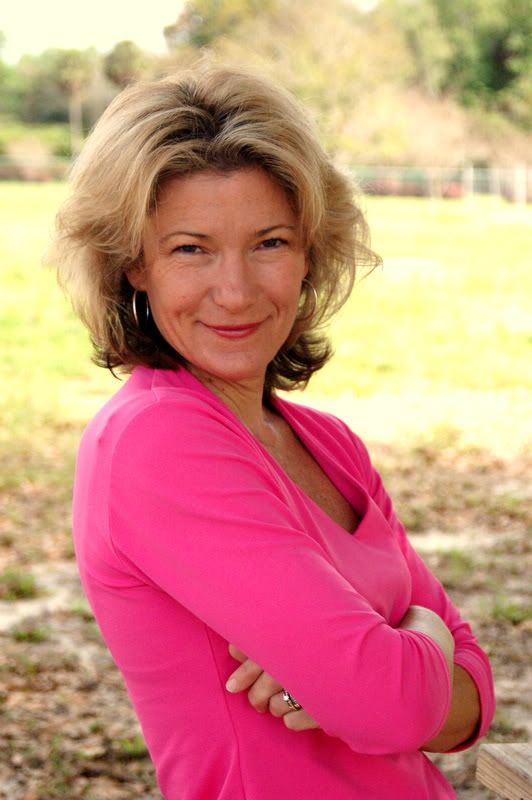 Author bio:
Dianne lives in Central Florida with her husband, two children and part-time Yellow Lab–Cody-body!  When not whacking away at her keyboard crafting her next novel you'll find her in their organic garden chasing grasshoppers and plucking hornworms all while drawing wild analogies between kids and plants and men.  Definitely men.
A girl's gotta have fun, right?
When she's not knee-deep in dirt or romance, Dianne contributes garden advice for various websites and volunteers in her kids' school garden (a crazy existence to be sure). But at the end of the day, if she can inspire someone to stop and smell the roses–or rosemary!—kiss their child and spouse good-night, be kind to a neighbor and Mother Earth, then she's done all right.
http://www.twitter.com/DianneVenetta
http://www.facebook.com/DianneVenetta
http://www.BloominThyme.com – this being my garden blog
She has what he needs, and he won't stop until he gets it.  Trouble is, what begins as a matter of death, becomes a matter of life.

# # #

One case away from partnership, Samantha Rawlings is forced to share her high-profile case with a sexy younger man, whose eyes are on a different prize.  In the best interests of her client, Sam opens the door to his strategy.  Turns out, a little too far…
Victor Marin has ulterior motives.  The defendant in her case holds the key to his revenge, and his last chance for justice.  But as he chases old demons, he uncovers a powerful woman with no inhibitions, one he wants to possess for himself.  But decidedly single, Sam wants no part.

Until Vic walks away.
Excerpt:
"You did well today, Vic.  You didn't win your argument, your performance was a little overpowering, but you did well."  She slid a hand across the table.  He would have sworn she was about to touch his, but instead, her fingers curled around the stem of her water glass.  "Chavez was out of line.  It's his MO.  Whenever there's a new attorney in his courtroom, he parades power like a peacock.  Don't take it personal."
No longer sparring, Vic noted her removal of armor.
"You're good.  Really good.  You have phenomenal energy in the courtroom—I mean you had the jury."  A smile crept onto her lips, a gesture which reached deep inside him.  "I was watching.  Each and every one of them followed you around that courtroom, your every move, your every word, they were right there with you.  They didn't believe her either."
"Then why won't you include me on Perry?"
Sam's breath caught in her throat.  Trapped beneath his gaze, the question echoed Raul's.  Around her, the noise level rose as lunch hour officially reached full sprint.  People shouted orders, metal cash registers clanged in action, but she focused solely on Vic.
Her suspicion returned.  Because I don't need any help.  Because I don't want the distraction.  Because I'll be damned if some unknown hotshot comes in and tries to strip the prize from my hands regardless of how good, or how good-looking he is.
Sam's spine locked straight.  All her life she had to work twice as hard, run twice as fast—because she was a woman.  As an adolescent, her parents forced her to share an overload of responsibility for the care of five younger siblings, despite the fact her brother was scarcely a year behind her.  In college she was offered more dates than internships with law school providing more of the same.
Sam sighed.  Baker, Schofield, Martinez and Brown had been the one interview where she felt wholly respected—wholly appreciated for her talent and not her looks.  Because of Raul.  He focused on her abilities and she responded.  From there, the man taught her everything she knew, from the law to the lowdown, and groomed her into the legal shark she was proud to be.
Her thoughts chilled.  Yet now, he was encouraging interference on her caseload from the new guy.  It didn't make sense.
Sam honed in on Vic.  "Give me one good reason I should include you on Perry."
"You said it yourself, I'm good."
"So am I."
"It's a big case.  More than one attorney can handle."
"I have Diego."
"I have experience."
"So I hear."  Sam lifted her glass from the table, but never took her eyes off him.
"It could work to your benefit."
"I work to my benefit."
Vic eased his neck from his collar and reached for his glass.  "I'm offering to help, Sam.  Most attorneys would jump at the opportunity."
"If you hadn't gathered by now, I'm not most attorneys."  
I'd like to thank Dianne for dropping by today and sharing about her book!  Please be certain to leave a comment with your email address if you want to be entered into the giveaway!