Welcome to Sugarbeat's Books – The Home of the Romance Novel!
Welcome also to Series Sunday!
We have recently finished the Julia Quinn Bridgerton series as well as the newer connected books that Ms. Quinn has written. We are now working our way through The Bachelor Chronicles – a series that has been written by Elizabeth Boyle. As I mentioned last week, I ran into Ms. Boyle at a book signing last fall, and she started me reading her books again after a bit of a break.  Once we finish with this series, I'll be giving away a selection of books by Ms. Boyle!
Confessions of a Little Black Gown by Elizabeth Boyle
ISBN: 978-0-06-137323-7
Publisher: Avon Historical Romance
Release: Mar 31, 2009
Source: I purchased this book to read and review
She spied him in the shadows….

And in an instant, Thalia Langley knew the man before her was no saint.  He might claim to be the Duke of Hollindrake's unassuming country cousin, but no man that handsome, that arresting, could be anything but…well, he simply must be an unrepentant rogue.  His cat-like grace and power leave Tally shivering in her slippers at the notion of all the wicked, forbidden things he might be capable of doing….to her

Indeed, Lord Larken is no bumbling vicar, but a master spy there in his majesty's service to find – and murder – a notorious pirate freed in a daring prison escape.  Devoted to the Crown, Larken's not about to let an interfering (and not entirely innocent) Mayfair miss disrupt his ruthless plans.  Yet how can he be anything but tempted by this lady in a little black gown…a dress tantalizing enough to lead even Larken astray.
Confessions of a Little Black Gown  is another book in the Bachelor Chronicles series that Elizabeth Boyle has been writing over the last few years.  This is the second book that I have read recently by Elizabeth Boyle and I'm really enjoying this series of books!
Lord Larken is coerced into going undercover as The Duke of Hollindrake's country cousin.  He is a former agent of the crown who was taken out of the field as he was becoming more and more unstable – according to his superiors.  Now these superiors need him for another job, and are not giving her any choice.  As a child, he was a witness to his father's murder and is determined to discover who his murderer was.  Larkin has had a hard life and it's not about to get any easier as he is tasked with not only capturing a notorious pirate but murdering him.  This pirate was once one of his best friends.
He thinks he assumes the demeanor of a bumbling country vicar, but Thalia Langley sees through him from the start.  Thalia is the sister of the Duke of Hollindrake's new wife.  Thalia's sister, Felicity is a force of nature, the creator of the Bachelor Chronicles and determined to make a name for herself as a successful matchmaker.  Felicity sees the job arranging for Milo Ryder aka Lord Larkin's marriage as a feather in her cap.  She sets Thalia to seeing to grooming Mr Ryder/Lord Larken for presentation to potential brides.  Thalia keeps seeing two separate people – the bumbling vicar, and the dangerous, attractive man that she is drawn to.  No one else see anything other than a kindly vicar, much to Thalia's dismay.  Meanwhile, Thalia and her cousin, Pippin are hiding Captain Dashwell, a pirate, in the house, disguised as their companion.  They broke Captain Dashwell out of jail and are hiding him until he can be taken to the coast to escape back to America and also so that Pippin can spend more time with the man that she loves.
This sets up the story and I don't want to give away much more!  This story has alot of characters that should be difficult to keep straight.  Ms. Boyle's style of writing and creating characters allows these characters to be distinct individuals.  They are connected to previous books and I imagine are setting up information for future books, but this book is easily read as a stand-alone without any information from other books.
The characters that Ms. Boyle creates are delightful.  The are truly good, or very bad.  Villains are deserving of our scorn, and conversely, the "good guys" are deserving of our cheers.  Thalia is a highly principled individual, but determines who deserves her regard.  Captain Dashwell is seen as a criminal set for hanging by the crown, but she sees him as misunderstood and sets out to save him from a hanging and protect him until he can escape to his ship.  Lord Larken has had a tough life and is in need of the proverbial "good woman" by his side.  Thalia is unconventional,  yet she seems to "fit" Larken.  He isn't looking at her as someone who needs changing, although he does try to protect her on several occasions!
I have several more of this series on their way to me and I look forward to reading more of what Ms Boyle has written in this series.  Although I seem to be reading this series out of order, I'm looking forward to finishing it!
Buy a copy of Confessions of a Little Black Gown
Welcome to Sugarbeat's Books – The Home of the Romance Novel!
So…..it started with a visit to the book fair at the Emerald City RWA conference.  I decided to pick up a book from Elizabeth Boyle and get it signed, so that I could give it away to one of you guys! Oh, and read it before I gave it away so that I could share my thoughts.  The book I picked up was Lord Langely is Back in Town.  I'll share my thoughts about it in a few weeks, but I had the opportunity to have a short chat with Ms. Boyle about romance novel models in puffy shirts vs leather vests (puffy shirts win btw).  When I got home, I raced through it, reminding myself of how much I enjoy Elizabeth Boyle's books, and how long it had been since I had read one. I got busy and gathered up a selection of the previous books, and started to read and review.
Today we are starting with Love Letters From a Duke, not the beginning, but one of my favorites of this series. This book lays a good grounding of the characters and the history involved in this series.  And yes, I have a bunch of Elizabeth Boyle books to giveaway when I'm done with my reviews.  Oh yes, I also read and reviewed these books out of order
I hope you enjoy my thoughts about this great book!
Love Letters From a Duke by Elizabeth Boyle
ISBN: 978-0-06-0784034
Release: August 28, 2007
Publisher: Avon Historical Romance
Source: I purchased this book to read and review
Though she can't afford the coal to heat her drafty Mayfair mansion, Felicity Langley still clings to her dream of marrying a duke–one she's had since her very first curtsy. After all, she's been all but promised to the very proper and very lofty Duke of Hollindrake for the last four years. Now all she has to do is meet him. But what Felicity doesn't realize is that she has already met her duke—he's the rather unfashionable yet altogether too-handsome man who has just turned up at her doorstep. And Felicity has just mistaken him…for her new footman!
By rights, Thatcher should immediately set this presumptuous chit straight and tell her he has no intention of following through with a betrothal his grandfather—the previous duke—arranged. But he's quickly smitten by Felicity's delightful determination, her irrepressible charm…and her breathtaking beauty. Yes, she'd wed him in an instant were his true identity revealed—but Thatcher's vowed to marry only for love. So begins his deception and his conquest of this uncommon woman who doesn't believe in romance, but is about to find her heart and passions set aflame by the unlikely servant she's sworn to resist.
Yet another excellent novel by Elizabeth Boyle! This is a book in the Bachelor Chronicle series and this one features Felicity Langley and the Duke of Hollindrake. Felicity is the creator of The Bachelor Chronicles, a notebook with information on all the eligible men in society. This is a project that Felicity started while at school, and it is a work in progress as it were. She has determined that she is going to marry the Duke of Hollindrake, and thinks she has been corresponding with him for years. She has, in fact, been corresponding with his grandfather, as he has been off serving his country. She has become more and more certain as the years have passed, and the correspondence has continued that she wants to marry her duke.
Thatcher, the new Duke of Hollindrake, returns to England after the death of his grandfather to find out he is engaged to Felicity Langley. Intent on dissolving this sham engagement, he shows up at her door, only to be mistaken for an applicant for a footman. He's not certain whether to be annoyed or intrigued, but he takes the position and starts an illustrious career as a footman to the most doggedly determined woman he has ever met.
I don't want to give away much, if anything of this story, because it is totally delightful from beginning to end! Thatcher is a wonderful character, that is totally deserving of the role of hero. Felicity, as I've already said, is determined, but really, she would put a bull-dog to shame! She is determined to marry a duke – specifically the Duke of Hollindrake. In order to meet him, she has acquired a house, but has no staff, no money and no appropriate clothes, but she marches forward, braving her way though all obstacles.
This book is filled with action, humor, and delightful characters. It grabs hold of you and makes you finish reading it, even if you have to read into the wee hours to do so! Pick up a copy of this book, and enjoy a rollicking good read!!
Buy a copy of Love Letters From a Duke (Bachelor Chronicles)
Related articles
Welcome to Sugarbeat's Books – The Home of the Romance Novel!
Today's post is to announce the Julia Quinn giveaways.  As you all know, I've been reviewing the Bridgerton series in anticipation of the release of "A Night Like This" which I reviewed last week.  Time to pass on some loved books to someone who will enjoy them as much as I did!
I have one copy of The Lady Most Likely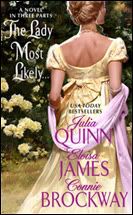 complete with a signed preview of A Night Like This that I got when I was in Seattle for a author meet and greet.
I also have two signed copies of Just Like Heaven!!  One has been gently read, but the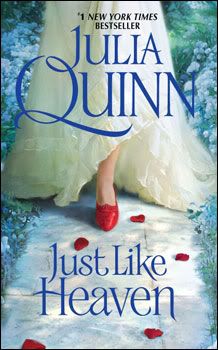 other one is untouched.  To be entered into this giveaway, please fill out the form below.  I'll be running this giveaway for 2 weeks starting today.  US or Canadian mailing address only please.

Related articles
Welcome to Sugarbeat's Books – The Home of the Romance Novel!
Today we are celebrating the release of Grace Elliot's book Hope's Betrayal.  Sit back and enjoy the information.  I hope that if this sounds like a book that you might be interested in, use the buy links at the bottom of the post and pick up a copy.
One wild, winter's night two worlds collide.

Known for his ruthless efficiency, Captain George Huntley is sent to stamp out smuggling on the south coast of England. On a night raid, the Captain captures a lanky lad, but finds his troubles are just beginning when the lad turns out to be a lass, Hope Tyler.

With Hope as bait, the Captain sets a trap to catch the rest of the gang. But in a battle of wills, with his reputation at stake, George Huntley starts to respect feisty, independent Hope. Challenged by her sea-green eyes and stubborn loyalty Huntley now faces a new threat – his growing attraction to a sworn enemy. And a love where either Hope betrays her own kind, or Captain Huntley is court-marshalled, is not an easy destiny to follow.
Available from:  Amazon US     *     Amazon UK     *     Smashwords
Excerpt:
Injured on a smuggling run, Hope wakes to face the naval officer who captured her.
Hope kept her eyes closed as she became conscious of a man's heavy tread pacing the room. She waited until he was at the window and opened her eyelids a fraction. With the light behind him she saw an athletic man with wide shoulders, tall enough to have to stoop under the sloping eaves. Her stomach felt hollow with foreboding, for without doubt, this was the same man who'd pursued her over the dunes.
He must have sensed a change in her breathing, for suddenly he turned. He stared, with piercing blue eyes that penetrated her soul. Dressed in a naval uniform, the jacket cuffs ringed with gold braid, the man exuded authority. He continued to stare, his face unreadable; wilful, she decided, and yet uncommonly handsome. She blushed and reached for the covers, pulling them up to her chin.
"So, enough pretending. You are awake at last." His voice, deep and melodic, brooked no argument.
"Please, sir, where am I?"
"Under house arrest." He growled, obviously no friend. And yet, she touched her bandaged head, someone had taken care of her.
"You are in pain?" His consideration was surprising.
"Not so much now."
The answer pleased him. "Good, then you have some explaining to do."
"Please, sir, who are you?"
The man threw her a sideways glance and started to pace.
"Captain Huntley, RN. And you are?"
She decided against lying, her name alone couldn't incriminate her family.
"Hope Tyler."
"Well Miss Tyler, have you the slightest idea how much trouble you're in?"
"Yes."
The Captain stared at the ceiling. "A man died because of your felony. A Revenue man. He leaves a wife and three children."
"I'm so sorry." She whispered in distress.
"His fellow officers are baying for blood."
Hope trembled, things were worse than she imagined.
"Someone must hang for his death."
Her throat closed over.
"Be it you…or the man who pulled the trigger….my men don't care." Captain Huntley stepped closer, his presence dominating the room. She couldn't breathe, he seemed made of granite, his eyes like flints, sparking with anger. "But I'm different." His expression softened imperceptibly. "I like to think of myself as a fair man."
Hope nodded, to encourage him.
"Any fool can see you are just a bit-player, a lackey. The men I want are the leaders, those who finance the contraband and organise the landings. Tell me who they are, and I shall intercede on your behalf with the authorities."
"What if I don't know their names?"
His wide mouth twitched downward. "Then I cannot help you."
She would have shaken her head had it not been too painful. "The men you speak of aren't stupid. They will know I am taken, and know if I betray them. If I do… they will come for my family."
"Then put them behind bars."
"It's too risky. This way, it's only me."
He tried to hide it, but he looked surprised. She saw him drinking in the logic of her words and a shadow darkened his face. Clasping his hands behind his back, he turned to stare through the window.
"Tell me," he said benignly, "what does it feel like to be abandoned? Because that's what the smugglers did. Sailed away without a backward glance and left you to your fate."
*****
Grace Elliot leads a double life as a veterinarian by day and an author of historical romance by night. Grace is an avid reader and believes intelligent people need to read romance – as an antidote to the modern world. She works in a companion animal practice near London and is housekeeping staff to five demanding felines.
"Hope's Betrayal" is Grace's third historical romance novel – to find out more please visit: https://www.amazon.com/author/graceelliot
Blog: "Fall in Love With History" http://graceelliot-author.blogspot.com
Twitter: @Grace_Elliot

Welcome to Sugarbeat's Books – The Home of the Romance Novel
Welcome also to Series Sunday!
This is my favorite day of the week! I love reading books, especially historical romances in series. I have the opportunity to live vicariously through the family that the series is about.  Today, I'm posting a much awaited release (at least for me personally) A Night Like This by Julia Quinn was released on May 29th and I snapped up a copy hot off the press. I haven't met a Julia Quinn book that I haven't liked….and this book is no different.  I'd like to say it was well worth the wait, but frankly, I hate waiting long periods of time between releases!!
I hope you enjoy my thoughts on this long awaited book, and of course, return next week as I'm giving away some Julia Quinn novels!
A Night like This by Julia Quinn
ISBN: 978-0-06-207291-7
Release: May 29th, 2012
Publisher: Avon Historicals
Source: I purchased a copy of this book to read and review
Blurb:
Nora Roberts calls Julia Quinn's novels, "Delightful." The #1 New York Times bestselling creator of the irresistible Bridgerton family, Quinn offers historical romance readers new delights with A Night Like This—the second book (following the phenomenal Just Like Heaven) to feature the affairs, romantic and melodic, of the endearing, if painfully untalented, Smythe-Smith musicians. On A Night Like This in Regency England, anything can happen, especially when a beautiful pianist sitting in at the annual Smythe-Smith musicale catches the eye of a haunted, hunted man in desperate need of redemption. There is simply no author in the realm of historical romance fiction hotter than the remarkable Julia Quinn—and anyone who has ever been swept away by the love stories of Amanda Quick, Lisa Kleypas, or Jill Barnett will cherish A Night Like This.
The long anticipated day finally arrived! The next Julia Quinn novel arrived to the bookstore near me! As everyone knows, I've been eagerly anticipating this book since the book signing I went to back in January. This book follows Just Like Heaven and again is a bit of an offshoot to the Bridgerton family books that span so many years.
In Just Like Heaven, we are introduced the the Smythe-Smith family members.  This is the family that creates the yearly concerts that are so horrible, yet everyone in the ton attends.  They are the source of humor in the Bridgerton books as most of the Bridgerton siblings either have to attend a concert or attempt to plot a way to avoid them.  We are now meeting the ladies that perform in those concerts.
It is a long standing tradition in the Smythe-Smith family that all the unmarried girls perform in a concert.  Much is made about some of the girls who are desperate to marry so that they don't have to perform again.  In Just Like Heaven, we met Honoria – the one member of the family, it seems, that feels performing in a concert is an honor.  She's aware of how horrible they are, but enjoys being part of a long standing tradition.  The concert that Honoria performs in, allows us to  be introduced to Anne Wynter, the heroine of A Night Like This. She is the governess of some of the girls performing and is drafted to play the piano when one of the girls becomes too ill to perform.  The concert occurs the the very night that Daniel, our hero arrives home from 3 years of exile because of a duel that he participated in.
For a lady who had spent the last eight years trying not to be noticed, Anne Wynter was in an awkward position.

In approximately one minute, she would be forced to walk onto a makeshift stage, curtsy to at least eighty members of the creme de la creme of London society, sit at a pianoforte, and play.

That she would be sharing the stage with three other young women was some consolation.  The other musicians – members of the infamous Smythe-Smith quartet – all played stringed instruments and would have to face the audience.  Anne, at least, could focus on the ivory keys and keep her head bowed.  With any luck, the audience would be too focused on how horrific the music was to pay any attention to the dark-haired woman who had been forced to step in at the last minute to take the place of the pianist, who had (as her mother declared to anyone who would listen) taken dreadfully – nay, catastrophically – ill.
A Night Like This is a thoroughly delightful book.  Definitely worth waiting for!  Anne is a wonderful person who has had a rough time of it in life.  She made a mistake early on that she has been paying for for years. The same is true, but in a different way for Daniel.  Daniel was involved in a drunken duel in his youth and accidentally shoots his best friend.  This enraged his best friend's father to the point where he feared for his life.  He has spent the last 3 years running from hired hit men and thugs.  A truce has finally been reached and he comes home to see the most beautiful woman he has ever seen.  The fact that she is a governess is a bit of a problem, but one that Daniel doesn't let get in his way.
Julia Quinn has the ability to create a story that has the reader laughing while they read.  The romance is present and beautifully presented, but the humor always comes through.  I have read many of Ms. Quinn's books.  I certainly have my favorites, and there were one of two that I wasn't as fond of, but I always eagerly anticipate the next book coming out!
"Have you ever read one of your cousin's plays?" Miss Wynter asked innocently.

Daniel shook his head.

"They're rather like this conversation, actually," she said, and then, while he was absorbing that, she turned to her charges and accounted, "Good news, everyone! Today, instead of Julius Caesar, we will study one of Harriet's plays."

"Study?" Elizabeth asked, all horror.
"Read from, " Miss Wynter corrected. She turned to Harriet. "You may choose which one."
"Oh my heavens, that will be difficult." Harriet set down her fork and place a hand over her heart as she thought, her fingers spread like a lopsided starfish.
"Not the one with the frog," Frances said forefully. "Because you know I will have to be the frog."

You're a very good frog," Miss Wynter said supportively.

Daniel kept quiet, watching the exchange with interest. And dread.

"Nevertheless," Frances said with a sniff.
"Don't worry, Frances," Harriet said, giving her hand a pat, "we won't perform The March of the Frogs, I wrote that years ago. My recent work is much more nuanced."

"How far along are you on the one about Henry VIII?" Miss Wynter asked.
"A yen to have your head lopped off?" Daniel murmured.  "She did want to cast you as Ann Boleyn, didn't she?"
"It's not ready," Harriet said, "I have to revise the first act."
"I told her it needs a unicorn," said Frances.

Daniel kept his eyes on the girls but leaned toward Miss Wynter. "Am I going to have to be a unicorn?"

"If you are lucky."

He whipped his head around to face her.

"What does that m-"
As you can see from the quote above, Ms Quinn does a wonderful job of humorous conversations between the various characters that simply brings the story to life.  The reader can imagine this scene where Miss Wynter is obviously setting Daniel up for something and involving her young charges in the action.
Whatever will Julia Quinn write next???  And when will it appear in bookstores….two very important questions!
Buy a Copy of A Night Like This (Smythe-Smith Quartet)
Welcome to Sugarbeat's Books – The Home of the Romance Novel
Welcome also to Series Sunday!
This is of course, my favorite day of the week.  I love books in series.  Today I'm posting my review of the latest book that has been released by Julia Quinn, that is, before the on I snagged this week and I'm reading as fast as I can. I hope you enjoy my thoughts for Just Like Heaven
Just Like Heaven by Julia Quinn
ISBN: 978-0-06-149190-0
Release: 2011
Publisher: Avon Historical Romance
Source: I purchased this book to read and review
Blurb:
Honoria Smythe-Smith is:

a really bad violinist
still miffed at being nicknamed "Bug" as a child
NOT in love with her older brother's best friend
all of the above

Marcus Holroyd is:

the Earl of Chatteris
regrettably prone to sprained ankles
NOT in love with his best friend's younger sister
all of the above

Together they:

 eat quite a bit of chocolate cake
 survive a deadly fever AND the world's worst musical performance
 fall quite desperately in love

It's Julia Quinn at her best, so you KNOW the answer is….
all of the above
For all those Bridgerton Family fans out there…..THERE'S MORE!!!  And it's delightful!  I had the honor of meeting Julia Quinn at the RWA book fair in Bellevue, WA. She is so understated, so nice to talk to.  I got myself an autographed copy of Just Like Heaven and it took a place higher on my TBR pile than it should have!  For those of you patiently waiting for me to read your book, I hope you understand!  I've been reading this series for quite some time, and I NEEDED to find out what was next!
From the Bridgerton series, the Smythe-Smith yearly musicals are mentioned several times.  These absolutely horrific events feature some of the worst music of the season.  It seems that there isn't one musical member of this large extended family.  They are populated by an appalling lack of talent amongst each tone-deaf girl.  *grin* Just like Heaven allows a look from the other side of the podium as it were.  The main character in this story is Honoria Smythe-Smith.  She is yet another member of this memorable family and has served one year as part of the family quartet that performs at the musical. She is the youngest member of her large family and was nicknamed "Bug" by her brother when growing.  Being the youngest by a number of years, she was constantly trying to tag along with her brother and his best friend, Marcus.  They did everything they could to ditch her!  Marcus, however, had a soft spot for her as he was an only child and knew what it was like to have no one to play with.  As a result, Honoria developed a case of hero worship!  The story jumps ahead many years.  Honoria has made her come out, her brother has been chased out of England because of a scandal and her mother seems to have gone into a decline.  Although she felt a number of men would have offered for her during her first season, they seemed to change their minds.  What Honoria doesn't know is that Marcus has been tasked with watching over her, and is chasing off unsuitable suitors.
An unexpected meeting in the woods with Marcus leaves him with a twisted ankle and Honoria tasked with getting some help for him.  As a result, he ends up with pneumonia and an infection in his leg where his valet had to cut his boot off his swollen foot.  Although this is an unfortunate event, it brings Honoria and Marcus together.
This is a wonderful story.  For those of you Bridgerton fans out there, this is a wonderful addition to this series, but from a different point of view.  Gregory and Colin Bridgerton make an appearance in this book.  There is also an appearance from Lady Danbury!
"He held himself still, because he knew that voice, and he knew there was no escaping it.  With a small smile, he looked down into the wrinkled face of Lady Danbury, who had been terrifying the British Isles since the time of the Restoration.

Or so it seemed.  She was his mother's great-aunt, and he would sear she was a hundred years old.
"An injury to my leg, my lady," he said, giving her his most respectful bow.

She thumped her weapon (others might call it a cane, but he knew better) against the floor.  "Fell off your horse?"

"No, I -"
"Tripped down the stairs?  Dropped a bottle on your foot?" Her expression grew sly, "Or does it involve a woman?"

He fought the urge to cross his arms.  She was looking up at him with a bit of a smirk.  She liked poking fun at her companions; she'd once told him that the very best part of growing old was that she could say anything she wanted with impunity.

He leaned down and said with great gravity, "Actually, I was stabbed by my valet,"

It was, perhaps, the only time in his life he'd managed to stun her into silence.
Can't you totally see Lady Danbury??  In my mind, she has an uncanny resemblance to my husband's Auntie Irene and so I can totally picture this scene! I, too, spent many years tiptoeing around our beloved Auntie Irene!  Julia Quinn creates totally delightful characters!  These characters have the power to stay with the reader.  In her world building, she is gradually forming an army of Bridgertons and associated characters.  They are all unique and they all make us laugh and they all make us cry.  Isn't that an indication of a good book?  One that you finish with a tissue in hand?
There is more on the way!  According to Julia Quinn's website, there is a second Smythe-Smith book on the way – A Night Like This. *happy dance* but not until late spring 2012.
  In case you haven't figured out yet…..I highly recommend this book and I wait in eager anticipation of the next installment of the story!


Buy a copy of Just Like Heaven
Welcome to Sugarbeat's Books – The Home of the Romance Novel!
Welcome to Series Sunday!
This is the day of the week when I get to celebrate my favorite thing – books written in series! For the last few weeks, I've been reviewing Julia Quinn's Bridgerton series in celebration of Ms. Quinn's new release, A Night Like This,  coming in a few weeks.  Although the new release isn't technically a Bridgerton book, it is like a cousin of the Bridgerton series.
Today I'm posting my review for the last book in the Bridgerton series.  This book features the youngest male sibling in the family, Gregory, and his potential bride, Lucy.
On The Way to the Wedding by Julia Quinn
ISBN: 0-06-053125-8
Publisher: Avon Books
Source: I purchased this book to read
Unlike most men of his acquaintance, Gregory Bridgerton believes in true love. And he is convinced that when he finds the woman of his dreams, he will know in an instant that she is the one. And that is exactly what happened. Except…

She wasn't the one. In fact, the ravishing Miss Hermione Watson is in love with someone else. But her best friend, the ever-practical Lady Lucinda Abernathy, wants to save Hermione from a disastrous alliance, so she offers to help Gregory win her over. But in the process, Lucy falls in love. With Gregory! Except…

Lucy is engaged. And her uncle is not inclined to let her back out of the betrothal, even once Gregory comes to his senses and realizes that it is Lucy, with her sharp wit and sunny smile, who makes his heart sing. And now, on the way to the wedding, Gregory must risk everything to ensure that when it comes time to kiss the bride, he is the only man standing at the altar…
This book, On The Way to the Wedding, is the last of the series of 8 Bridgerton books. There are ancillary books that follow the stories of minor characters, but the main character's stories finish with this book. I must admit that this book is my least favorite of the group. Throughout most of the series, Gregory Bridgerton (the hero of this story) is a child or a young man and not much attention is paid to him. The attention always seems to be on his older siblings. They way this story is told, Gregory doesn't seem to have many redeeming qualities.
On The Way To The Wedding starts with Gregory spotting Miss Hermione Watson at a house party and believing he has fallen in love. Hermione is very beautiful and is often the center of attention; her best friend Lucy Abernathy stands in her shadow. Lucy feels sorry for Gregory's failure to win Hermione and decides to help him. Fate steps in and Hermione is caught in a compromising position with Lucy's brother and is forced to marry. Obviously, Gregory can no longer marry Hermione.
Lucy has been engaged for years to an earl and the time approaches for her to wed. Gregory, who has meanwhile decided that he isn't in love with Hermione, but with Lucy, tries to get her to break off her engagement with the earl. Lucy doesn't trust his feelings .(I wouldn't either, given the speed with which they change)
We find out that Lucy is being blackmailed and of course, that is the main reason behind her not wanting to break her engagement. In true Julia Quinn style, all is settled and we have a happy ending. (not wanting to give away the details of the ending)
I have been impressed with Julia Quinn's characters and character development throughout all the books of this series. The only character that I couldn't seem to warm up to was Lucy. She seems quite weak and so undeserving of Gregory; so unlike the inner strength of all of the other characters of the books.
I've read alot of reviews of this RITA Winning, and New York Times Bestselling book, and reviewers rave about it. I think I'm one of the only one who isn't a huge fan of this book.  I think that I am so fond of some of the earlier books in this series, and I really don't want to see this series end, I'm a bit sad.
RT Book Reviews gives On His Way To The Wedding 4 and 1/2 stars and says: "Quinn deftly merges the elements of a Shakespearean comedy with the climax of The Graduate, delivering an utterly delightful love story that will have readers grinning with pleasure the instant the book is opened until the marvelous ending."
I look forward to the next release in about 2 weeks – stay tuned for my review of A Night Like This!
Related articles
Welcome to Sugarbeat's books – The Home of the Romance Novel
Today is Series Sunday where we talk about books written in series.
Most of you know that my favourite thing is to read a book that is part of a series.  Lately, we've been reviewing the Bridgerton series by Julia Quinn in honor of her new book coming out at the end of the month!!  I'm trying not to think about how many days…
Today we are going to talk about It's In His Kiss, which involves Hyacinth Bridgerton.  Many have said that this is their favorite Bridgerton book.  I like it, but it might be number 2 or 3 on my list.  It is good, none-the-less, so I hope you enjoy my thoughts….
It's In His Kiss by Julia Quinn
ISBN: 0-06-053124X
Publisher: Avon Books
Source: I purchased this book to read
Meet Our Hero…

Gareth St. Clair is in a bind. His father, who detests him, is determined to beggar the St. Clair estates and ruin his inheritance. Gareth's sole bequest is an old family diary, which may or may not contain the secrets of his past… and the key to his future. The problem is–it's written in Italian, of which Gareth speaks not a word.

Meet Our Heroine…

All the ton agreed: there was no one quite like Hyacinth Bridgerton. She's fiendishly smart, devilishly outspoken and according to Gareth, probably best in small doses. But there's something about her–something charming and vexing–that grabs him and won't quite let go…

Meet Poor Mr. Mozart…

Or don't. But rest assured, he's spinning in his grave when Gareth and Hyacinth cross paths at the annual–an annually discordant–Smythe-Smith musicale. To Hyacinth, Gareth's every word seems a dare, and she offers to translate his diary, even though her Italian is slightly less than perfect. But as they delve into the mysterious text, they discover that the answers they seek lie not in the diary, but in each other… and that there is nothing as simple–or as complicated–as a single, perfect kiss.
Book 7 of the Bridgerton series brings back Lady Danbury, an older matriarch of society that appears in many of the former books as a crusty old curmudgeon who enjoys speaking her mind and is feared by many members of the ton. In this book Lady Danbury serves as a matchmaker to Hyacinth Bridgerton and her grandson, Gareth St. Clair. Hyacinth and Lady Danbury make an interesting pair. Hyacinth has been spending every Tuesday afternoon reading to Lady Danbury for some time but they continue to have a rather acerbic relationship. Hyacinth seems to feel duty-bound to read to Lady Danbury, but is happy when she often falls asleep and therefore ends the reading sessions. Hyacinth has not had much contact with Gareth until one day when he appears during reading time and asks Hyacinth to translate his paternal grandmother's diary which is written in Italian (a language Hyacinth has some knowledge of). As Hyacinth and Gareth start uncovering startling facts from this diary they find themselves drawn together romantically. Gareth has never been in love before and yet finds himself falling in love with the willful and stubborn Hyacinth. Hyacinth on the other hand is shocked to find herself developing feelings for such a notorious rake.
Gareth's unpleasant father starts to interfere with the budding relationship; threatening to tell Hyacinth Gareth's paternity secret. Only when faced with losing Hyacinth does Gareth realize that he truly loves her and fights to keep her.
Again, a winner from Julia Quinn. She shows that she is capable of exploring many delicate subjects in the unforgiving time of Regency England. Gareth has had such a hard life with his nasty father, but Julia Quinn presents him in a redeemable light. Hyacinth has the potential of being one of those bluestockings that are left on the proverbial shelf.
RT Book Reviews has nominated It's In His Kiss to be one of it's Top Picks and gives it 4 and 1/2 stars saying: "Here's another utterly delightful Bridgerton tale featuring a highly "modern" woman, whose warmth, vivacity and intelligence shine through on every page. Quinn pairs Hyacinth with an ideal hero and then places them in the center of a passion-filled, intriguing mystery that's sure to shoot to the top of the bestseller charts."
Drop back by next week for the last book in the Bridgerton series….how many more days do I have to wait for the new release???