Welcome to Sugarbeat's Books – The Home of the Romance Novel!
Scheduled to day is a book review for a book that I read a bit ago and LOVED! If you have been reading my reviews, you will realized that I haven't met a Grace Burrowes story that I haven't fallen in love with. The same is true with this one. I hope that you enjoy sharing this book with me. I've included a buy link at the bottom if you want to pick up a copy!
The Bridegroom Wore Plaid by Grace Burrowes
ISBN: 9781402268663
Release: December 2012
Publisher: Sourcebooks Casablanca
Source: I received a copy of this book from the publisher to read and review
Blurb:
The Bridegroom Wore Plaid
In an effort to preserve the family estate, Ian MacGregor, the Earl of Balfour, must marry for money. When a promising match emerges in the form of Genie Daniels, a rich English heiress, Ian begins devising a strategy to woo her. When he meets Genie's poor cousin Augusta, he discovers a new avenue to Genie's heart. But after spending time with Augusta and falling for her charms, Ian begins to question whether or not he's willing to forfeit his heart to save the family name…
*   *   *   *   *
Welcome to Grace Burrowes' new series of books! The Bridegroom Wore Plaid is the first book in the Scottish Victorian Series. To admit a bias, I became a fan of Grace Burrowes with the first book of her's I read, The Heir, back in December 2010. I have fallen in love with the Windham family as I have read 6 of their stories to date. Now we start a new series and change gears a bit.
The Bridegroom Wore Plaid as it's name suggests is set in Scotland. Ian MacGregor, the heir to the Earl of Balfour needs to marry money to keep his estate afloat. His older brother, Asher, has been missing in the Canadian wilderness for years and they are considering declaring him dead so that the estate can carry on. Ian is uneasy about this, but after surviving years of bad crops, English rules and having siblings and clan members to support, he has to face facts. He has opened his house to paying guests for several years, and he live close to Balmoral, the Queen's favorite summer place. This book starts with Ian and his brothers Gilgallon and Connor meeting their next set of guests at the train station. This set is different, though as one of these guests could potentially become his wife.
Augusta is the poor cousin that is compelled to accompany her heiress cousin, Genie Daniels and her family on their jaunt into the Scottish highlands for the summer. Genie is expected to marry Ian MacGregor, but after years of witnessing her father abuse her mother, she is reluctant to marry anyone, regardless of how kind they seem.
I loved the set of new characters to learn in this book! They are colorful as they are different. Ms.Burrowes does a wonderful job of creating characters that seem to just jump off the page. It is easy to picture Mary Fran ordering her brothers around. Mary Fran's daughter Fiona is simply delightful. Ian is the picture of duty, quietly tucking the real him away for the sake of the family. The glimpses of Ian that Augusta bring out are wonderful. As with any good romance, there is the villain and the villain in this book is delightfully wicked, soulless even.
I loved the story of Ian and Augusta and I look forward to the next story in this series. I also look forward to continuing the Windham series. Ms. Burrowes' website is a fountain of information about upcoming books. I encourage you to visit and find out what is coming next.
I leave you with a rather lengthy excerpt from this book that I snagged from the website! Enjoy!
CHAPTER ONE
"It is a truth universally acknowledged that a single, reasonably good-looking earl not in possession of a fortune must be in want of a wealthy wife."
Ian MacGregor repeated Aunt Eulalie's reasoning under his breath. The words had the ring of old-fashioned commonsense, and yet they somehow made a mockery of such an earl as well.
Possibly of the wife too. As Ian surveyed the duo of tittering, simpering, blond females debarking from the train on the arm of their scowling escort, he sent up a silent prayer that his countess would be neither reluctant nor managing, but other than that, he could not afford—in the most literal sense—to be particular.
His wife could be homely, or she could be fair. She could be a recent graduate from the schoolroom, or a lady past the first blush of youth. She could be shy or boisterous, gorgeous or plain. It mattered not which, provided she was unequivocally, absolutely, and most assuredly rich.
And if Ian MacGregor's bride was to be well and truly rich, she was also going to be—God help him and all those who depended on him—English.
For the good of his family, his clan, and the lands they held, he'd consider marrying a well-dowered Englishwoman. If that meant his own preferences in a wife—pragmatism, loyalty, kindness, and a sense of humor—went begging, well such was the laird's lot.
In the privacy of his personal regrets, Ian admitted a lusty nature in a wife and a fondness for a tall, black-haired, green-eyed Scotsman as a husband wouldn't have gone amiss either. As he waited for his brothers Gilgallon and Connor to maneuver through the throng in the Ballater station yard, Ian tucked that regret away in the vast mental storeroom reserved for such dolorous thoughts.
"I'll take the tall blond," Gil muttered with the air of man choosing which lame horse to ride into battle.
"I'm for the little blond, then," Connor growled, sounding equally resigned.
Ian understood the strategy. His brothers would offer escort to Miss Eugenia Daniels and her younger sister, Hester Daniels, while Ian was to show himself to be the perfect gentleman. His task thus became to offer his arms to the two chaperones who stood quietly off to the side. One was dressed in subdued if fashionable mauve, the other in wrinkled gray with two shawls, one of beige with a black fringe, the other of gray.
Ian moved away from his brothers, pasting a fatuous smile on his face.
"My lord, my ladies, fáilte! Welcome to Aberdeenshire!"
An older man detached himself from the blond females. The fellow sported thick muttonchop whiskers, a prosperous paunch, and the latest fashion in daytime attire. "Willard Daniels, Baron of Altsax and Gribbony."
The baron bowed slightly, acknowledging Ian's superior if somewhat tentative rank.
"Balfour, at your service." Ian shook hands with as much hearty bonhomie as he could muster. "Welcome to you and your family, Baron. If you'll introduce me to your womenfolk and your son, I'll make my brothers known to them, and we can be on our way."
The civilities were observed, while Ian tacitly appraised his prospective countess. The taller blond—Eugenia Daniels—was his marital quarry, and she blushed and stammered her greetings with empty-headed good manners. She did not appear reluctant, which meant he could well end up married to her, provided he could dredge up sufficient charm to woo her.
And he could. Not ten years after the worst famine known to the British Isles, a strong back and a store of charm were about all that was left to him, so by God, he would use both ruthlessly to his family's advantage.
Connor and Gil comported themselves with similarly counterfeit cheer, though on Con the exercise was not as convincing. Con was happy to go all day without speaking, much less smiling, though Ian knew he, too, understood the desperate nature of their charade.
Daniels made a vague gesture in the direction of the chaperones. "My sister-in-law, Mrs. Julia Redmond. My niece, Augusta Merrick." He turned away as he said the last, his gaze on the men unloading a mountain of trunks from the train.
Thank God Ian had thought to bring the wagon in addition to the coach. The English did set store by their finery. The baron's son, Colonel Matthew Daniels, late of Her Majesty's cavalry, excused himself from the introductions to oversee the transfer of baggage to the wagon.
"Ladies." Ian winged an arm at each of the older women. "I'll have you on your way in no time."
"This is so kind of you," the shorter woman said, taking his arm. Mrs. Redmond was a pretty thing, petite, with perfect skin, big brown eyes, and rich chestnut curls peeking out from under the brim of a lavender silk cottage bonnet. Ian placed her somewhere just a shade south of thirty. A lovely age on a woman. Con would call it a dally-able age.
Only as Ian offered his other arm to the second woman did he realize she was holding a closed hatbox in one hand and a reticule in the other.
Mrs. Redmond, held out a gloved hand for the hatbox. "Oh, Gus, do give me Ulysses."
The hatbox emitted a disgruntled yowl.
Ian felt an abrupt yearning for a not-so-wee dram, for now he'd sunk to hosting not just the wealthy English, but their dyspeptic felines as well.
"I will carry my own pet," the taller lady said—Miss Merrick. A man who was a host for hire had to be good with names. She hunched a little more tightly over her hatbox, as if she feared her cat might be torn from her clutches by force.
"Perhaps you'd allow me to carry your bag, so I might escort you to the coach?" Ian cocked his arm at her again, a slight gesture he'd meant to be gracious.
The lady twisted her head on her neck, not straightening entirely, and peered up at him out of a pair of violet-gentian eyes. That color was completely at variance with her bent posture, her pinched mouth, the unrelieved black of her hair, the wilted gray silk of her old-fashioned coal scuttle bonnet, and even with the expression of impatience in the eyes themselves.
The Almighty had tossed even this cranky besom a bone, but these beautiful eyes in the context of this woman were as much burden as benefit. They insulted the rest of her somehow, mocked her and threw her numerous shortcomings into higher relief.
The two shawls—worn in public, no less—half slipping off her shoulders.
The hem of her gown two inches farther away from the planks of the platform than was fashionable.
The cat yowling its discontent in the hatbox.
The finger poking surreptitiously from the tip of her right glove.
Gazing at those startling eyes, Ian realized that despite her bearing and her attire, Miss Merrick was probably younger than he was, at least chronologically.
"Come, Gussie," Mrs. Redmond said, reaching around Ian for the reticule. "We'll hold up the coach, which will make Willard difficult, and I am most anxious to see Lord Balfour's home."
"And I am anxious to show it off to you." Ian offered an encouraging smile, noting out of the corner of his eye that Gil and Con were bundling their charges into the waiting coach. The sky was full of bright, puffy little clouds scudding against an azure canvas, but this was Scotland in high summer, and the weather was bound to change at any minute out of sheer contrariness.
Miss Merrick put her gloved hand on his sleeve—the glove with the frayed finger—and lifted her chin toward the coach.
A true lady then, one who could issue commands without a word. Ian began the stately progress toward the coach necessitated by the lady's dignified gait, all the while sympathizing with the cat, whose displeasure with his circumstances was made known to the entire surrounds.
Fortunately, Mrs. Redmond was of a sunnier nature.
"It was so good of you to fetch us from the train yourself, my lord," Mrs. Redmond said. "Eulalie told us you offer the best hospitality in the shire."
"Aunt Eulalie can be given to overstatement, but I hope not in this case. You are our guests, and Highland custom would allow us to treat you as nothing less than family."
"Are we in the Highlands?" Miss Merrick asked. "It's quite chilly."
Ian resisted glancing at the hills all around them.
"There is no strict legal boundary defining the Highlands, Miss Merrick. I was born and brought up in the mountains to the west, though, so my manners are those of a Highlander. And by custom, Ballater is indeed considered Highland territory. We can get at least a dusting of snow any month of the year."
Those incongruous, beautiful eyes flicked over him, up, up, and down—to his shoulders, no lower. He tried to label what he saw in her gaze: Contempt, possibly, a little curiosity, some veiled boldness.
Shrewdness, he decided with inward sigh, though he kept his smile in place. She had the sort of noticing, analyzing shrewdness common to the poor relation managing on family charity—Ian recognized it from long acquaintance.
"How did you come to live in Aberdeenshire?" Mrs. Redmond asked as they approached the coach.
An innocent question bringing to mind images of starvation and despair.
"It's the seat of our earldom. I came of age, and it was time I saw something of the world." Besides failed potato fields, overgrazed glens, and shabby funerals. He handed the ladies in, which meant for a moment he held the hatbox. His respect for the cat grew, since from the weight of the hatbox, the beast would barely have room to turn around in its pretty little cage.
Ian knew exactly how that felt.
He handed the cat up to the coachman, closed the coach door, and swung up on Hannibal, because his brothers were already in their respective saddles. Up on the box, Donal waited for the riders to go ahead, lest the mounted contingent have to eat an unnecessary helping of summer dust.
And then they were leaving the crowded surrounds of the Ballater train station, leaving the sound of steam belched from the train, the hubbub of greeting and parting in the station yard, the stomping and tail swishing of coach horses impatient—as Ian was impatient—to be away from the noise.
"What can you tell me?" Ian asked his brothers as they slowed their horses to a walk. The coach had fallen hundreds of yards behind, the aging team needing a modest pace on the many inclines on the road to Balfour House.
"The younger daughter, Hester, is harmless, but not stupid," Connor said. "My guess is she knows she has to wait until the older one is wed before she herself goes on the block. She won't be a problem."
"See that she isn't."
Connor nodded, no doubt resigned to having to dance and flirt—as best he could—with yet another English miss.
"Gil, what about my prospective bride?"
Gil fiddled with his reins, adjusting the balance of curb and snaffle. "Pretty, which should make married life a little easier, at least during daylight hours."
"What does that mean?"
Gil's lips flattened. "She's… nervous. Anxious, but many women are not pleased to be making long trips by train. I can't say in five minutes of her company I came to any significant conclusions about Miss Daniels."
Gil had gotten a generous helping of the family charm along with his blond good looks. If there was more intelligence to gain regarding Miss Daniels, he was the best man to gather it.
Con glowered at nothing in particular. "It was MacDaniels until a few generations ago."
"It's Daniels now," Ian said. "Well, keep your eyes and ears open. The shorter chaperone strikes me as pleasant enough, though those types are easy to underestimate. The taller one is decidedly lacking in cheer."
Con's mouth quirked up. "Serves you right."
"She could be an ally," Ian said. "If she's willing to see her cousin matched to a Scottish earldom, then a fat English dowry is that much closer to our dirty, grasping hands."
Con's smile disappeared as he glared at his horse's mane. "There has to be another way."
"There isn't." Gil's tone was weary. "Thank God that Her Majesty has made all things Scottish fashionable, particularly strutting about the Highlands in summer. The paying guests get us from year to year, from crop to crop and shearing to shearing. We'd be on the boat to Nova Scotia without them. They will not keep Balfour in any sort of repair, though, and they leave us precious little to send along to the others."
"We're doing all right," Ian said. But just all right. Another blight on the crops, a sickness in the flocks, a new tax from London, and all right would not be good enough. As much coin as they sent to their myriad relations in the New World, there was always a need for more.
"We're waltzing and flirting our lives away," Con said. "It's enough to make that boat to Canada look very, very good."
He'd let his diction lapse: verra, verra guid. As the youngest, Con had come down from the mountains most recently, but it was more than that. This charade took a toll on them all, but on Con worse than Ian or Gil. Con was their horsemaster, a man more comfortable out-of-doors among the beasts than swilling tea in his dress kilt.
"Race you!" Gil drove his heels into his horse's sides, shooting out from between his brothers like a blond streak. Con thundered after, while Ian held Hannibal back through a series of impatient crow hops and props.
"Settle, you. A fellow of your dignified years has no business disporting like a cocktail lad of three."
At the sound of Ian's voice, the gelding ceased his antics. They were both getting too old to caper around for the sheer hell of it, but as Ian watched the coach come lumbering up the hill behind him, he wheeled his horse and shot off after his brothers.
The Bridegroom Wore Plaid is available at Amazon
Welcome to Sugarbeat's Books – The Home of the Romance Novel
Welcome also to Series Sunday!
This is the day that we get to talk about a book that was written in series.  If you have been following along, you will know that we are wandering our way through Elizabeth Boyle's Bachelor Chronicles.  I'm not sure if I have a favorite book, but I certainly loved this one!  As I've mentioned before, once I've finished the series, I'll be giving away a bunch of books!  Keep your eyes open for the giveaway in a few weeks.
Memoirs of a Scandalous Red Dress by Elizabeth Boyle
ISBN: 978-0-06-137324-4
Release: April 29, 2009
Publisher: Avon Historicals
Source: I purchased this book to read and review
What if all you have are the memories of a pirate…
…and the scandalous red dress that nearly brought you to ruin? Remembrances of the kisses he stole? Or his seductive, rakish smile as he charmed his way into your bed, stole your innocence and your heart? To proper and respectable Philippa, Lady Gossett such memories are best locked away. At least so she thought until a stranger arrives on her doorstep and offers her a chance to tempt fate once again… to tempt Dash back into her life and quite possibly into her bed…
But the man Pippin loved all those years ago, and the man she discovers are hardly the same. Captain Thomas Dashwell has a score to settle with the now widowed Lady Gossett, the vision in red who has haunted his life for so long—ever since that fateful night when she betrayed him and married another. She's the one woman he's vowed to hate until the end of his days… and the one woman he can never forget…
I LOVED THIS BOOK!! Just thought I'd get this off my chest right up front!
Memoirs of a Scandalous Red Dress is another book in the Bachelor Chronicles series that Elizabeth Boyle has written, and I'm just catching up with now! This book tells Philippa's story. We have had bits and pieces of Philippa's story in various other books, but this one is dedicated to her and her soul mate, Captain Thomas Dashwell.
Back in her youth, Philippa fell in love with Captain Thomas Dashwell. She actually met him for the first time when she was a young girl. Tim moves on, and her beloved Dash is in prison for and sentenced to hang. Philippa, Thalia, her cousin and several other friends, hatch a plot to bust Dash out of prison. It works, and it allows Philippa to spend some "quality" time with him while they are waiting for the other part of the plan.
To avoid giving away any details, I'll just say that this book starts 20+ years later and Philippa is now a widow with two grown children and she who she thinks is Dash again. A few hours later, Dash's son convinces her to come with him as Dash is really sick and needs her help. She packs a bag and goes immediately only to find out that Dash is an alcoholic and in a bad way. What she doesn't know, is that Dash's son has meanwhile left a ransom note, making it look like she has been kidnapped – and Philippa's son is the youngest captain to get his own ship in the Royal Navy. And he's heading to get his mother!
I think that main thing that I loved about this book was the theme of true love lasting for a lifetime. Although something always got in the way of Dash and Philippa being together, they always loved one another. When they finally were at the point in their lives where they could be together, their love just glowed between them. The other thing that I loved about this story is that it is basically about a woman who has done her duty, raised her children, lost a husband, but is still sexy, still has the ability to carry off "The Scandalous Red Dress". A nice change from most Regency romances that are about 20 somethings or younger finding the love of their life. Full of youthful enthusiasm for the future and looking forward to starting a young family.
I've now read quite a few books by Ms. Boyle, and I was certainly looking forward to reading this one. By the way, I'm reading them out of order! I have been looking forward to the end of Philippa and Dash's story. Although I know I keep saying this, I think this one is my favorite so far!
The characters of Philipa and Dash are absolutely outstanding! They are separated constantly by circumstance, but two halves of a whole. Dash does what he does, always aware that he might run into Philipa, or creates opportunities to run into her. When they are parted just before she marries, something in Dash breaks. She saved his life, and the result of that was they were parted.
The younger generation were very well written also. Imagine walking into a room and meeting your father for the first time – and you know this, because you are the spitting image of him!! Funny, funny, funny!
I don't want to chatter on anymore and give away any more details! Pick up a copy of this book. I hope you enjoy it as much as I did!
Buy a copy of Memoirs of a Scandalous Red Dress (Bachelor Chronicles)
Related articles
Welcome to Sugarbeat's Books – The Home of the Romance Novel!
Welcome also to Series Sunday!
We have recently finished the Julia Quinn Bridgerton series as well as the newer connected books that Ms. Quinn has written. We are now working our way through The Bachelor Chronicles – a series that has been written by Elizabeth Boyle. As I mentioned last week, I ran into Ms. Boyle at a book signing last fall, and she started me reading her books again after a bit of a break.  Once we finish with this series, I'll be giving away a selection of books by Ms. Boyle!
Confessions of a Little Black Gown by Elizabeth Boyle
ISBN: 978-0-06-137323-7
Publisher: Avon Historical Romance
Release: Mar 31, 2009
Source: I purchased this book to read and review
She spied him in the shadows….

And in an instant, Thalia Langley knew the man before her was no saint.  He might claim to be the Duke of Hollindrake's unassuming country cousin, but no man that handsome, that arresting, could be anything but…well, he simply must be an unrepentant rogue.  His cat-like grace and power leave Tally shivering in her slippers at the notion of all the wicked, forbidden things he might be capable of doing….to her

Indeed, Lord Larken is no bumbling vicar, but a master spy there in his majesty's service to find – and murder – a notorious pirate freed in a daring prison escape.  Devoted to the Crown, Larken's not about to let an interfering (and not entirely innocent) Mayfair miss disrupt his ruthless plans.  Yet how can he be anything but tempted by this lady in a little black gown…a dress tantalizing enough to lead even Larken astray.
Confessions of a Little Black Gown  is another book in the Bachelor Chronicles series that Elizabeth Boyle has been writing over the last few years.  This is the second book that I have read recently by Elizabeth Boyle and I'm really enjoying this series of books!
Lord Larken is coerced into going undercover as The Duke of Hollindrake's country cousin.  He is a former agent of the crown who was taken out of the field as he was becoming more and more unstable – according to his superiors.  Now these superiors need him for another job, and are not giving her any choice.  As a child, he was a witness to his father's murder and is determined to discover who his murderer was.  Larkin has had a hard life and it's not about to get any easier as he is tasked with not only capturing a notorious pirate but murdering him.  This pirate was once one of his best friends.
He thinks he assumes the demeanor of a bumbling country vicar, but Thalia Langley sees through him from the start.  Thalia is the sister of the Duke of Hollindrake's new wife.  Thalia's sister, Felicity is a force of nature, the creator of the Bachelor Chronicles and determined to make a name for herself as a successful matchmaker.  Felicity sees the job arranging for Milo Ryder aka Lord Larkin's marriage as a feather in her cap.  She sets Thalia to seeing to grooming Mr Ryder/Lord Larken for presentation to potential brides.  Thalia keeps seeing two separate people – the bumbling vicar, and the dangerous, attractive man that she is drawn to.  No one else see anything other than a kindly vicar, much to Thalia's dismay.  Meanwhile, Thalia and her cousin, Pippin are hiding Captain Dashwell, a pirate, in the house, disguised as their companion.  They broke Captain Dashwell out of jail and are hiding him until he can be taken to the coast to escape back to America and also so that Pippin can spend more time with the man that she loves.
This sets up the story and I don't want to give away much more!  This story has alot of characters that should be difficult to keep straight.  Ms. Boyle's style of writing and creating characters allows these characters to be distinct individuals.  They are connected to previous books and I imagine are setting up information for future books, but this book is easily read as a stand-alone without any information from other books.
The characters that Ms. Boyle creates are delightful.  The are truly good, or very bad.  Villains are deserving of our scorn, and conversely, the "good guys" are deserving of our cheers.  Thalia is a highly principled individual, but determines who deserves her regard.  Captain Dashwell is seen as a criminal set for hanging by the crown, but she sees him as misunderstood and sets out to save him from a hanging and protect him until he can escape to his ship.  Lord Larken has had a tough life and is in need of the proverbial "good woman" by his side.  Thalia is unconventional,  yet she seems to "fit" Larken.  He isn't looking at her as someone who needs changing, although he does try to protect her on several occasions!
I have several more of this series on their way to me and I look forward to reading more of what Ms Boyle has written in this series.  Although I seem to be reading this series out of order, I'm looking forward to finishing it!
Buy a copy of Confessions of a Little Black Gown
Welcome to Sugarbeat's Books – The Home of the Romance Novel
Welcome also to Steamy Saturday! 
This is the day of the week where I post a book that is on the steamier side of romance.  You all know how fond I am of those little Blaze books! Here's another one.  I hope you enjoy my thoughts on this steamy little book!  Frankly, all you need to do is to look at the cover and you'll be able to tell this is a great book
Her Man Advantage by Joanne Rock
ISBN: 978-0-373-79688-5
Release: May 2012
Publisher: Harlequin Blaze
Source: I purchased this book to read and review
Full body contact never felt this good…
By rights they should have hated each other.
Filmmaker Jennifer Hudson doesn't want to make a hockey documentary any more than hockey defenseman Axel Rankin wants to star in one. But neither of them anticipated the molten rush of pure lust for each other and they can't help but give in, on and off camera…
The last thing Axel needs is a camera shoved in his face, probing into his life and his rocky past. Especially if the woman calling the shots is a mouthy, assertive, drop dead sexy redhead–who makes him want to do things that definitely require an adults-only rating!
His favorite game just got a whole new set of rules.

Axel Rankin is a man determined to be the best hockey player he can be.  What he doesn't need is some woman trying to film a documentary in the middle of his team's run for the playoffs.  He needs all the concentration he can muster.  Is a stubborn, hot-tempered redhead is the last thing he needs or just the ticket to a win?
Her Man Advantage is in the Double Overtime series recently released by Harlequin, but this book is sort of a continuation from One Man Rush also by Joanne Rock.  Axel is the foster brother of Kyle Murphy, the hero in that book. Axel grew up in Finland, but was raised by Kyle's family from a relatively early age.  As we find out, he has a history in Finland which the publicity of this film that Jennifer wants to do will bring back to haunt him.  Regardless of the risks, Axel finds himself drawn to Jennifer and unwilling to give her the space that he knows is prudent.
I like the characters in this book.  Jennifer is a feisty redhead that is determined to make a name for herself in filming documentaries.  She isn't going to let anything get in her way; certainly not a huge smelly, sweaty, mountain of a hockey player fresh from practice!  Axel provides just the foil for her assertive characteristics.
This is a great hot little read.  The sex sizzles and the story races along.  The book is small enough to fit in a purse, and short enough to be consumed in a few hours.  Highly recommend!


Buy a copy of Her Man Advantage (Harlequin Blaze)
Related articles
Welcome to Sugarbeat's Books – The Home of the Romance Novel!
So…..it started with a visit to the book fair at the Emerald City RWA conference.  I decided to pick up a book from Elizabeth Boyle and get it signed, so that I could give it away to one of you guys! Oh, and read it before I gave it away so that I could share my thoughts.  The book I picked up was Lord Langely is Back in Town.  I'll share my thoughts about it in a few weeks, but I had the opportunity to have a short chat with Ms. Boyle about romance novel models in puffy shirts vs leather vests (puffy shirts win btw).  When I got home, I raced through it, reminding myself of how much I enjoy Elizabeth Boyle's books, and how long it had been since I had read one. I got busy and gathered up a selection of the previous books, and started to read and review.
Today we are starting with Love Letters From a Duke, not the beginning, but one of my favorites of this series. This book lays a good grounding of the characters and the history involved in this series.  And yes, I have a bunch of Elizabeth Boyle books to giveaway when I'm done with my reviews.  Oh yes, I also read and reviewed these books out of order
I hope you enjoy my thoughts about this great book!
Love Letters From a Duke by Elizabeth Boyle
ISBN: 978-0-06-0784034
Release: August 28, 2007
Publisher: Avon Historical Romance
Source: I purchased this book to read and review
Though she can't afford the coal to heat her drafty Mayfair mansion, Felicity Langley still clings to her dream of marrying a duke–one she's had since her very first curtsy. After all, she's been all but promised to the very proper and very lofty Duke of Hollindrake for the last four years. Now all she has to do is meet him. But what Felicity doesn't realize is that she has already met her duke—he's the rather unfashionable yet altogether too-handsome man who has just turned up at her doorstep. And Felicity has just mistaken him…for her new footman!
By rights, Thatcher should immediately set this presumptuous chit straight and tell her he has no intention of following through with a betrothal his grandfather—the previous duke—arranged. But he's quickly smitten by Felicity's delightful determination, her irrepressible charm…and her breathtaking beauty. Yes, she'd wed him in an instant were his true identity revealed—but Thatcher's vowed to marry only for love. So begins his deception and his conquest of this uncommon woman who doesn't believe in romance, but is about to find her heart and passions set aflame by the unlikely servant she's sworn to resist.
Yet another excellent novel by Elizabeth Boyle! This is a book in the Bachelor Chronicle series and this one features Felicity Langley and the Duke of Hollindrake. Felicity is the creator of The Bachelor Chronicles, a notebook with information on all the eligible men in society. This is a project that Felicity started while at school, and it is a work in progress as it were. She has determined that she is going to marry the Duke of Hollindrake, and thinks she has been corresponding with him for years. She has, in fact, been corresponding with his grandfather, as he has been off serving his country. She has become more and more certain as the years have passed, and the correspondence has continued that she wants to marry her duke.
Thatcher, the new Duke of Hollindrake, returns to England after the death of his grandfather to find out he is engaged to Felicity Langley. Intent on dissolving this sham engagement, he shows up at her door, only to be mistaken for an applicant for a footman. He's not certain whether to be annoyed or intrigued, but he takes the position and starts an illustrious career as a footman to the most doggedly determined woman he has ever met.
I don't want to give away much, if anything of this story, because it is totally delightful from beginning to end! Thatcher is a wonderful character, that is totally deserving of the role of hero. Felicity, as I've already said, is determined, but really, she would put a bull-dog to shame! She is determined to marry a duke – specifically the Duke of Hollindrake. In order to meet him, she has acquired a house, but has no staff, no money and no appropriate clothes, but she marches forward, braving her way though all obstacles.
This book is filled with action, humor, and delightful characters. It grabs hold of you and makes you finish reading it, even if you have to read into the wee hours to do so! Pick up a copy of this book, and enjoy a rollicking good read!!
Buy a copy of Love Letters From a Duke (Bachelor Chronicles)
Related articles
Welcome to Sugarbeat's Books – The Home of the Romance Novel!
Today's post is to announce the Julia Quinn giveaways.  As you all know, I've been reviewing the Bridgerton series in anticipation of the release of "A Night Like This" which I reviewed last week.  Time to pass on some loved books to someone who will enjoy them as much as I did!
I have one copy of The Lady Most Likely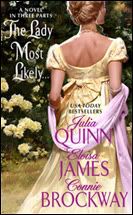 complete with a signed preview of A Night Like This that I got when I was in Seattle for a author meet and greet.
I also have two signed copies of Just Like Heaven!!  One has been gently read, but the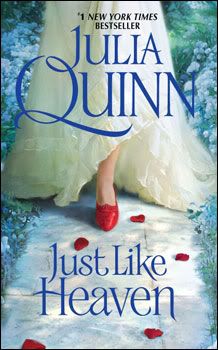 other one is untouched.  To be entered into this giveaway, please fill out the form below.  I'll be running this giveaway for 2 weeks starting today.  US or Canadian mailing address only please.

Related articles
Welcome to Sugarbeat's Books – The Home of the Romance Novel
Welcome also to Series Sunday!
This is my favorite day of the week! I love reading books, especially historical romances in series. I have the opportunity to live vicariously through the family that the series is about.  Today, I'm posting a much awaited release (at least for me personally) A Night Like This by Julia Quinn was released on May 29th and I snapped up a copy hot off the press. I haven't met a Julia Quinn book that I haven't liked….and this book is no different.  I'd like to say it was well worth the wait, but frankly, I hate waiting long periods of time between releases!!
I hope you enjoy my thoughts on this long awaited book, and of course, return next week as I'm giving away some Julia Quinn novels!
A Night like This by Julia Quinn
ISBN: 978-0-06-207291-7
Release: May 29th, 2012
Publisher: Avon Historicals
Source: I purchased a copy of this book to read and review
Blurb:
Nora Roberts calls Julia Quinn's novels, "Delightful." The #1 New York Times bestselling creator of the irresistible Bridgerton family, Quinn offers historical romance readers new delights with A Night Like This—the second book (following the phenomenal Just Like Heaven) to feature the affairs, romantic and melodic, of the endearing, if painfully untalented, Smythe-Smith musicians. On A Night Like This in Regency England, anything can happen, especially when a beautiful pianist sitting in at the annual Smythe-Smith musicale catches the eye of a haunted, hunted man in desperate need of redemption. There is simply no author in the realm of historical romance fiction hotter than the remarkable Julia Quinn—and anyone who has ever been swept away by the love stories of Amanda Quick, Lisa Kleypas, or Jill Barnett will cherish A Night Like This.
The long anticipated day finally arrived! The next Julia Quinn novel arrived to the bookstore near me! As everyone knows, I've been eagerly anticipating this book since the book signing I went to back in January. This book follows Just Like Heaven and again is a bit of an offshoot to the Bridgerton family books that span so many years.
In Just Like Heaven, we are introduced the the Smythe-Smith family members.  This is the family that creates the yearly concerts that are so horrible, yet everyone in the ton attends.  They are the source of humor in the Bridgerton books as most of the Bridgerton siblings either have to attend a concert or attempt to plot a way to avoid them.  We are now meeting the ladies that perform in those concerts.
It is a long standing tradition in the Smythe-Smith family that all the unmarried girls perform in a concert.  Much is made about some of the girls who are desperate to marry so that they don't have to perform again.  In Just Like Heaven, we met Honoria – the one member of the family, it seems, that feels performing in a concert is an honor.  She's aware of how horrible they are, but enjoys being part of a long standing tradition.  The concert that Honoria performs in, allows us to  be introduced to Anne Wynter, the heroine of A Night Like This. She is the governess of some of the girls performing and is drafted to play the piano when one of the girls becomes too ill to perform.  The concert occurs the the very night that Daniel, our hero arrives home from 3 years of exile because of a duel that he participated in.
For a lady who had spent the last eight years trying not to be noticed, Anne Wynter was in an awkward position.

In approximately one minute, she would be forced to walk onto a makeshift stage, curtsy to at least eighty members of the creme de la creme of London society, sit at a pianoforte, and play.

That she would be sharing the stage with three other young women was some consolation.  The other musicians – members of the infamous Smythe-Smith quartet – all played stringed instruments and would have to face the audience.  Anne, at least, could focus on the ivory keys and keep her head bowed.  With any luck, the audience would be too focused on how horrific the music was to pay any attention to the dark-haired woman who had been forced to step in at the last minute to take the place of the pianist, who had (as her mother declared to anyone who would listen) taken dreadfully – nay, catastrophically – ill.
A Night Like This is a thoroughly delightful book.  Definitely worth waiting for!  Anne is a wonderful person who has had a rough time of it in life.  She made a mistake early on that she has been paying for for years. The same is true, but in a different way for Daniel.  Daniel was involved in a drunken duel in his youth and accidentally shoots his best friend.  This enraged his best friend's father to the point where he feared for his life.  He has spent the last 3 years running from hired hit men and thugs.  A truce has finally been reached and he comes home to see the most beautiful woman he has ever seen.  The fact that she is a governess is a bit of a problem, but one that Daniel doesn't let get in his way.
Julia Quinn has the ability to create a story that has the reader laughing while they read.  The romance is present and beautifully presented, but the humor always comes through.  I have read many of Ms. Quinn's books.  I certainly have my favorites, and there were one of two that I wasn't as fond of, but I always eagerly anticipate the next book coming out!
"Have you ever read one of your cousin's plays?" Miss Wynter asked innocently.

Daniel shook his head.

"They're rather like this conversation, actually," she said, and then, while he was absorbing that, she turned to her charges and accounted, "Good news, everyone! Today, instead of Julius Caesar, we will study one of Harriet's plays."

"Study?" Elizabeth asked, all horror.
"Read from, " Miss Wynter corrected. She turned to Harriet. "You may choose which one."
"Oh my heavens, that will be difficult." Harriet set down her fork and place a hand over her heart as she thought, her fingers spread like a lopsided starfish.
"Not the one with the frog," Frances said forefully. "Because you know I will have to be the frog."

You're a very good frog," Miss Wynter said supportively.

Daniel kept quiet, watching the exchange with interest. And dread.

"Nevertheless," Frances said with a sniff.
"Don't worry, Frances," Harriet said, giving her hand a pat, "we won't perform The March of the Frogs, I wrote that years ago. My recent work is much more nuanced."

"How far along are you on the one about Henry VIII?" Miss Wynter asked.
"A yen to have your head lopped off?" Daniel murmured.  "She did want to cast you as Ann Boleyn, didn't she?"
"It's not ready," Harriet said, "I have to revise the first act."
"I told her it needs a unicorn," said Frances.

Daniel kept his eyes on the girls but leaned toward Miss Wynter. "Am I going to have to be a unicorn?"

"If you are lucky."

He whipped his head around to face her.

"What does that m-"
As you can see from the quote above, Ms Quinn does a wonderful job of humorous conversations between the various characters that simply brings the story to life.  The reader can imagine this scene where Miss Wynter is obviously setting Daniel up for something and involving her young charges in the action.
Whatever will Julia Quinn write next???  And when will it appear in bookstores….two very important questions!
Buy a Copy of A Night Like This (Smythe-Smith Quartet)
Welcome to Sugarbeat's Books – The Home of the Romance Novel
Welcome also to Series Sunday!
This is of course, my favorite day of the week.  I love books in series.  Today I'm posting my review of the latest book that has been released by Julia Quinn, that is, before the on I snagged this week and I'm reading as fast as I can. I hope you enjoy my thoughts for Just Like Heaven
Just Like Heaven by Julia Quinn
ISBN: 978-0-06-149190-0
Release: 2011
Publisher: Avon Historical Romance
Source: I purchased this book to read and review
Blurb:
Honoria Smythe-Smith is:

a really bad violinist
still miffed at being nicknamed "Bug" as a child
NOT in love with her older brother's best friend
all of the above

Marcus Holroyd is:

the Earl of Chatteris
regrettably prone to sprained ankles
NOT in love with his best friend's younger sister
all of the above

Together they:

 eat quite a bit of chocolate cake
 survive a deadly fever AND the world's worst musical performance
 fall quite desperately in love

It's Julia Quinn at her best, so you KNOW the answer is….
all of the above
For all those Bridgerton Family fans out there…..THERE'S MORE!!!  And it's delightful!  I had the honor of meeting Julia Quinn at the RWA book fair in Bellevue, WA. She is so understated, so nice to talk to.  I got myself an autographed copy of Just Like Heaven and it took a place higher on my TBR pile than it should have!  For those of you patiently waiting for me to read your book, I hope you understand!  I've been reading this series for quite some time, and I NEEDED to find out what was next!
From the Bridgerton series, the Smythe-Smith yearly musicals are mentioned several times.  These absolutely horrific events feature some of the worst music of the season.  It seems that there isn't one musical member of this large extended family.  They are populated by an appalling lack of talent amongst each tone-deaf girl.  *grin* Just like Heaven allows a look from the other side of the podium as it were.  The main character in this story is Honoria Smythe-Smith.  She is yet another member of this memorable family and has served one year as part of the family quartet that performs at the musical. She is the youngest member of her large family and was nicknamed "Bug" by her brother when growing.  Being the youngest by a number of years, she was constantly trying to tag along with her brother and his best friend, Marcus.  They did everything they could to ditch her!  Marcus, however, had a soft spot for her as he was an only child and knew what it was like to have no one to play with.  As a result, Honoria developed a case of hero worship!  The story jumps ahead many years.  Honoria has made her come out, her brother has been chased out of England because of a scandal and her mother seems to have gone into a decline.  Although she felt a number of men would have offered for her during her first season, they seemed to change their minds.  What Honoria doesn't know is that Marcus has been tasked with watching over her, and is chasing off unsuitable suitors.
An unexpected meeting in the woods with Marcus leaves him with a twisted ankle and Honoria tasked with getting some help for him.  As a result, he ends up with pneumonia and an infection in his leg where his valet had to cut his boot off his swollen foot.  Although this is an unfortunate event, it brings Honoria and Marcus together.
This is a wonderful story.  For those of you Bridgerton fans out there, this is a wonderful addition to this series, but from a different point of view.  Gregory and Colin Bridgerton make an appearance in this book.  There is also an appearance from Lady Danbury!
"He held himself still, because he knew that voice, and he knew there was no escaping it.  With a small smile, he looked down into the wrinkled face of Lady Danbury, who had been terrifying the British Isles since the time of the Restoration.

Or so it seemed.  She was his mother's great-aunt, and he would sear she was a hundred years old.
"An injury to my leg, my lady," he said, giving her his most respectful bow.

She thumped her weapon (others might call it a cane, but he knew better) against the floor.  "Fell off your horse?"

"No, I -"
"Tripped down the stairs?  Dropped a bottle on your foot?" Her expression grew sly, "Or does it involve a woman?"

He fought the urge to cross his arms.  She was looking up at him with a bit of a smirk.  She liked poking fun at her companions; she'd once told him that the very best part of growing old was that she could say anything she wanted with impunity.

He leaned down and said with great gravity, "Actually, I was stabbed by my valet,"

It was, perhaps, the only time in his life he'd managed to stun her into silence.
Can't you totally see Lady Danbury??  In my mind, she has an uncanny resemblance to my husband's Auntie Irene and so I can totally picture this scene! I, too, spent many years tiptoeing around our beloved Auntie Irene!  Julia Quinn creates totally delightful characters!  These characters have the power to stay with the reader.  In her world building, she is gradually forming an army of Bridgertons and associated characters.  They are all unique and they all make us laugh and they all make us cry.  Isn't that an indication of a good book?  One that you finish with a tissue in hand?
There is more on the way!  According to Julia Quinn's website, there is a second Smythe-Smith book on the way – A Night Like This. *happy dance* but not until late spring 2012.
  In case you haven't figured out yet…..I highly recommend this book and I wait in eager anticipation of the next installment of the story!


Buy a copy of Just Like Heaven
Welcome to Sugarbeat's Books – The Home of the Romance Novel!
Welcome to Series Sunday!
This is the day of the week when I get to celebrate my favorite thing – books written in series! For the last few weeks, I've been reviewing Julia Quinn's Bridgerton series in celebration of Ms. Quinn's new release, A Night Like This,  coming in a few weeks.  Although the new release isn't technically a Bridgerton book, it is like a cousin of the Bridgerton series.
Today I'm posting my review for the last book in the Bridgerton series.  This book features the youngest male sibling in the family, Gregory, and his potential bride, Lucy.
On The Way to the Wedding by Julia Quinn
ISBN: 0-06-053125-8
Publisher: Avon Books
Source: I purchased this book to read
Unlike most men of his acquaintance, Gregory Bridgerton believes in true love. And he is convinced that when he finds the woman of his dreams, he will know in an instant that she is the one. And that is exactly what happened. Except…

She wasn't the one. In fact, the ravishing Miss Hermione Watson is in love with someone else. But her best friend, the ever-practical Lady Lucinda Abernathy, wants to save Hermione from a disastrous alliance, so she offers to help Gregory win her over. But in the process, Lucy falls in love. With Gregory! Except…

Lucy is engaged. And her uncle is not inclined to let her back out of the betrothal, even once Gregory comes to his senses and realizes that it is Lucy, with her sharp wit and sunny smile, who makes his heart sing. And now, on the way to the wedding, Gregory must risk everything to ensure that when it comes time to kiss the bride, he is the only man standing at the altar…
This book, On The Way to the Wedding, is the last of the series of 8 Bridgerton books. There are ancillary books that follow the stories of minor characters, but the main character's stories finish with this book. I must admit that this book is my least favorite of the group. Throughout most of the series, Gregory Bridgerton (the hero of this story) is a child or a young man and not much attention is paid to him. The attention always seems to be on his older siblings. They way this story is told, Gregory doesn't seem to have many redeeming qualities.
On The Way To The Wedding starts with Gregory spotting Miss Hermione Watson at a house party and believing he has fallen in love. Hermione is very beautiful and is often the center of attention; her best friend Lucy Abernathy stands in her shadow. Lucy feels sorry for Gregory's failure to win Hermione and decides to help him. Fate steps in and Hermione is caught in a compromising position with Lucy's brother and is forced to marry. Obviously, Gregory can no longer marry Hermione.
Lucy has been engaged for years to an earl and the time approaches for her to wed. Gregory, who has meanwhile decided that he isn't in love with Hermione, but with Lucy, tries to get her to break off her engagement with the earl. Lucy doesn't trust his feelings .(I wouldn't either, given the speed with which they change)
We find out that Lucy is being blackmailed and of course, that is the main reason behind her not wanting to break her engagement. In true Julia Quinn style, all is settled and we have a happy ending. (not wanting to give away the details of the ending)
I have been impressed with Julia Quinn's characters and character development throughout all the books of this series. The only character that I couldn't seem to warm up to was Lucy. She seems quite weak and so undeserving of Gregory; so unlike the inner strength of all of the other characters of the books.
I've read alot of reviews of this RITA Winning, and New York Times Bestselling book, and reviewers rave about it. I think I'm one of the only one who isn't a huge fan of this book.  I think that I am so fond of some of the earlier books in this series, and I really don't want to see this series end, I'm a bit sad.
RT Book Reviews gives On His Way To The Wedding 4 and 1/2 stars and says: "Quinn deftly merges the elements of a Shakespearean comedy with the climax of The Graduate, delivering an utterly delightful love story that will have readers grinning with pleasure the instant the book is opened until the marvelous ending."
I look forward to the next release in about 2 weeks – stay tuned for my review of A Night Like This!
Related articles
Welcome to Sugarbeat's books – The Home of the Romance Novel
Today is Series Sunday where we talk about books written in series.
Most of you know that my favourite thing is to read a book that is part of a series.  Lately, we've been reviewing the Bridgerton series by Julia Quinn in honor of her new book coming out at the end of the month!!  I'm trying not to think about how many days…
Today we are going to talk about It's In His Kiss, which involves Hyacinth Bridgerton.  Many have said that this is their favorite Bridgerton book.  I like it, but it might be number 2 or 3 on my list.  It is good, none-the-less, so I hope you enjoy my thoughts….
It's In His Kiss by Julia Quinn
ISBN: 0-06-053124X
Publisher: Avon Books
Source: I purchased this book to read
Meet Our Hero…

Gareth St. Clair is in a bind. His father, who detests him, is determined to beggar the St. Clair estates and ruin his inheritance. Gareth's sole bequest is an old family diary, which may or may not contain the secrets of his past… and the key to his future. The problem is–it's written in Italian, of which Gareth speaks not a word.

Meet Our Heroine…

All the ton agreed: there was no one quite like Hyacinth Bridgerton. She's fiendishly smart, devilishly outspoken and according to Gareth, probably best in small doses. But there's something about her–something charming and vexing–that grabs him and won't quite let go…

Meet Poor Mr. Mozart…

Or don't. But rest assured, he's spinning in his grave when Gareth and Hyacinth cross paths at the annual–an annually discordant–Smythe-Smith musicale. To Hyacinth, Gareth's every word seems a dare, and she offers to translate his diary, even though her Italian is slightly less than perfect. But as they delve into the mysterious text, they discover that the answers they seek lie not in the diary, but in each other… and that there is nothing as simple–or as complicated–as a single, perfect kiss.
Book 7 of the Bridgerton series brings back Lady Danbury, an older matriarch of society that appears in many of the former books as a crusty old curmudgeon who enjoys speaking her mind and is feared by many members of the ton. In this book Lady Danbury serves as a matchmaker to Hyacinth Bridgerton and her grandson, Gareth St. Clair. Hyacinth and Lady Danbury make an interesting pair. Hyacinth has been spending every Tuesday afternoon reading to Lady Danbury for some time but they continue to have a rather acerbic relationship. Hyacinth seems to feel duty-bound to read to Lady Danbury, but is happy when she often falls asleep and therefore ends the reading sessions. Hyacinth has not had much contact with Gareth until one day when he appears during reading time and asks Hyacinth to translate his paternal grandmother's diary which is written in Italian (a language Hyacinth has some knowledge of). As Hyacinth and Gareth start uncovering startling facts from this diary they find themselves drawn together romantically. Gareth has never been in love before and yet finds himself falling in love with the willful and stubborn Hyacinth. Hyacinth on the other hand is shocked to find herself developing feelings for such a notorious rake.
Gareth's unpleasant father starts to interfere with the budding relationship; threatening to tell Hyacinth Gareth's paternity secret. Only when faced with losing Hyacinth does Gareth realize that he truly loves her and fights to keep her.
Again, a winner from Julia Quinn. She shows that she is capable of exploring many delicate subjects in the unforgiving time of Regency England. Gareth has had such a hard life with his nasty father, but Julia Quinn presents him in a redeemable light. Hyacinth has the potential of being one of those bluestockings that are left on the proverbial shelf.
RT Book Reviews has nominated It's In His Kiss to be one of it's Top Picks and gives it 4 and 1/2 stars saying: "Here's another utterly delightful Bridgerton tale featuring a highly "modern" woman, whose warmth, vivacity and intelligence shine through on every page. Quinn pairs Hyacinth with an ideal hero and then places them in the center of a passion-filled, intriguing mystery that's sure to shoot to the top of the bestseller charts."
Drop back by next week for the last book in the Bridgerton series….how many more days do I have to wait for the new release???