ISBN: 1-55166-922-6
Publisher: MIRA Historical Books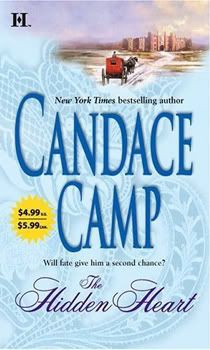 Richard, Duke of Cleybourne, was introduced in Candace Camp's first book in this trilogy.  He apparently had the love match of the season with Dev's sister several years prior.  She and their daughter died four years earlier in a carriage accident as she was leaving him, and Richard has not been able to recover from his grief.  Our book begins with him coming home to his country estate to commit suicide.
General Streathern, the guardian of his great-niece Gabriela Carstairs has suffered a stroke and is afraid for her safety after his death.  He makes her governess, Jessica Maitland, promise that she will take Gabriela away to her new guardian, Richard, before his great-nephew, the perverted Lord Vesey can get his hands on her.  It seems that Lord Vesey likes little girls and he and his wife need Gabriela's money.  As promised, Jessica flees in the night with Gabriela and ends up on the depressed Richard's doorstep….much to the relief of his concerned staff.
A winter snow storm descends on the estate and as various people stumble in, the weather prevents them from leaving.  Soon after Jessica and Gabriela arrive, the Veseys as well as several other groups of people seek refuge from the storm.  To further the story along as well as muddy the waters, there is now a number of plots that all intertwine.  We have a series of break-ins, a murder and an intricate mystery unfolds.
This novel introduces us to yet another of Candace Camp's feisty heroines.  Jessica has red hair and a temper to match.  She seems to be mature beyond her years and and puts her life on the line to protect her charge.  She also seems to be the spark that makes Richard want to live.  The added people and associated drama at times seem to detract from the core story.  This book seems to be well named.  Many of the characters in this book  have a Hidden Heart and in true Romance Novel fashion the Hidden Hearts are no longer hidden by the end of this wonderful addition to Candace Camp's repertoire and in particular this "Heart" trilogy.
RT Times says: "Take a brooding, hostile duke and a strong-willed, outspoken governess and you have an appealing romance by the always clever Candace Camp."
http://rcm.amazon.com/e/cm?t=sugsboonoo-20&o=1&p=8&l=as1&asins=0373771614&fc1=000000&IS2=1&lt1=_blank&m=amazon&lc1=0000FF&bc1=000000&bg1=FFFFFF&f=ifr