ISBN:0-8217-7346-1
Publisher: Zebra Historical Books
The 5th book in the "Company of Rogues" series – Dangerous Joy – begins with Miles Cavanaugh returning to his Irish estate where he is heir to the Earl of Kilgoran.  He  finds out that his step-uncle has died leaving him – not – his step-father guardian of Felicity Monahan for 6 weeks until she turns 21.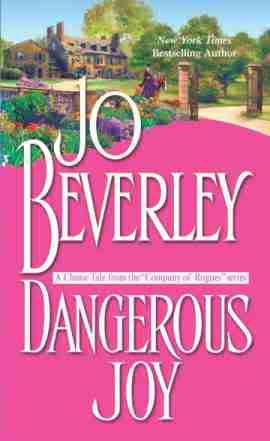 Felicity is known as a wild and willful heiress that Miles has to "guard" for 6 weeks until she reaches her majority.  He only has to guard her for 6 weeks…. how hard can that be??  While on his way to meet her, he is kidnapped and tied up.  The local woman who releases him offers him her body for his silence.  He almost accepts until he decides that the woman is Felicity.  At this point he realizes that it will be a long 6 weeks!
Felicity has decided for some, as yet, unknown reason, that she must marry Rupert Dunsmore – a man she clearly despises.  Miles has to actually take her prisoner to prevent this from happening.  One comment from another reviewer that sums up my feelings for this book: "Miles & Felicity are excellent characters and their interactions just sizzle.  Wit, danger, sensuality, and much more combine to make this an excellent read.  Miles is a war-hearted, easy-going hero faced with a hellion of a ward whose plans to make things better always seen to make things more difficult.  Sparks fly between them in a dozen different ways, each of them delightful."
In amongst all the drama of this book are several other members of the "Company of Rogues"; no Nicholas, but Lucien and Beth and Hal and Blanche play quite significant roles.  This book is full of witty dialogue, hilarious situations, and a touch of the paranormal with lots of cats.  I must admit, the Irish setting and the magical powers of the cats was a bit cliched.  That aside, this book is a rollicking good time – another wonderful addition to the Company of Rogues series!
GEnie Romance Exchange has to say the following about Dangerous Joy: "…a smashing book: fast paced, tense and compelling, with a touch of Irish magic."
RT BookReviews gives Dangerous Joy 4 stars and has the following comment: "Brimming with sensual adventure and daring wit, this lively tale gets off to a wonderful start, and readers familiar with the Rogues will revel at their latest reunion."