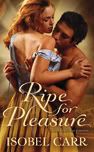 Time to announce Winners!
I'd like to thank everyone who entered my giveaway for 3 copies of Ripe for Pleasure by Isobel Carr!  Again, I wish I could get a copy to everyone, but sadly I can't.
The winners are:
Lisa at Lisa's World of Books
Babs at Bab's World of Books
Melissa at Melissa's Meanderings
All three of these ladies have been' e-mailed and have 48 hours to respond to me so that I can arrange to send out their books!
Thanks again to all who entered!