Welcome to Sugarbeat's Books – The Home of the Romance Novel!
Today is the first day of the Banned Books Week Giveaway Hop.  This Hop is co-hosted by I Am A Reader, not a Writer and by I Read Banned Books.  These ladies have gotten together almost 300 blog to participate in this hop to celebrate Banned Books Week.  I think that most of us enjoy our freedom to read what we want, uncensored by anyone (except maybe parents if you are young 🙂 ).  It's important to celebrate the fact that we don't live in a country where books are censored.
If you are curious and are interested in looking at a list of books that have been banned, click HERE.
On to what is being given away!  I'm going to have quite a few prizes for this giveaway.  Harlequin has been sending me alot of free books, so those are going to be given away as well as a gift card from Amazon.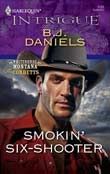 Smokin' Six-Shooter by B.J. Daniels
Russell Corbett was all cowboy and wasn't about to let a lady lasso him! But Dulcie Hughes had him tied up in knots from the moment she nearly collided with his combine. She rode into town with her fancy rental car and city clothes to claim her secret inheritance. And neither tall tale nor handsome rancher would deter her from exposing a years-old cover-up at the Beaumont property. She expected to find answers, not fall in love. But like the threatening thunderhead on the horizon, the truth would come fast and fierce, and there would be no escaping the consequences.
His Country Girl by Jillian Hart

To fulfill a sick boy's wish, rodeo star Tucker Granger surprises little Owen in the hospital. But no one is more surprised than single mother Sierra Baker. She figures the carefree champion for a different kind of man. One who doesn't spend hours talking "cowboy code" with a hospital-bound child. One who can't have her dreaming of a second chance at love. Somehow, Tucker ropes her heart and fills it with hope. Hope that this country girl and her son can lasso the roaming bronc rider into their family forever.
The last giveaway is an Amazon gift card for $10.00
Now for the rules 🙂  You must follow this blog to qualify for the hop.  If you follow me on Twitter you will get 5 extra points, if you follow me on Facebook, you will get 5 extra points, and if you tweet about this giveaway you will get 5 extra points.
For those of you not familiar with this type of hop – fill in my form and then go to each blog on the list of 300 or so listed below and enter to win what they are offering!  And good luck!