Welcome to Sugarbeat's Books – The Home of the Romance Novel!
Today is Bestseller for a Day! Yeah!  This is such a great opportunity to get excellent reads at a very cheap price!  Let's learn more about what the day is about!
Bestseller for a Day  Blurb

The Bestseller for a Day event is a creation of the Indie Book Collection, an organization dedicated to elevating the status of Indie writers everywhere by ensuring quality standards for their books. Bestseller for a Day serves a number of purposes.

First, we at the IBC realize that robust sales are a vital component of any Indie writer's platform. In order to get the attention of the entrenched publishing establishment, Indies have to prove they can sell as many books, or more, than any big-name blockbuster author. While this may sound like a lofty goal, many of our Bestseller for a Day featured novels have reached multiple Top 100 lists in the Amazon store. The effects often linger long after the day of the actual event.

Secondly, it is no surprise that today's publishing environment is changing at lightning speed. Just as authors have more choices available to them, readers do too, and the roles they play in a book's success has never been stronger.  Our Bestseller for a Day event harnesses the growing power of the reader by creating direct relationships between author and audience. Authors interact directly with readers through their own media platforms, creating relationships and building an audience that will, in many cases, last long beyond the event.

Readers are empowered, as well. Through Bestseller for a Day, readers get the chance to tell Amazon, New York, and the world that a particular Indie book is just as good as the latest big-name release. Their efforts have immediate, quantifiable results. No longer do readers have to wait weeks to see how a favored title ranks on a couple of key printed lists.

Just as readers have an increasingly powerful role in the new way books are bought and read, the rise of the book blogger cannot be denied. We at the IBC love our book bloggers and see Bestseller for a Day as another great way to connect with them. By matching book bloggers with authors who write for their preferred genre and audience, we bring them the chance to offer free books to their established readers. This is also a powerful draw to new followers. Additionally, because we offer "drafting titles" titles for .99 cents, book blogs that may be outside the featured title's genre still have plenty to gain by participating.

But the most important part of Bestseller for a Day is something that can't be measured. There's an air of excitement that builds as the "big day" approaches that's contagious. The IBC uses a wide variety of media sources to publicize the event, including newsletters, paid advertisements, book bloggers, and the IBC's adept command of social media. There's a building buzz as the day approaches. During the actual Bestseller for a Day event, the IBC, the author, and readers alike are active on Twitter and Facebook as they report the featured title's progress in real time.

The success of the Bestseller for a Day program is evident with our current offering, Ann Charles' Nearly Dead in Deadwood. This award-winning romance jumped over 10,000 ranking in the Kindle store due to Bestseller for a Day efforts, and we're still days away from the event itself! Similarly, last month's featured title, In Leah's Wake, enjoyed a similar bump in rankings. The author, Terri Guilano Long, even received a call from Amazon itself the day of the event, wishing her luck. Please join the fun on September 28th!
The book being featured today, as mentioned above is Ann Charles's Nearly Dead in Deadwood.  It's available today from Amazon for 99 cents – see the link below.  Here's some information on it!
"The first time I came to Deadwood, I got shot in the ass."—Violet Parker
Awards for Nearly Departed in Deadwood:
WINNER of the 2010 Daphne du Maurier Award for Excellence in Mystery/Suspense
WINNER of the 2011 Romance Writers of America ® Golden Heart Award for Best Novel with Strong Romantic Elements!
Description:
Irony is having a big ol' fiesta and Violet Parker is the piñata.  Little girls are vanishing from Deadwood, South Dakota, and Violet's daughter could be next.  Short on time and long on worry, she's desperate to find the monster behind the abductions.

But with her jerkoff co-worker trying to get her fired, a secret admirer sending creepy love poems, and a sexy-as-hell stranger hiding skeletons in his closet, Violet just might end up as one of Deadwood's dearly departed.
Praise for Nearly Departed in Deadwood:
"Violet Parker follows a path blazed by Stephanie Plum (the heroine in Janet Evanovich's best-selling series), but she is no copycat. Violet is sexy and smart. Charles' mystery Nearly Departed in Deadwood is out of this world." -Sarah M. Anderson, Reviewer for Romance Novel News
"Nearly Departed In Deadwood was a contemporary mystery romance with a touch of paranormal that kept me enthralled with goosebump-creepiness and belly aching laughter." ***** FIVE STARS! -Escape Between the Pages Book Reviews

Amazon Purchase Link for Nearly Departed in Deadwood (Deadwood Mystery Series)
Also available today are several bonus buys. If you purchase Ann's book you can have your purchase price refunded for the following books.
    Pink Slipper
      By Gina Robinson
From Gina Robinson, author of Spy Candy, Spy Games, and the upcoming The Spy Who Left Me, comes a new novel for anyone who's been down on their luck, out of work, or just looking for a fresh path to greatness.
Leesa Winsome has always felt unnoticed and overlooked. A bit rebellious, she's an independent, hardworking engineer. At least she was until her ex-best friend pink-slipped her. And her house caught fire. Now she's out of work, out of her house, and quickly running out of options. Afraid she's losing hope, Leesa's dad sends her to a motivational "Breakthrough to Greatness" seminar at the Northwest Institute, run by the handsome, eligible Ryne Garrett. At the seminar, Leesa joins the Job Camp Group–a loose collection of unemployed people who socialize and offer one another support through the rough and emotionally challenging process of looking for work. Through her new friends, Leesa learns true greatness comes from helping others, finding time to laugh, and discovering who you really are.
Pink Slipper is a lighthearted, humorous look at one woman's search for everyday greatness, true friendship, love, and the perfect job
Amazon Purchase Link for Pink Slipper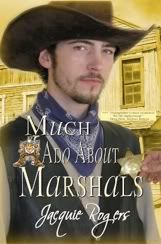 Much Ado About Marshals
      By Jacquie Rogers
FIVE STARS from Detra Fitch, owner of Huntress Reviews!
"A hilarious, yet romantic, comedy of errors… I grinned. I frowned. I worried. I sighed from tension relief. I snickered at Bosco's romantic troubles with two widows. I often found myself laughing until I thought my side would split… this story grabbed me by the throat, kept me reading long past my bed time, and earned a place of honor upon my Keeper Shelf. Unforgettable! I cannot recommend this title highly enough."
Publisher's Description:
Daisy wants to be a detective just like dime novel heroine Honey Beaulieu. But her parents insist she marry. What better solution than to marry the new marshal!
Cole, mistaken for the new marshal, faces a dilemma few men have to face–tell the truth and get hanged, or live a lie and end up married. Either way could cost him his freedom.
Purchase Link for Much Ado About Marshals
Wanted
By Amber Scott
"If you like a book that keeps you thinking between the bedroom antics, I believe you will love Wanted." -Joyfully Reviewed
"Ms. Scott described the past and the present so well, I had to wonder if she had done a bit of time travel herself." -Paranormal Romance Reviews
Time in a bottle…
What else could her father leave her? The treasure map, the bottle of whiskey, and the wanted poster shouldn't have surprised Samantha Hendricks.
His lifelong obsession with gentleman outlaw Jesse Kincaid was likely all he'd had left. One taste of the whiskey, however, tumbles her through time, into arms so wonderfully real and strong she can only surmise she's gone crazy.
Torn between craving a delusion and believing in the impossible, hurtling between the past and present, Samantha returns to Jesse over and over again. No woman can want this man more, and if she's clever enough, she might be able to use her inheritance for what she finally realizes her father intended–true love.
Amazon Purchase Link for Wanted (Dead or Alive)