Welcome to Sugarbeat's Books – The Home of the Romance Novel
Today Leigh Michaels is visiting the blog.  She is here to talk about her latest release, The Wedding Affair.  I posted a review for this book yesterday – I loved it!  Three loves stories for the price of one 🙂  Sourcebooks is generously offering two complete sets of this trilogy as a giveaway!!  That would be two copies of The Mistress' House, Just One Season in London and The Wedding Affair.  I have read two of these three and loved them both!!
Leigh Michaels Guest Post, Author of The Wedding Affair
Since The Wedding Affair is my third Regency-period historical, it's a great time to talk about the number
three and all the ways it shows up in this book. Like my previous historicals, The Mistress' House and Just One Season in London, The Wedding Affair is a triple story: three heroes, three heroines, and three romances woven into one book.
A lot of authors write trilogies, three books which are connected in some way, but not many of us have tackled the challenge of interweaving three sets of characters, three separate stories, into just one book.
I only did it by accident.
A few years ago, after writing 80 sweet traditional category romances, I burned out and felt that I didn't have anything new to say, so I took a break from writing. When I came back to fiction, I started writing what I thought was a short story. "Only it won't end!" I wailed to my critique partner, who wisely said that perhaps my short story was a book instead. But I knew it wasn't! It might be a novella, but not a full book. "Then there are more stories," she said.
And that's how The Mistress' House came about—three novellas, which all happen in a hideaway in Regency London, connected by the continuing characters and by the house itself (which became a character before it was over).
I happened to be talking to Deb Werksman, an acquisitions editor at Sourcebooks, about an entirely different subject and she wanted to know what I was writing and asked to read the book. She loved the idea of the triple story, and after we contracted for that book and two others, I started thinking about how I could stretch my wings even more—this time by interweaving the stories throughout the book. So that's the pattern I used for Just One Season in London and now again in The Wedding Affair. All six main characters are on stage, interacting and affecting each others' stories as well as participating in their own.
In The Wedding Affair, the three heroines—Olivia, Kate and Penelope—are all feeling desperate. Olivia is widowed with a daughter to support, so her choices are cruelly limited. After the death of her father, Kate must seek a way to make a living—and quickly. Though Penelope has plenty of money, she's caught in a loveless marriage of convenience. When they're invited to the wedding of the Duke of Somervale's sister, each of the women sees the gathering as an opportunity – Olivia to find security for her daughter, Kate to find a way to support herself, and Penelope to turn her cold marriage into something bearable.
So Olivia is open to the proposition of the Duke of Somervale, who's madly dodging bridesmaids, to pretend that he's courting her – with a passionate affair on the side… Kate collides with a man from her past, adventurer Andrew Carlisle, who makes her question whether security is really what she wants… and Penelope sets out to seduce her husband, the Earl of Townsend – if only she can figure out how!
I hope you'll love these characters and their intertwined stories as much as I loved writing them.
THE WEDDING AFFAIR BY LEIGH MICHAELS – IN STORES SEPETEMBER 2011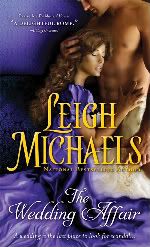 You're invited to the wedding of the year!
The Duke of Somervale, whose sister's wedding is the event of the ton, is fighting off debutantes and desperately needs help from beautiful, stubborn Olivia Reyne. But she is engrossed with problems engulfing her dearest friends and family. The last thing Olivia needs is to be embroiled with a duke whose dark gaze makes her forget herself entirely…
Discover a new side of a beloved author as Leigh Michaels draws you into the glittering, glitzy world of Regency England and an affair you'll never forget.
About the Author
Leigh Michaels is the author of nearly 100 books, including 80 contemporary novels, more than a dozen non-fiction books and three Regency romances from Sourcebooks Casablanca: The Mistress' House, Just One Season in London and The Wedding Affair. More than 35 million copies of her romance novels have been published by Harlequin. A 6 time RITA finalist, she has also received two Reviewer's Choice awards from RT Book Reviews, and was the 2003 recipient of the Johnson Brigham Award. Leigh also teaches romance writing on the Internet at Gotham Writers' Workshop.  She lives in Ottumwa, Iowa.  For more information, please visit www.leighmichaels.com