Welcome to Sugarbeat's Books – The Home of the Romance Novel!
Today we are going to hear from one of the Entangled authors – Dale Mayer about a book that a group  authors have written called Entangled and they are donating the proceeds to Breast Cancer Research.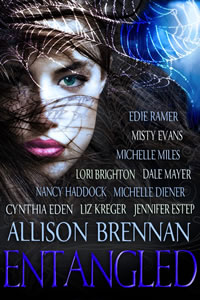 Entangled Author Tag Dale Mayer
Hi everyone!
I'm Dale Mayer, one of the eleven authors who contributed to Entangled, a Paranormal Anthology, an ebook exclusive. Having read every one of the stories in this special anthology myself, I know you're going to be delighted and maybe even cry when you read the forward by Stacia Kane. Everything to do with this ebook was donated with love – the writing, designing, cover work, formatting and promo. Best of all, 100% of the proceeds go to the Breast Cancer Research Foundation (BCRF).  My story in this anthology is Sian's Solution.
It's a joy and an honor to contribute to this project.  Several of my family members are breast cancer survivors as are several friends.  As I look at my daughter and myself, I know there needs to be better options.  I can only hope the money made from this anthology helps to find a cure. This disease spares no one – and affects everyone.  It's time for a cure.
There are some incredible authors involved in Entangled – one of those that made me jump for joy when I heard she was in it was Michelle Miles. Michelle is a terrific author that crosses genres as easily as people cross the street. I adore her paranormal time travelling series A Bend in Time and A Break in Time. Then there are her contemporary Coffee House Chronicle books…whew!  If you haven't read this author, then it's time you did!
You will hear from Michelle Miles tomorrow at The Pen and Muse
For those of you that would like to know more about my short story in Entangled, here's the blurb and link to an excerpt.
SIAN'S SOLUTION by Dale Mayer (author of Psychic Vision series). When a vampire discovers the human man she loves has been captured and hung in a blood farm, she goes against her own kind and risks everything to save him.
Read the excerpt here! (http://dalemayer.com/about-dale/entangled-paranormal-anthology/sians-solution-excerpt-from-entangled-paranormal-anthology/)
To find out more about me and my books, please visit me at http://www.dalemayer.com. Or connect with me online with Twitter at www.twitter.com/dalemayer and on Facebook at www.facebook.com/dalemayer.author. 
Thanks so much for hosting this Author Tag blog tour!  It's been great fun and I hope you are all interested in buying Entangled and supporting BCRF.  Entangled is available at Amazon.com, Banesandnoble.com and at allromance.com.