Welcome to Sugarbeat's Books – The Home of the Romance Novel
It's time to announce some winners!  I've been having lots of giveaways on my blog lately and while it's been fun, I need to get some of you some new books!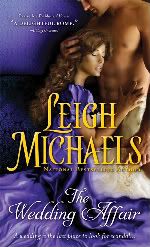 The first one is for 2 sets of Leigh Michael's latest trilogy – The Misstress's house, Just One Season in London and The Wedding Affair.
The winners are:
Ann and Stepanie
These ladies have been e-mailed and they should receive their books soon!
The second giveaway is for 2 copies of Lord and Lady Spy by
Shana Galen.
Yet another great book by Sourcebooks!  The winners of copies of this great book are:
Melanie Adkins and Christine Davis
E-mails have been sent to these ladies and they should be receiving their books shortly also!
Thanks to everyone who entered the giveaways!  In my humble opinion you are all getting some great books to read!