Welcome to Sugarbeat's Books – The Home of the Romance Novel!
Today I'm welcoming Eden Baylee, author of Fall into Winter, to the blog!  I first "met" Eden when her book was featured in an Indie Book Collective event back at the beginning of the summer.  Her book was very well received by the reviewers for the event, and although I was under strict instructions not to bring home any more books by my husband (who was worried about my TBR pile), I snuck a copy onto my Nook with the hopes of getting to it sooner or later!
I'm happy to say that I've had the opportunity to read this interesting book and Eden is here today to answer some of my questions.  I'll post my review at the end of this post.
Barb – Tell me a bit about yourself and your journey to writing. 

Eden – I'm a former banker who left my 20-year career to become a full-time writer. That was back in Feb 2010.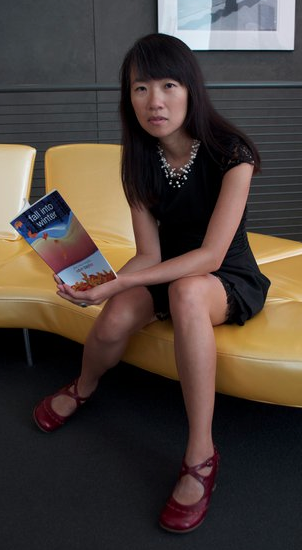 Though I've been writing since the age of 15, I've never been able to reconcile creative writing with my day job. Now I'm fortunate to say that I can concentrate just on the writing. 

Barb – Where would you live if you could live anywhere in the world? 

Eden – London, England. It's a city I love because it's easily accessible to other parts of Europe and Asia. It's wonderful for the arts, and I enjoy the people.

Barb – Who are your cheerleaders? Who encourages you to continue to write? 

Eden – Everyone who really cares for me is extremely supportive of my writing. Of course, number one on the list has to be my husband because without his support, I wouldn't be able to do this; or at least, it'd be a lot less comfortable.
Ultimately, I'm quite self-reliant, and I believe writers need to be their own best friends and cheerleaders. It's a solitary profession, and if you don't feel comfortable with yourself, it's going to be difficult to spend endless hours with your own thoughts.

Barb – When you made your first sale, how did you celebrate and with whom? 

Eden – Honestly, I don't remember. Nowadays, with books being sold electronically, I have no idea when my first book sold. My first paperbacks were sold at my book launch in Feb. 2011. That was exciting. The whole event was really the celebration with friends and family.

Barb – Tell us about Fall Into Winter. 

Eden – Fall into Winter is an anthology of erotic novellas. Two take place in the fall and two in the winter, thus the title. Originally, I'd written the stories to be sold separately, but I decided to amalgamate them into one book in order to give readers a taste for my style of writing.

Barb – Which is your favorite novella – or do you like certain aspects of each? 

Eden – Ha! I suppose it's like trying to choose your favorite child — I can't. Many readers have told me they love "The Norwegian" because of the sex, romance, and happy ending. "Seduced by the Blues" really appeals to those who enjoy their alpha-males and music as a backdrop. "The Austrian and the Asian" is the most auto-biographical and romantic, and readers have said they loved the blending of cultures. Finally, I have a soft spot for "Act Three" because it's a story of a threesome. I'm partial to MFM stories for various reasons—some personal and some not.

Barb – If you had a favorite character, who is it and why? 

Eden – I don't have just one, but I do fall in love a little with the women in my stories because I love writing strong, independent women. They are not, however, without flaws, and they can be vulnerable, but I would never describe them as weak. They know what they want even if they can't always get it. Sometimes, they bite off more than they can chew, but that's a different story…

Barb – What is it you love most about writing? What's the hardest part of writing for you? 

Eden – I love that I can roll out of bed in the mornings and start creating with words. I'm an absolute logophile and learning languages is one of my favorite pastimes.
The hardest part about writing is just "doing it" despite that some days I may not feel like it for whatever reason. Like any job, there will be times when I want to do something else. Working from home only amplifies some of those distractions because I can easily crawl back into bed. Like any discipline, it's not always a pleasure even though it's what I love to do.

Barb – What book is currently on your nightstand? 

Eden – I don't read in bed, but I always have several books on the go. I just finished rereading The Shadow of the Wind by Carlos Ruiz Zafon because I loved it so much the first time, and I'm currently reading indie authors' works. My days are filled with reading a lot of blogs, so I've cut back on reading for pleasure for the time being.

Barb – Where can your fans find you? 

Eden – I can be found via my website http://www.edenbaylee.com
From there, you can access my books, bio, and blog.

Barb – Where is your work available? 

Eden – All the buy links are on my website, but it's available on all major e-book outlets and also in print.

Barb – Are you working on anything new and if so when can we expect to see it? 
Eden – I'm finishing my second book called Spring into Summer, which has the same formula as my first with four novellas. It will be launched in early 2012. I wrote a blog post about it recently because readers had been asking me about it. Here's the link if they want more details > http://wp.me/p1cWaE-1Gv.
I also have work releasing in collaborative publications and will apprise via my blog once I know more.

Barb – Anything else you'd like to add? 
Eden – I'd just like to thank you and Sugarbeat's Books for your support of authors and their work. I truly appreciate sharing with you today.
I'm always available to chat, either via email or on my blog, so I encourage readers to contact me if they have any questions.
For me, connecting with readers is one of the best ways to grow as a writer.
Thanks again, Barb!
I'd like to thank Eden for dropping by!  Now for my thoughts on her book:
Fall into Winter by Eden Baylee
ISBN: 978-1-4502-7824-9
Publisher: iUniverse Books
Release: 2011
Source: I received a copy of this book to read and review from the author
Four women embark on their own journeys of fantasy fulfillment, marked by lust, passion, and obsession
In Fall into Winter, a provocative collection of erotic novellas, four women seek pleasure in unique ways and are soon swept up in maelstroms of lust, seduction, and obsession.
After Ella Jamieson trades self-control for a stolen moment of unbridled passion with a younger man, he surprisingly pursues her, leaving her wondering if he could become more to her than just a boy toy. After Stella Christy's fantasy of a ménage à trois with two men comes true, the rules suddenly change; she finds herself excited and terrified in ways she never imagined possible. Leah Jones isolates herself in a cabin to complete her latest book, but is soon distracted from her goal when she reunites with a man from her past. Ten years after Elena Lee enjoys a torrid love affair while vacationing in Austria, she is back in historic Salzburg with doubts about why she left.
Knee-deep in steamy affairs, these four women will make choices that eventually lead each of them on an unforgettable sensual journey to ecstasy.
Fall into Winter is a book that was featured in an Indie Book Collective event back in the summer.  Sadly, my TBR pile is so large that it took me a while to get to read this book!  Fall into Winter is a collection of four novellas.  The four stories are all unique, and interesting in their own way.
The first novella is Seduced by the Blues. This is the story of Ella and John.  Ella is an older woman and works as a radio station promoter.  John is younger and is a nightclub owner and a musician in his spare time.  At first Elle sees John as just a fling. John is 12 years younger and she is quite conscious of the age difference.  Their fling is hot, yet they connect on a level that has Ella considering something more permanent.  This is a hot little story that has a great ending.  The writing is very vivid and draws the reader into the action right from the beginning.  Of the four stories, this one is my favorite.
The second novella is Act Three.  This is the story of the relationship between Stella and Norman.  Stella is a 38 year old divorced professional who is looking for a fulfilling sexual relationship – something she didn't have with her husband.  She met Norman through an adult chat line.  After their relationship had progressed somewhat, she suggested a menage a trois to him.  At first his response was negative, but he gradually changed his mind.  The man that they chose was Joe Gillis, someone they spent some time with before they became intimate.  This is an incredibly erotic short story that takes an unexpected turn.  It will certainly keep you on the edge of your seat.
The third novella, The Norwegian, is set in the country just north of Toronto.   The main character, Leah decided to book 2 months at Cedar Valley to get away from life in the city and concentrate on her writing.  She starts to become reacquainted with Henrik the second night there when he knocks on her door. Henrik is staying in the area to work on a program for Canada's top biathletes.  I found this story to be very touching.  It was erotic in it's own way, but that aspect seemed to take second place to the growing of the characters.  Although this wasn't my favorite story I certainly appreciated the character development in such a short time frame.
The fourth story, The Austrian and the Asian, features characters that have a journey that last several years.  Elena is vacationing in  Phuket, Thailand and meets Simon, Julian and Stefan.  The three men are very different, yet each engaging in their own way.  They have a lovely time and plan to meet up again when Elena comes to Austria.  When in Austria, she stays with Stefan and this time together allows their friendship to become something more.  This is a delightful, heart wrenching story that spans several years, and a relationship that only gets more stable with the passage of time!
This whole collection of novellas is a must read!  Although it has the label of erotica, this author has produced beautiful, moving stories that are somewhat graphic, yet tasteful.  The characters are well developed and Ms. Baylee's storytelling ability shines throughout this whole book!  As one review on Amazon says, "Fall into Winter is not your average erotica novel and this shouldn't surprise you because Eden Baylee is not your average author."  I whole heartedly agree!