Welcome to Sugarbeat's Books – The Home of the Romance Novel
Today we are welcoming Monica Marlowe to the blog!  Monica Marlowe is a fellow Canadian, born in Toronto as I was,  and a graduate of the same university as I am……oh yes, and she has written a great book!  *grins*  All kidding aside, sit back and learn more about a debut author that I'm sure we'll see more of in the future!
Barb –  Tell us a bit about yourself.
Monica – I'm Canadian!  I was born and raised in Toronto, but now live in North Carolina after having lived in Los Angeles for 17 years.  I started writing while I was living in LA – there's so much wonderful creative energy there!  I miss a lot about Canada, but not the Canadian winters!
Barb –  Where would you live if you could live anywhere in the world?
Monica – Wherever the man that I love lives!
Barb –  Who are your cheerleaders? Who continues to encourage your writing?
Monica – My wonderful girlfriends and my little dog!  Pookie loves it when I'm at home working on the computer, although she does try to distract me.  Not sure if that counts as encouragement!
Barb –  When you made your first sale, how did you celebrate and with whom?
Monica – I went out for an incredible sushi dinner with friend … salmon nigiri is my favorite!  Oh wait – I love spider rolls, too!
Barb –  What do you love about writing? Why?
Monica – I love creating characters!  It's so much fun imagining myself living so many different lives, being so many different people.  As an author, you can be anyone anywhere anytime.  Creating characters is like meeting new friends … how great is that?!
Barb – What's the hardest part of writing a book? Why?
Monica – Finding the time to write.  With a full-time job, it isn't always easy to carve out time at the computer at home.
Barb – Tell us about Finding Felicity?
Monica – Finding Felicity is the story of Madeline O'Connor, a successful New York business woman who is called to Italy by her nephew to be by her estranged sister's side because the sister is dying of cancer. While in Italy, she becomes entangled with a priest, a monk, a novice nun and a beau from New York.  This synopsis does not do the story justice. It is much more complicated than that, but to reveal more would spoil the story.
Barb – Who is your favorite character in your new release?
Monica – Brother Anthony Lamberti … he is no ordinary monk.
Barb – Do you see yourself in any of your characters?
Monica – Yes … but I'll leave the details a mystery.
Barb – Which scenes were the hardest to write?
Monica – The scenes where Madeline and Anthony were first falling in love.  I knew where they were heading, they knew where they were heading, and I just wanted them to get there already!
Barb – What book is currently on your nightstand?
Monica – My next book, The Gift Horse, is a memoir, so I'm currently reading Fearless Confessions: A Writer's Guide to Memoir.
Barb – How can readers stay in touch?
Barb –  Where is your work available?
Monica –  Finding Felicity is available to order at your favorite bookseller, online or brick-and-mortar.
Barb – Anything else you'd like to add?
Monica – Thank you so much for having me here today.  Here's to your felicity!
We'd like to thank Monica for dropping by to answer some questions.  I've also included the blurb for her book below.  If you drop by her blog, you can read an excerpt from her book!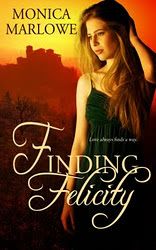 Finding Felicity
tells the story of Madeline O'Connor, whose life is turned upside down when she learns that her estranged sister is ill, leaving Manhattan to care for her sister in Italy.  Although she is consumed by work and her relationship with her sister is strained by a past betrayal, Madeline makes the journey to Europe and stays in a monastery that accommodates travelers.  There, she meets Brother Anthony Lamberti, a man unlike any that she knows in New York.  Anthony and Madeline share an overwhelming love and Madeline lets down her guard to the sincerity, dignity, and strength of Anthony.  From him, she learns many spiritual and emotional lessons and undergoes a complete transformation.  Along the way, she also meets Tyler Reed, who adds the excitement of a love triangle to the many twists and turns along Madeline's journey to
Finding Felicity
.
Amazon Purchase Link for Finding Felicity