Welcome to Delicious December!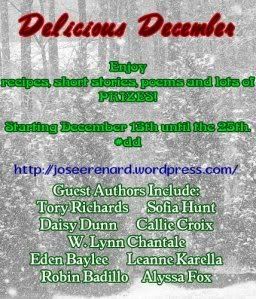 Delicious December is an event that is being sponsored by author Josee Renard.  She is celebrating the 12 days of Christmas by inviting over some guest bloggers and giving away some prizes!  Here's the list of guests so far:
Kate St. James – December 12th
Daisy Dunn – December 13th
Tory Richards – December 14th
Sofia Hunt – December 15th
Jar O' Marbles – December 16th
Callie Croix – December 17th
Leanne Karella – December 18th
W. Lynn Chantale – December 19th
Eden Baylee – December 20th
Alyssa Fox – December 21st
Robin Badillo – December 22nd
Sandy Sullivan – December 23rd
I've had the pleasure of reading stories by about half of these authors and I'm looking forward to reading what they have to say!  You can drop by Josee's blog each day to read something new each day.  The book we are giving away here is What Christmas Means to Me by Josee.  I've included an excerpt so you can get a feel for the story.  If you are interested in winning a copy, fill out the form at the end of this post.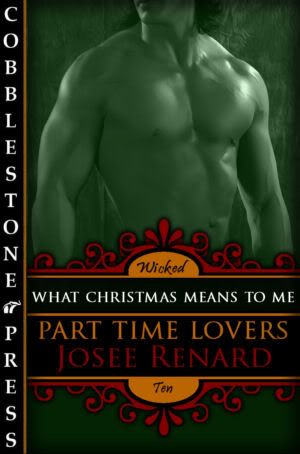 Excerpt:
Mercy stood at the door to Part Time Lovers, her foot tapping in excitement. The music was just loud enough, and right now it was playing her favorite Christmas song. She'd grown up listening to Christmas music, her mother playing it from October right through January, buying new artists every year.
So she knew of what she spoke and there was nothing, absolutely nothing, that came even close to Elvis singing If Every Day Was Like Christmas or Blue Christmas. She'd loaded up the CD player with plenty of Elvis tunes, along with her mom's favorite Boney M.
Jules was in the elevator lobby, directing guests who'd never been to Part Time Lovers on how to get to the party. Take the elevator to the top floor, then the stairs up one flight. She'd laughed when she'd seen what he was wearing—not a Santa Claus suit this year, but Elvis' blue silk suit with black lapels and blue suede shoes. His dark hair was slicked back and damn, he looked a whole lot like the King.
Shea was behind the coffee bar they'd set up, making sure the baristas he'd borrowed from Glass City were able to find everything. She checked that the taxi vouchers were at the bar and that the bartenders knew to tell everyone to leave their car keys if they'd driven to the party. 
Fourteen days, she thought. I can make fourteen days. Two weeks from this very minute, Rafa will be in my bed.
She hadn't stopped missing him, that was probably impossible, but she had stopped being depressed. The damp chilly weather didn't bother her so much, partly because of the night she'd spent with Jules in Room 1217, and partly because it was December.
Mercy loved December. She loved the lights, the trees, the parties, the music in all the stores. She loved all the glitz and frivolity of it. She got to spend time with her favorite people and in her favorite pastime—shopping. And all of those things seemed to lift her winter depression. Not for long, not permanently, but for four weeks, she was happy.
Just like the song said, it's the most wonderful time of the year. And this year, she had an added bonus—Rafa in town and two whole weeks off work so she could spend the time with him. Her lingerie budget had already been blown by the purchases she'd made for their sexy phone calls, but the last couple of weeks? Every lingerie store in the city would probably make their yearly budget based on what she'd been spending in anticipation of Rafa's arrival.
She checked her watch. The first guests would be arriving any minute. 
Delicious December Instructions:
Join Josee for two weeks of daily Christmas stories and recipes by some of your favorite writers and some writers you might want to get to know. There will be a giveaway every day from December 12 to December 25 for those who comment on the blog posts or tweet the posts using the #dd hashtag. Those who like Josee's Facebook will receive an extra entry.  Winners will be announced each morning so check back in every day.
On December 26, there'll be a grand prize giveaway to one person who has posted or tweeted during Delicious December.
http://joseerenard.wordpress.com/
Links:
You can find Josee at: