Welcome to Sugarbeat's Books – The Home of the Romance Novel
Today we are welcoming Christine Young to the blog!  She is touring with Goddessfish Promotions to promote her new book – Highland Honor.  The prizes being given on this tour are pretty impressive so be sure to leave a comment here!  Then click HERE and go to the other blogs on the tour and leave a comment there as well!
The prizes are:
* a $50.00 Amazon GC to one randomly drawn commenter for the blog tour.
* a Clan MacPherson book mark awarded at each stop to one randomly drawn commenter.
Christine is going to answer a few of my questions and then she's going to share an excerpt from Highland Honor.  Here we go 🙂
Christine : I would like to thank Sugarbeat's Books for hosting me.
Barb : Tell us a little about yourself and your writing.
Christine : Retirement is a joyous blessing. My 30 plus years in the classroom came to an end in June this year. I honestly can't say I have more time for writing. With my husband I have been to
Atlantic City and New York City to visit with my youngest daughter. I am now trying to organize my time better. I have several books in my head and just have to find the time to sit down and write. At the moment I am celebrating the rerelease of my Highland series beginning with Highland Honor. Colin "Hawke" MacPherson has won my heart again.
Barb : Where would you live if you could live anywhere in the world?
Christine : There are many beautiful places in the world. But the most important thing to me is to live close to family. I have a daughter who lives in Brooklyn and I count the days until she can come visit in Oregon. For me Brooklyn is a nice place to visit but I wouldn't want to live there. I would live right where I live now Salem, Oregon.
Barb : Who are your cheerleaders?  Who encourages you to continue writing?
Christine : My biggest cheerleaders are my husband and my mom and dad. They all have played such an important part in my writing career. My mom initially encouraged me to start writing. My husband bought me a computer when I finally told him what I was doing and that I was using my college typewriter. My children have always supported my writing. My son is following in my footsteps. He has his first release in January, 2012; Blood Veins. Just a mini plug for him.
Barb : Tell us about your new release?
Christine : Highland Honor is set in the Scottish Highlands in the year 1512. Callie Whitcomb seeks out Colin MacPherson, hoping he will protect her from her evil stepbrother. They trek through the highlands and finally reach his castle where they fall in love and spend a glorious night aboard his family's ship, the Aphrodite. Though faced with many perils, they work together to conquer all of their foes and search for a happy ending.
Barb : What is it you love most about writing? What's the hardest part of writing for you?
Christine : Creating strong alpha males who will do anything for the women they love is one of the elements I like best. Also, weaving the elements of the hero and heroine's opposite characteristics and figuring out how they can compensate so they can have a lasting relationship. In Highland Honor Hawke is faced with letting go of the revenge he has sought for most of his life. For Callie she must find the answer to the questions about her father and the role he played in the feud between the Whitcombs and MacPhersons. The absolute hardest part is finding enough time to write. I love babysitting my grandchildren and my other hobbies such as needle work, knitting and of course there is my crazy addiction to Cityville—go figure.
Barb : Who is your favorite character in your new release?
Christine : Hawke, of course. He is brave and loyal and handsome. One could say he is tall, dark and definitely rugged. He protects his family and of course Callie. Hawke is intelligent and gentle. Being alpha he is also a bit arrogant but that all goes away when he is with Callie. He cannot find it in his heart to deny her anything even though he might want to. When he first discovers she is James Whitcomb's daughter, his emotions and feelings are so conflicting he has to rethink everything he has ever wanted.
Barb : Do you see yourself in any of your characters?
Christine : I don't see myself in any of the characters, but I could certainly fall in love with my heroes. After all, who wouldn't fall in love with a man like Hawke?
Barb : What were the challenges in bringing this book to life?
Christine : The biggest challenge is this particular book was finding a way for Hawke to overcome his need for revenge and finally fall in love with Callie. He had been so positive that James was responsible for his father's death, he did not want to give up on his need for revenge.
Barb : What is in the works for you next?
Christine : I am reediting Highland Magic and Highland Song and will celebrate their re-release soon. I have an April Fools Anthology in the works which will be released in April 2012.
Barb : What is the best way for your readers to keep in touch with you?
Christine : My blog, I no longer have a website.
http://christineyoung-romancewriter.blogspot.com/   This is my personal blog and I also share a blog with three other writers.
Rogues Angels blog
http://www.roguesangels.blogspot.com/
Barb : Where is the best place to purchase your work?
Christine : The best place to buy my books is Rogue Phoenix Press
Author Bio:  Born in Medford, Oregon, novelist Christine Young has lived in Oregon all of her life. After graduating from Oregon State University with a BS in science, she spent another year at Southern Oregon State University working on her teaching certificate, and a few years later received her Master's degree in secondary education and counseling. Now the long, hot days of summer provide the perfect setting for creating romance. She sold her first book, Dakota's Bride, the summer of 1998 and her second book, My Angel to Kensington. She is the author of 10 published romance books and 2 novellas. Christine is a retired high school math teacher. Her teaching and writing careers have intertwined with raising three children.  Christine's newest venture is the creation of Rogue Phoenix Press. Christine is the founder, editor and co-owner with her husband. They live in Salem, Oregon.
Links:
http://christineyoung-romancewriter.blogspot.com/
http://www.roguesangels.blogspot.com/
http://www.roguephoenixpress.com/
I'd like to thank Christine for dropping by and sharing with us!  Remember to leave a comment to be entered to win one of the prizes!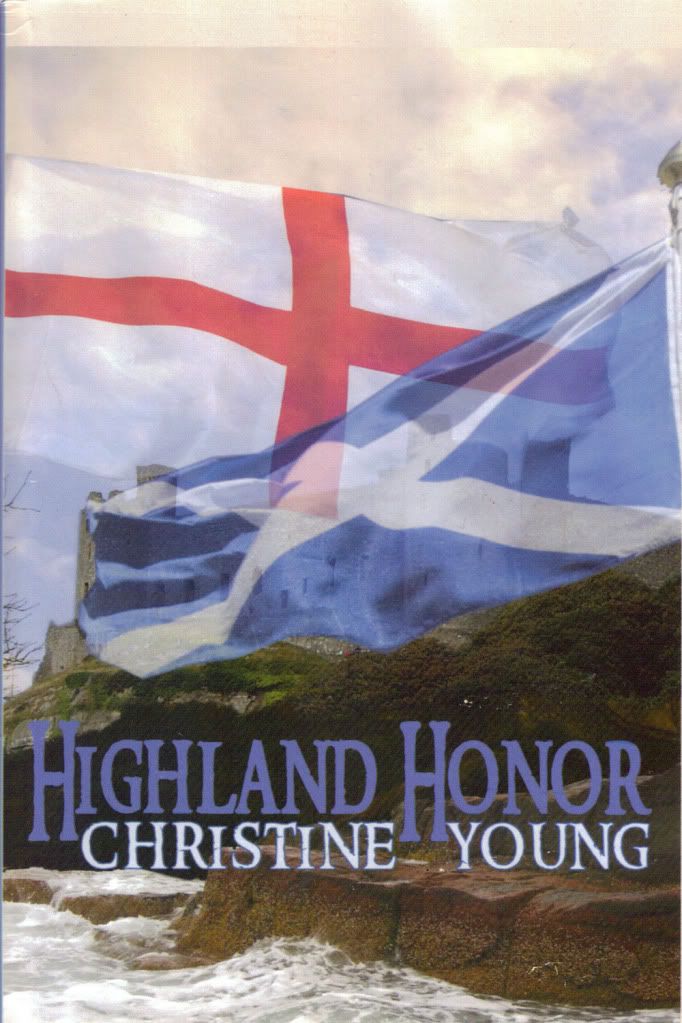 Willfully stubborn, innocently courageous, Callie Whitcomb braves a journey through the treacherous highlands to the MacPherson castle. Callie flees from an unwanted marriage as well as her ruthless half brother. Naively she believes Colin MacPherson, the head of the clan, is loyal to her father and will give her sanctuary, protecting her from the vile plans that have been made for her.
As hard and as unyielding as the winter storms that sweep through the countryside, Colin is irresistibly drawn to the impetuous beauty who has magically appeared on his doorsteps. Despite his vows of revenge against her father, she stirs his passion as well as his sense of justice…but to love her would violate all his vows of revenge.
Excerpt:
Scotland November 1512:
A heavy frost sat on the frozen earth, and a full moon shone clearly between the heavy clouds dotting the sky. Lady Callie Whitcomb looked over her shoulder as she raced through the deepening gloom toward the lighted tavern ahead. Every shadow, every mournful sigh of the wind sweeping through the trees, every chilling animal sound filled her with terror. Fear for her life drove her to put all thoughts of danger aside. He would follow her, find her, and drag her home.
Home.
"Don't think of that now," she reminded herself fiercely, even while tears stung in the back of her throat and fear made her limbs tremble. "Don't ye dare think of home. It no longer exists." Nothing and no one could coax her back or make her believe there was naught but terror in the home where she'd been born.
"I will never marry Lord Huntington. Never!" she whispered fiercely, the chill night air solemnly echoing her words.
Her stepbrother, Archibald Covington III, made sure she could never return.  
"There ye be, lass! I've been waiting for ye."
The voice rose from nowhere and surprised her. Her heart froze, lurched, then began an erratic beat, while raw nerves snapped, sending a myriad of sensations racing down her spine.
"Archibald–" she whispered, panic sweeping through her. "He's found me." All she could hear was the pounding of her own blood in her ears.