Welcome to Sugarbeat's Books – The Home of the Romance Novel

Today we are taking part in the She Can Run Blog Tour which started on Dec 5th and ends today.    Melinda Leigh is being toured by her Tribute books and for more information on this tour click HERE.   She going to share a bit about her thoughts on Writer's Block and then we've posted a bit on the book itself.
The Writer's Arch Enemy
First of all I want to thank Sugarbeat's Books for hosting a stop on my blog tour.  The release of a book is no doubt always thrilling for an author, but SHE CAN RUN is my debut novel so its release is even more exciting.
Writer's Block. Those two words strike terror into the hearts of authors everywhere. Yet, every writer I've ever spoken with has dealt with it a time or two or fifty. 
Writers aren't machines, but they are usually on deadlines. With pressure to produce multiple titles each year, an author can't afford to wait for inspiration to strike.  A bout of writer's block can really throw off a schedule.  How does a writer work through an absence of creativity?  For me the answer isn't very creative.
Note cards.
Yes, you read that correctly.  I battle writer's block with the rampant use of index cards.  I am the queen of note cards. 
Anyone else having horrible flashbacks of high school term papers?
I keep stacks and stacks of note cards on hand.  A card gets filled out for every scene. Written scenes are put on a magnetic dry erase board. Originally, I wrote directly on the board. But moving scenes required a lot of messy erasing. Messy board = messy plot. With note cards, I can swap, delete, or add scenes as necessary. And I can do it neatly.
I know what you're thinking.  I am not an overly organized nut.  Really.
Getting back to my writer's block. When I don't know what happens next, I review my storyboard. Then I peruse the stack of note cards that haven't made it to the board yet. I find something that I know needs to happen. Then I skip ahead and write that scene. The act of writing sometimes jars brain cells into action. At some point I get back to the spot that had me stumped. Once, I got totally stuck on a scene only to find out later that I didn't even need it. My subconscious knew it all along.
When all else fails, I have go-to critique partners that often can help get my book back on track. 
Want to know more about me or my debut book, SHE CAN RUN?  Check out my website, MelindaLeighAuthor.com. Readers can also connect with me on Facebook & Twitter.   
Thanks for reading!
She Can Run Book Summary
Elizabeth was a young widow with two small children when she met Congressman Richard Baker. Handsome and wealthy, with a sparkling public image, Richard seemed like the perfect man to provide the security that Beth and her kids were craving. But when she uncovers a dangerous secret about her new husband, Beth realizes he will go to any lengths—even murder—to keep it. After barely escaping with her life, she and her children flee. They eventually make their way to a secluded estate in the Pennsylvania countryside, where Beth dares to hope she has found a safe place at last…Forced into retirement by an unexpected injury, Philadelphia homicide detective Jack O'Malley is mourning the loss of his career when his uncle abruptly dies, leaving Jack to dispose of his crumbling country house. Unbeknownst to him, his uncle engaged a caretaker just before his death, a mysterious woman with two children and a beautiful face that haunts his dreams. Determined to know her, Jack begins an investigation into Beth's past. When he uncovers the shocking truth, and a local woman is viciously murdered, Jack puts his own life on the line to keep Beth and her children safe.
She Can Run is a sexy, satisfying debut from award-winning author Melinda Leigh, packed with enough suspense and romance to get even the tamest heart racing!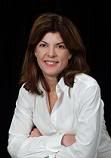 Melinda Leigh's Bio:

More than a decade ago, Melinda Leigh left a career in banking to raise her children and never looked back. She started writing when her youngest child entered first grade as a way to preserve her sanity. Her paranormal romance and romantic suspense fiction has won writing awards across the country, including The Gateway to the Best Contest, The Marlene Award, Where the Magic Begins, Put Your Heart in a Book, and The Golden Gateway 1st Round Grand Prize.Melinda is also an avid martial artist. She holds a 2nd degree belt in Kenpo Karate, studies Brazilian Jiu-Jitsu, and teaches women's self-defense. She lives in a messy house in the suburbs with her husband, two teenagers, a couple of dogs and one neurotic cat with an inexplicable fear of ceiling fans. With such a pleasant life, she has no explanation for the sometimes dark and disturbing nature of her imagination.
Paperback
Price: $13.95
ISBN: 9781612181516
Pages: 326
Release: November 28, 2011
Amazon buy link
http://www.amazon.com/gp/product/1612181511/ref=as_li_tf_tl?ie=UTF8&tag=tributebooks-20
Barnes&Noble.com buy link
http://www.barnesandnoble.com/w/she-can-run-melinda-leigh/1106603768?ean=9781612181516&itm=1&usri=she%2bcan%2brun%2bmelinda%2bleigh
eBook
Price: $7.99
Kindle buy link
http://www.amazon.com/gp/product/B0053TIB6I/ref=as_li_tf_tl?ie=UTF8&tag=tributebooks-20
Publisher's Weekly Review:
"In her debut romantic suspense, Leigh carefully weaves the subplot of a serial killer with the main plot of an abused wife on the run and successfully ties the threads in a thrilling conclusion… Leigh's tight, consistent plotting marks her as an author to watch."