Welcome to Sugarbeat's Book – The Home of the Romance Novel
Today we are welcoming Robin Kaye to the blog.  She's the author of several books including her most recent, Wild Thing.  One question that constantly fascinates me is how being a writer changes a person as a reader…..so that's the question that I posed to Robin!  Here's her answer!
Barb asked me to write about how being an author has changed me as a reader—something I've been pondering all morning.
The first thing that came to mind was that since I've become a published author, I have less time to be a reader. The reality of being an author is that there's a whole lot more to it than just writing a good book. We've got revisions, copy edits, galleys, book launches, and blog tours to deal with – and all the while we're expected to write, facebook and tweet. Unfortunately reading is one of the few things that get put on the back burner when I'm on deadline, and lately, I'm always on deadline. You can't tell your kids to go take a flying leap when they complain about the refrigerator being empty—I've tried. Picking up a book to read seems like cheating when you have piles of laundry and three hungry teenagers staring you in the face.
When I do read, if I'm not totally engrossed in the book, I find myself editing it. Little things I look for in my work pop out at me, passive sentences that could easily be made active with the change of a word or two, description before the action, clichés. I have to remind myself that this is a published book and not one of my critique partners or my works in progress and get back into reader mode. Still, I look at books differently—I pay close attention to the craft of writing. I will read a great book and then go back and dissect it to figure out what works and what doesn't. I take the knowledge I've gained and use it in my own writing.
When I find myself engrossed in a wonderful book, I appreciate the art of a beautiful writer much more now than ever before. I know I'm a good storyteller, but I don't consider myself a great writer. There are a few of my favorite authors who are very gifted—I'm continuously in awe of their talent. I read and re-read their books, their blogs, heck, even their emails trying to figure out how they make their words sing to me. I'm beginning to believe it's a gift—one I'll never have. I think it's akin to the difference between hard rock and classical music. The writers of both are talented in their own right but while both make music, the sound is so different it can hardly be compared. I'm more the hard rock style writer who just splashes it on the page—it's hard, gritty, and to-the-point, while the classical writers lull their readers, their work is almost lyrical, soothing, and can wring your heart out with it's beauty. They leave me in awe, and although I can appreciate it, I doubt I'll ever be able to emulate it.
The other thing I've realized is I've become a much more selective reader. It used to be that if I started a book and found it lacking, I'd force myself to finish it. I don't any more. My reading time is way too limited. I want a book that grabs me by the throat, sucks me in, and takes me on a journey. If I can put a book down after the first twenty-five pages, I usually do and go on to the next book on my TBR pile. I've read a lot of books, some of which are technically perfect, but lack the heart that I need for a satisfied read. I've learned to be selective because let's face it, there are so many great books and so little time…
What are some of the great books you've been reading lately?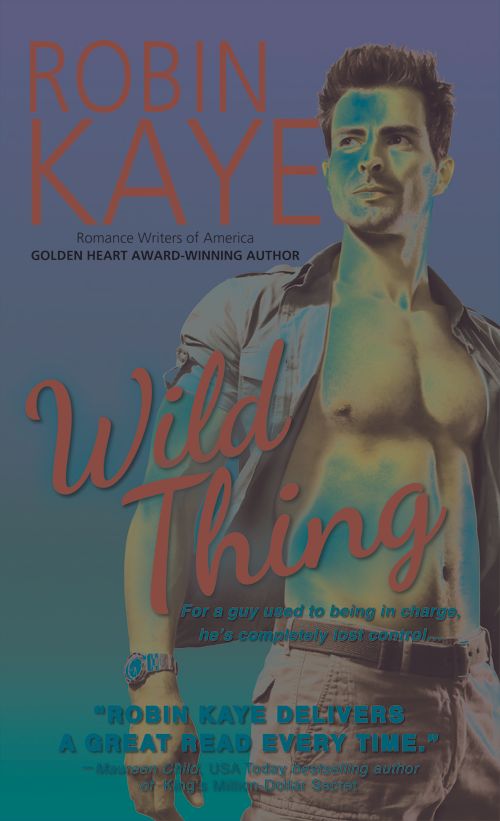 Whitewater-rafting guide Hunter Kincaid lands his dream job–guiding sportswear models through Idaho's rugged wilderness for a week-long photo shoot. When he meets Toni Russo, the goth New York manager of Action Models, there are enough sparks to set the forest ablaze.
When Hunter finds Toni's book on how to marry the man of your choice, he studies it as a joke. Before long Hunter realizes he's never cared enough for a woman to bother working this hard to get her. But the last man in the world this city girl wants is a Survivor Man wannabe…
Amazon Purchase link for Wild Thing
I'd like to thank Robin for dropping by and answering my question – I loved the answer, by the way! Did you? What good books have I read lately? Wild Thing is one and I'm going to post a review for it tomorrow. Frankly, I seem to be on a streak of great books – one right after another. So am I being more selective, or am I just lucky lately?