Welcome to Sugarbeat's Books – The Home of the Romance Novel

Today we are welcoming Christi Barth, author of Cruising Towards Love to the blog.  She cruising through the blogs promoting her latest book and is going to talk about "Talking about Sex" today.  Sit back and enjoy what Christi is here to share!
Stuck Talking About Sex
If you are shy, writing – on the surface – looks like an ideal occupation.  No coworkers, no commute, no cold calling…But the deeper you get into the profession, the truth comes out.  Our cold calls are our query letters.  Blogging thrusts us into the spotlight constantly.  However, I'm here to discuss a topic that can break even the least shy people into a cold sweat – sex (did I get your attention?).
Yup, I am a romance author, which means my books have sex. Explicit sex. Well written, sweaty, no holds barred sex.  Sometimes in interesting and unconventional locations!  Both because the story demands it, and because it is almost compulsory in romances these days. The promise of a few hot make out scenes and one full scale bedroom romp is a great way to sell to total strangers.  I've no problem with the strangers.  I can joke with people at book festivals who always ask with a simultaneously sly and hokey grin, where do you get your inspiration for sex scenes?  I do, however, have a hard time with close friends. 
Friends who might give sidelong glances and start picturing things when they see my husband kiss me.  Or worse, coworkers, who should DEFINITELY not be thinking about my hot sex scene when we're in meetings.  Most dire of all was the specter of family.  My father reads my sex scenes. Gulp.  When my first book released, I panicked.  It came out in early December, and I couldn't wrap my mind around how awkward Christmas dinner might be at our house, once my father finished my book.
And I didn't want him to just turn the page and skip it, because I labored really hard to make it good (truly, there is nothing harder to write than a well crafted sex scene!)…..but would I be able to look him in the face once he read it? A paradox, I know. He grew up in the 60s, but lived as opposite a life as possible from free love/drugs/rock 'n roll.
The good news is that I panicked for nothing.  He read it, and the world kept turning.  Did we discuss it in depth?  Of course not.  As a matter of fact, he just finished my latest release Cruising Toward Love which kicked up the heat level another notch.  More relaxed this time, I was able to turn it into a joke, quizzing him on what made the hot tub smoochfest scene unique for proof he read the whole thing. 
My panic level jumped sky high again, though, when I became a guest at my mother's book club.  A bunch of senior citizens who had already complained to her about how racy the book is…and yet every single one of them finished it.  How on earth did I look those little old ladies in the eye when we discussed it?  Because they kept reading.  Whether because of the sex scenes or despite them, they kept going.  They enjoyed the overall story.  It gave them an escape, and brightened their day.  Which means I hit my goal as an author, so I'm going to wrap myself in an extra-thick cloak of dignity and remember they liked it.  After all, my characters spent a majority of the book engaged in witty dialogue and a complex plot.  The sex scenes probably add up to less than a full chapter out of almost thirty.  No reason for me to obsess over it if they don't!
If you want to get a closer peek at those sex scenes – which I promise are steamy hot! – here's a blurb for Cruising Toward Love: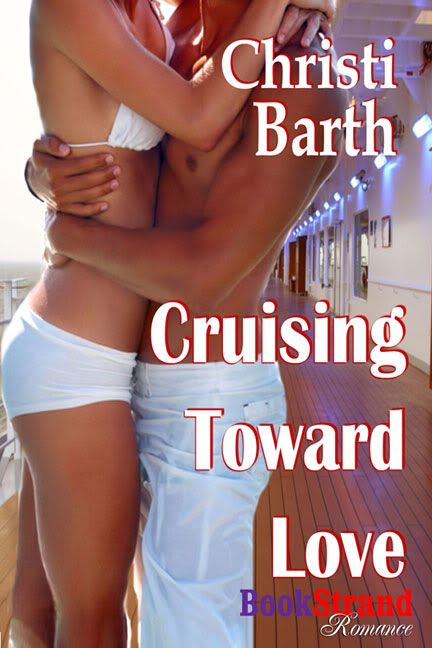 Can an unexplained breakup and ten years of heartache be cured by the romance – and endless buffets – of a tropical cruise?  When her sister is left at the altar, small town librarian Zoe Balis jumps at the chance to take the bride's unused ticket for the honeymoon cruise.  But she didn't count on sharing a cabin with the man who broke her heart ten years ago! 
Army medic Nate Hyatt never told Zoe goodbye when he enlisted – or the real reason why he dumped her on prom night after a year as high school sweethearts.  And he never stopped dreaming about the girl he left behind.  Could this voyage be his chance to fix the worst mistake he ever made?  After all, a Caribbean cruise should be romantic… if he can convince her to move past ten years of bitterness and hurt.  
Once aboard the luxury liner, Zoe befriends a bored Internet mogul with more heart than tact.  Nate vents his problems to a ship's photographer battling PTSD.  The four team up on an island hopping treasure hunt.  The stakes grow higher with each of Zoe's mysterious brushes with death.  They race to discover why she's a target and who's behind it, while still competing in the treasure hunt. Zoe's never gotten over her first love, and is tempted to let Nate back into her life.  But she already lost him once.  She's not willing to risk loving a man whose career keeps him in a combat zone.  Can Nate breach her defenses and suture her broken heart?  Grab a deck chair and see if they survive the stormy relationship seas as they cruise toward love!
For more info on all of Christi's books, head to www.christibarth.com, http://christibarth.blogspot.com, and follow her on Twitter @christi_barth
I'd like to thank Christi for dropping by and sharing with us.  Cruising Towards Love sounds like a great book and is certainly on my wish list….now I just need to win some gift cards!!
Amazon Purchase link for Cruising Towards Love