I'd like to welcome S.L. Armstrong and K. Piet to the blog today!  They are the authors of Alpha's Pride, the latest release from Storm Moon Press.  They have dropped by today to answer some questions and share some information about Alpha's Pride as well as other projects that are in the works.  Sit back and enjoy!
Barb – Tell us about "Alpha's Pride" and other books the two of you have in the works. 

[S.L.] Alpha's Pride is a short story that takes place in the greater world of Egaea. It's a world K. and I have been forming and perfecting for the last two or three years. It's only this year that we've begun to release short stories through anthologies and freebies that take place in that world. Next year, we'll be debuting the first novel from Egaea. In Alpha's Pride, readers are introduced to a very small subset of a race called the Maith. These Maith have forefathers who bound their spirits to animals and, through breeding with their other bound mates, bred children with feral features. We refer to this subset as the feral-Maith. They live apart from the proper Maithean cities due to prejudice against them.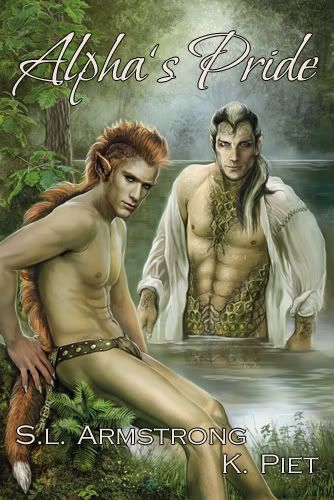 [K.] As you can imagine, living apart from 'normal' Maith means these feral-Maith are touch with their wild sides and have set up a social structure with the predators in charge. In Alpha's Pride, we follow two feline feral-Maith, Alec and Nahele, as they struggle for dominance of the clan. Alec's challenge to Nahele's authority puts their long-time friendship in jeopardy, and Nahele has to decide whether or not his pride can allow him to submit to another's authority.
Barb – Tell us a bit about you and your writing. 

[S.L.] I'm lucky that publishing and writing are my primary job. I work from home. I've been writing for many years now, but only began sharing it only about six or seven years ago. I began writing lesbian fanfiction, then moved onto gay fanfiction, and have been writing and publishing original fiction for the last three years. I tend to gravitate toward BDSM themes, fantasy, horror, and paranormal fiction. I love vampires and elves and shifters, and I've always been drawn to BDSM.
[K.] I sort of stumbled into S.L.'s gay fanfiction during high school and college, but it wasn't until I was in my final year of college that I really started writing gay fanfiction and original fiction. Partnering with S.L. has been a rollercoaster ride, and I've learned so much about writing that I'd never expected! Though I'm still spreading my wings, I prefer writing fantasy, paranormal, and urban fantasy, though S.L. can usually talk me into trying anything. I have a day job that I love, but it always means we have more ideas than we have time to write!
Barb – Do both of you prefer writing short stories or full length novels? Or do they each have their advantages and disadvantages? 

[S.L.] My preference will always be novels. I feel more comfortable with the length. I can deeply delve into characters, worldbuilding, and plot. With short stories, it tends to only be a snapshot, and it takes a skilled hand to write something non-contemporary and fit all the worldbuilding needed along with characterization and plot. I just don't think that's necessarily my strong suit, and so I lean toward novellas and novels whenever I'm able.
[K.] It's really the same story for me. Novels give a lot more freedom to explore the different aspects of characterization without feeling rushed. This doesn't mean there can't be pacing issues, but there's a lot more space to work with than with short stories. I don't mind writing short stories on my own, but with our co-authored pieces, my comfort zone is definitely in the novella/novel arena.
Barb – Were there any challenges in the release of "Alpha's Pride"?

[S.L.] My main issue was that—with the length and format—the worldbuilding I felt necessary couldn't be included. It's a bit slap dash, and I admit it. We leaned on focusing intently on Alec and his need to maintain control of the feral-Maith clan rather than expand to explain about how the feral-Maith came to be, where they were from, and why no one knew they existed. I was also concerned with a dubious consent scene near the end when Alec affirms his dominance over Nahele.
[K.] Ooo… S.L. is very right. That final scene between Alec and Nahele was a challenge because we knew it was very much in line with the characters but can be difficult for some readers to stomach. Their feral natures made the dubious consent typical for their race, but we knew going into the piece that it wouldn't be for anyone. We hope that being authentic to the race we created will pay off in the end, and we definitely promise to explain more about the feral-Maith in future Egaea publications!
Barb – Do you prefer working on individual projects as a writing duo or anthology/group projects?

[S.L.] Individual projects. I simply prefer having the freedom to write what I like rather than adhere to themes and word count limits. Working with K. on our individual projects tends to feel far more satisfying than when we focus on anthologies—either together or separately.
[K.] There's definitely a level of interaction that can really make for great individual pieces with the two of us. When we don't restrict ourselves to anthology guidelines, we tend to create very compelling, multifaceted stories, and we hope our choice to work primarily on novels and novellas as a writing duo satisfies readers as much as it pleases us to work together.
Barb – What projects are in the works for you both as the force behind Storm Moon Press? What will we be seeing next?

[S.L.] Personally, K. Piet and I are working on a short story collection that will come out at the end of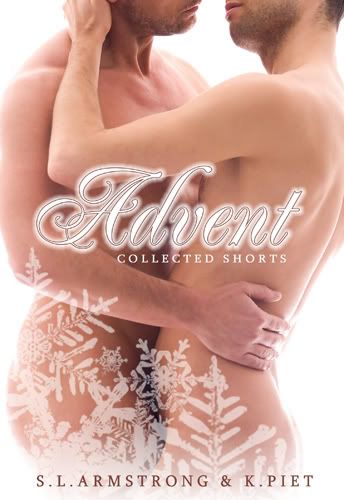 December. It's about 150,000 words, all short stories. 29 winter-themed stories that we're releasing free at the moment leading up to Christmas that will be collected, edited, and published along with 16 original shorts and a deleted scene from Catalyst. Once that's done, K. and I are going to be focusing on our first novella release of 2012, which is called Control, starring two fae—one from the Summer Court and one from the Winter Court—who turn Otherworld (the land of the fae) into a chess board where they're constantly trying to put the other into check. It loosely ties into a series we have planned entitled Otherworld which takes place long after the events of Control.
[K.] As far as Storm Moon Press in general, December is a very busy month! We have five of the stories from our Wild Passions anthology being released as individual e-books. We also have three short stories from different authors all releasing through our ongoing Yuletide line. The Saturnalia Effect, by Heidi Belleau & Violetta Vane, is a dark, gritty M/M story set in a prison. Modern Mythology, by Penny K. Moss, is a lovely F/F fantasy story involving runecasting in the antarctic. To round it all out, The Forester, by Blaine D. Arden, meshes the fantasy and murder/mystery genres. January 2012 also marks our two-year anniversary, so you can expect some great things as we expand and celebrate!
Barb – If you could visit any place in the world or a place created by a book, where would you visit?

[S.L.] Aman. Tolkien's land of the gods. It's a place I would love to walk, see, talk with Elves and Valar. It will always be my top pick of what fictional realm I'd love to visit.
[K.] S.L. totally stole my answer! However she would get there, I would definitely tag along. From Alqualondë to the Gardens of Lórien in Aman, Tolkien's world has always been an inspiration and at the very top of my to-visit-when-transdimensional-travel-is-possible list. 😉
Barb – Anything else you would like to add?
[S.L.] We have a handful of projects in 2012. Control and Lessons In Cowboy are M/M, Wanderlust: Land of Nod is the first in a novella trilogy we have planned and is our first M/F offering, and we'll be ending the year with Polyfidelity, a M/M/M/F title we've been toying with for the last year. There may be some short stories in anthologies should the inspiration strike, but we'd really like to focus on writing and publishing those four main titles. I hope everyone likes them when they come out!
[K.] In addition to our writing, we really hope that authors will submit to the many anthologies and open line submission calls we have out there for both Storm Moon Press and our new mainstream (M/F) imprint, Wild Moon Books. We have everything from faeries to tentacles to trans* romance to plus-sized heroines and mainstream dystopian, so check out our submission pages at the links above if you're an author looking for some information on submission policies or if you're a reader who is curious about what we have in store! Thank you so much for having us on the site today!
S.L. Armstrong can be found on her website http://www.slarmstrong.net/ or on Twitter at @_slarmstrong. K. Piet can be found on her website http://www.kpiet.net/ or on Twitter at @k_piet. For their current and upcoming titles, go to both http://www.stormmoonpress.com/ and http://www.wildmoonbooks.com/.
I'd like to thank S.L Armstrong and K. Piet for dropping by today and sharing about their books!  Drop by their blogs and say hi!  For any of the books discussed, either click on the cover to purchase, or go to the Storm Moon Press website and have a look around at what is available!