Welcome to Sugarbeat's Books!
Today we are being visited by Tom Mach.  He is touring with Goddessfish promotions to promote his latest book Stories to Enjoy.  Tom is offering a $25.00 Amazon GC to one commenter from this tour.  To follow the rest of the tour and more places to comment click HERE.  Remember the more you comment, the higher the chances of winning!
I asked Tom to talk on how being a writer changed him as a reader – one topic that I love hearing the answer to!  Enjoy!
How Does Being a Writer Change Me As a Reader?
by Tom Mach
This question is akin to asking a person licensed to fly an airplane how it changes him in being a passenger on a commercial airline. I can answer that question because I was a private pilot and as a result, I have no fear of flying commercially, I also like to listen to flight communications between the tower and the pilot. And I'm cognizant of how the commercial jet makes banks and turns and landings.
In like manner, being a writer myself makes me more cognizant of techniques other writers use in describing a character or setting a scene. When I'm reading a book, I feel as if there are two readers inside my head. One is someone who is enjoying the book for its own sake. The other is someone who is aware of both the strong and weak points of the author.
When I read a murder mystery, I am subconsciously looking for clues the author planted. If the author continues to refer to a particular cigar a character smokes, an alarm goes off in my head and I think about that cigar and what relevance it might have to the murder. If the author sneaks in a new character and that character seems to dominate a given chapter, I ask myself if this character important to the story, and if I find out later that she isn't, I have to then question the author for putting her in the chapter at all.
I don't like "show-off" writers and I try not to be one myself. What I mean by that is inserting a word that requires you to look it up in the dictionary or a word in another language that is not self-explanatory.  When I wrote "Burning Faith" in Stories to Enjoy, I had an Italian landscaper that would occasionally say something in Italian. For example he says 'Dio! Maledirlo!" after discovering an important relic. But right after he says those words, I add in English, "This had to be a hoax." So here it's not important to know what the Italian words mean because it's obvious he's uttering a mild profanity.  However, some authors like to engage in dialogue in French or Spanish and apparently make the assumption that the reader understands several languages and immediately knows what is being said. That's what I mean when I say I dislike authors who "show off."
I look for realist dialogue when I read the works of other authors. Sometimes I find an author trying to squeeze a lot information into dialogue in order to convey things to the reader.  But I find that a real turnoff. 
I also discover great lines and wonderful descriptions when I read the works of other authors. Mark Twain tends to put an interesting twist on words, such as ""There has been much tragedy in my life; at least half of it actually happened." Or, Richard Bach, who said, "Fail at love and the other tests don't matter." Sometimes an author will phrase a description differently. In David Copperfield, Dickens said this about an aunt: "There was an inflexibility in her face, in her voice, in her gait and carriage, amply sufficient to account for the effect she had made upon a gentle creature like my mother."
In summary, reading helps me as a writer to avoid the mistakes I see and to improve my writing from learning from flashes of great writing from others.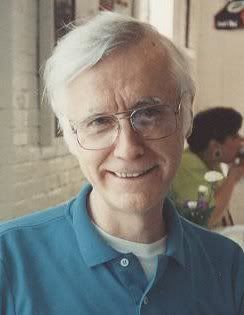 Bio:
Tom Mach wrote two successful historical novels, Sissy! and All Parts Together, both of which have won rave reviews and were listed among the 150 best Kansas books in 2011.Sissy! won the J. Donald Coffin Memorial Book Award while All Parts Together was a viable entrant for the 2007 Pulitzer Prize Award. He also wrote a collection of short stories entitled Stories To Enjoy which received positive reviews. Tom's other novels include: An Innocent Murdered, Advent, and Homer the Roamer.
His poetry collection, The Uni Verse, won the Nelson Poetry Book Award. In addition to several awards for his poetry, Writer's Digest awarded him ninth place in a field of 3,000 entrants. His website is: Here  He also has a popular blog for writers of both prose and verse at Tumbler 
Tom can also be found:
This unique collection of 16 short stories written by prize-winner Tom Mach includes stories such as "Real Characters," which is about a writer who gets his wish–that his characters come alive…. "Breakfast, Over Easy" makes you wonder about loyalty in the face of temptation…. "When Kansas Women Were Not Free" takes you to a time when women were less free than former males slaves…. "Son" make you think differently about compassion. One novelist describes STORIES TO ENJOY as "memorable and intriguing, with O. Henry twists that are sure to surprise and entertain."
Excerpt
   Detective Pulaski agonized over the challenge. This one was tougher to solve than the other three. When she finished the upper portion of the puzzle, adrenaline again pumped through her body. She felt a pain in her chest as if she were about to have a heart attack. Aggie blinked twice as she stared at the answers to today's puzzle:
   "Agatha Pulaski," she said aloud, her voice quivering. "Policewoman, Sib, Twelve."
   That's crazy. My own brother wouldn't rape and kill me, would he?
 I'd like to thank Tom for dropping by and sharing about his book.  Be sure to leave a comment in order to be entered to win an Amazon GC.