Welcome back to Sugarbeat's Books!
I'm happy to be back to blogging after my brief hiatus! I'll spare you the details 🙂
While I was separated from my beloved blog 🙂 I was a busy girl!
Back in December I had the honor of attending an on-line video chat with Virna DePaul and Tawny Weber.  It was alot of fun!  I could watch the two of them respond to questions both through the video chat and also typing responses in the chat window.  I have read and enjoyed quite a few of Virna's books and I've read tons of Tawny's books.  Tawny writes for Harlequin and quite a few of her books are carried by the Blaze line which I have a subscription to.  I don't think I've reviewed any of her books, but that will likely change because of a series that she is working on….more on that in the future.
Because I attended the video chat, I won some cool prizes.  First of all, I won a copy of Wild for Him and it's currently loaded on my Nook, patiently waiting it's turn!  I was also lucky enough to win another prize!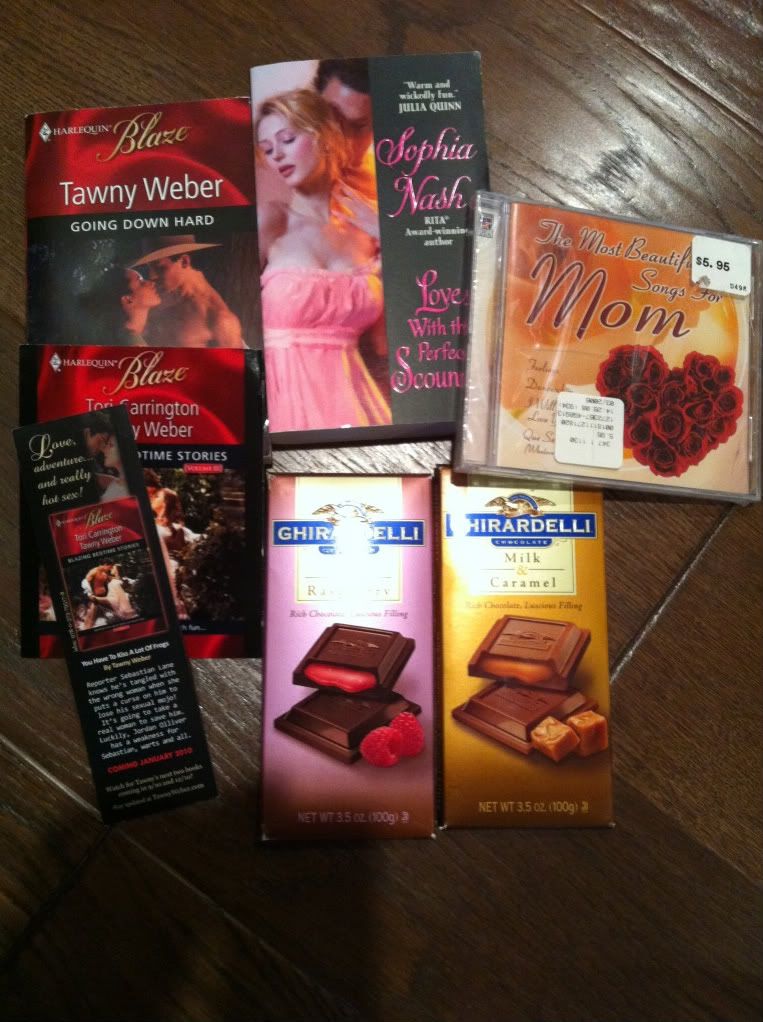 Pretty cool, right?  Of course the first thing I noticed was the chocolate!  Chocolate is always welcome in this household 🙂  I also got a signed copy of Going Down Hard by Tawny Weber along with some swag.  Along with the CD of music specifically for moms I got a copy of Love With The Perfect Scoundrel by Sophia Nash.  I haven't read this book yet, and it looks great!
I'd like to thank both Tawny and Virna for taking the time to share with us all in the video chat, and I'd like to thank them both for the wonderful prizes that I won!  Stay tuned for more reviews!