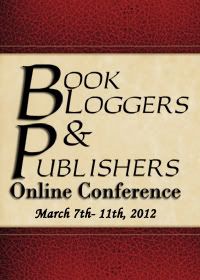 The Book Bloggers and Publishers Online Conference is coming up fast! Just over a month from now – from Mar 7th to 11th.   I attended last year and learned so much!  This year I'm serving as a panelist for several panels as well as a moderator for several more.  I'm pretty excited!  We are going to be talk about some pretty important topics!  Not only are the discussions great, but everyone who registers gets free books!
This is the 3rd Book Bloggers and Publishers Online Conference, March 7-11 2012.
We are excited to welcome some fabulous publishers and bloggers this year as we work together to better understand the relationship between authors, bloggers, and publishers in the industry.
There will be audio panels and simultaneous chat rooms for the live interaction.  All panels are recorded and available to attendees for a month after the conference. This is an opportunity to make new friends amongst bloggers and other industry professionals. There will be authors, editors, speakers from PR and Marketing departments, publishers, and specialists in social media, time management, and online organization.
All attendees will also receive books for giveaway from participating publishers. There are print and e-book titles available. Titles are being added to the giveaway page daily.
Below you will find a listing of the Panels and a short list of the panelists speaking at the conference.
More info can be found at pacomediagroup.com
Scheduled Events – All Panels are Subject to Change
Wednesday – March 7th
Panels – Opening Day
Where do Books Come From: Review Copy Distribution – Netgalley – Goodreads – Publisher Blogs: Tor.com, Romance at Random, USA Today Book Blog
Review Guidelines: Don't be Overwhelmed
Thursday – March 8th
Panels – Working with Authors
Approaching Authors – The Creative Process for Authors and Bloggers – What Authors look for in Reviews – Publishing: The Options Authors Have Now – Should Authors Review?
Genre Discussions: Category Romance – GLBT – Inspirational – More TBA
Friday – March 9th
Panels – Industry Day
What PR Departments do – Working with Private PR Companies – Blogging's Role in "Traditional" Media – Building a Relationship with Publishers – Obligation to Publishers: What are the Expectations?
Saturday – March 10th
Panels – Young Adult Focus – Online Safety – Keeping Social Media Social – Review Guidelines: Defining Your Blog
Negative Reviews: Fallout and Fears – Finding Independent Presses and Mis-use of the Term – To Review or Not to Review Self-Pub
What Bloggers Want: Don't make Publishers Read Our Minds – Book Blogging as a Business?
Sunday – March 11th
Panels – Time Management – Online Organization Specialist – Writers Block: Creativity Coach
Covers: How Important are They? – Graphic Novels: Reading and Reviewing – Meet Your Local Book Store – Blogger Manifesto 2012
Speakers:
Sue Grimshaw – Random House Publishing Group
Jennifer Bonnell – Penguin YA Editor
Robert Dugoni – Thriller Author
Lindsey Rudnickas – Netgalley
Kristen Lamb – WANA Consulting
Don Dauria – Samhain Publishing
Ariel Tachna – Dreamspinner Press
Kate Lied – Bloomsbury Publishing
For more information and to sign up go to Paco Media Group today!