Welcome to Sugarbeat's Books – The Home of the Romance Novel!
Today we are welcoming Trish McCallan, author of Forged in Fire to the blog.  She's dropping by to answer some questions and is offering up a $10 GC and an ecopy of her book!  That means the giveaway is international – so all of you non-North American readers, be sure to enter this one!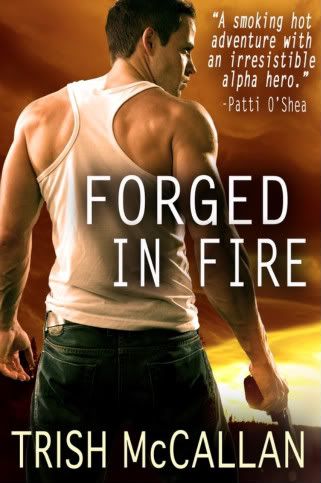 You all know how attracted to covers I am 🙂  I think this one is yummy! and indicates a good read.  Let's learn more about Trish!
Barb –      Tell us a bit about yourself and your writing.
Trish –  I've been writing on and off for most of my life, but from the moment I started writing romances, my plots mixed suspense with paranormal. In the early days, this mixture wasn't welcome. I was told by every agent who read my first completed manuscript that a premise involving a psychic wouldn't sell. They all recommended I strip the paranormal out of my books, and concentrate on the suspense. But straight suspense just felt boring to me, so I kept writing the books I wanted to write, and now these elements have come into demand.  
Barb –  Tell us about your latest release.
Trish – Forged in Fire is the first book in a series of high octane romantic thrillers. The heroes throughout the series are officers of SEAL Team 7. In FIF—the first book—the hero and secondary heroes are inadvertently drawn into a global conspiracy when the plane they are boarding for a Hawaiian vacation is marked for hijacking.
Barb – What were the challenges, if any, bringing this story to print?
Trish –  The research was the most challenging. I wanted my heroes to read as authentic as possible, but it's difficult to find actual Navy SEALs who are willing to talk to you. Ditto for FBI agents. I'd made contact with two different federal agents, they both   took my list of questions and said they'd ask around and get back to me. (The questions involved how an investigation into a hijacking would be conducted, what agency would lead the investigation, who would head the task force—things like that) I never heard back from either agent. Later, I was told by a retired agent, that they'd probably been told to drop contact because the questions I was asking were of a sensitive nature.
Barb –  What is your favorite part about writing?
Trish – I love revisions, I love playing with the language and shaping the image and bringing the characters and story to life. I always have this clear mental picture of every scene, but it's only during the revision process that the scene on the page begins to resemble the picture I've been holding in my mind.
Barb – What is your least favorite part about writing?
Trish – The first draft is my least favorite part of writing. I find the first draft frustrating. The emerging story never matches the idea I've been living with in my head. The characters feel shallow, the plot stupid. I have this mantra I chant when I'm writing the first draft—"you can fix it later, you can fix it later."
Barb –  What type of scenes do you find to be the hardest to write?
Trish –  The action scenes are hard for me because I tend to bog them down with too much detail. Then I have to go back in and cut. And cut. And cut. Even after I think the flow is fine, my crit partners will highlight areas that read slow to them and I'll end up cutting even more.
Barb –  Do you start your story with an outline or do you just set the characters free to tell their story?
Trish –  I have done both- but the way I currently work is to just sit down and fast draft the first draft with no outline. I let the characters have their head and see where it leads me. I've found this approach brings my characters to life. The plot takes more imaginative twists and turns, it seems to grow organically from the characters themselves. I think my work has more depth because of this.  Once the first draft is down, and I have the rudiments of a plot/premise- then I do a detailed chapter by chapter outline and fix all the plot holes and inconsistencies that occur as a result of having no clue where the characters and plot are taking me.
Barb –  Do you have a favorite character in one of your books?  If so who is it and why?
Trish –  My Favorite character is Commander Jace (Mac) Mackenzie, from Forged in Fire. But I'm not sure why. The guy is a serious ass. He's a misogynist, with a huge chip on his shoulder and nasty temper, but he intrigues me. He's intensely loyal to the people he cares about and would do anything for them. He's highly intelligent, bluntly honest, and politically incorrect. All of which makes him an interesting character. He is in a position of authority, but one that requires a certain amount of kiss-assery—which he refuses to do. This puts him in constant conflict with his superiors.
Barb –  Who encourages you to continue writing?
Trish –  I encourage myself to keep writing. Nobody has the kind of influence over me that I have over myself. Nor does other peoples' support or encouragement bolster me in the long run, I have to push myself. I'm the only one who can keep myself writing during the hard times.
Barb –  How can your fans follow you to keep up to date with your writing?
Trish –  I will be posting updates to my website which can be found at www.trishmccallan.com
Barb –  Where are your books available?
Trish –  My books are exclusively available through Amazon.com
I'd like to thank Trish for dropping by and sharing today!  I'll leave you with a blurb to Forged in Fire!  Fill out the form if you are interested in winning a copy!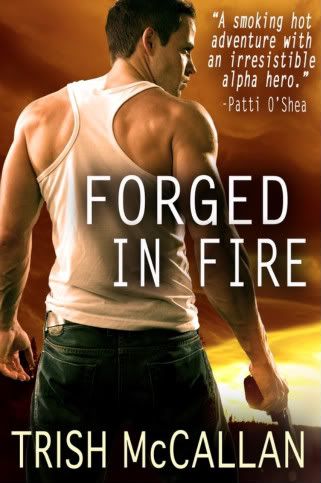 Beth Brown doesn't believe in premonitions until she dreams a sexy stranger is gunned down during the brutal hijacking of a commercial airliner. When events in her dream start coming true, she heads to the flight's departure gate. To her shock, she recognizes the man she'd watched die the night before.
Lieutenant Commander Zane Winters comes from a bloodline of elite warriors with psychic abilities. When Zane and two of his platoon buddies arrive at Sea-Tac Airport, he has a vision of his teammates' corpses. Then she arrives—a leggy blonde who sets off a different kind of alarm.
As Beth teams up with Zane, they discover the hijacking is the first step in a secret cartel's deadly global agenda and that key personnel within the FBI are compromised. To survive the forces mobilizing against them, Beth will need to open herself to a psychic connection with the sexy SEAL who claims to be her soul mate.