Welcome to Sugarbeat's Books – The Home of the Romance Novel!
Today we are welcoming Jillian Stone, author of An Affair with Mr Kennedy to the blog!  She doing a blog tour and is here for one of her stops.
To celebrate her debut release, Jillian will be giving away a signed copy of AN AFFAIR WITH MR. KENNEDY to a commenter today. In addition, all commenters will be entered in a special giveaway promotion: Jewelry inspired by the romantic notion of recapturing lost time as the French title 'Le Temps Perdu' A Steampunk watch necklace from the Time Travel Collection by Yolanda Pang. Cyber travel to Poetic Designs and see for yourself just how whimsical this watch necklace is! http://www.etsy.com/listing/86157293/le-temps-perdu-ii-steampunk-watch 
The
AN AFFAIR WITH MR. KENNEDY
promotion continues here at Sugarbeat's Books and Jillian will post the winner on February 22  at
Get Lost in a Story and her website
. Comment on any of her blogs or interviews and you are entered to win. Each time you visit a different blog and leave a comment your name gets entered again! For a schedule of her interviews and blogs go to contact/press on her website. Good luck everyone!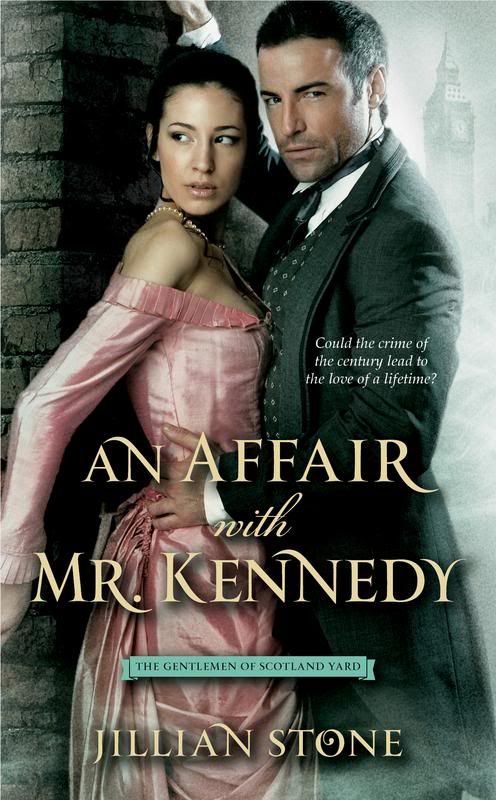 Barb –  Tell us a little bit about yourself and your writing.
Jillian – I live in California, and I my first career was in advertising. I started out as an art director, but also got involved in copywriting and film. I began writing full length fiction in a serious way in 2006. After writing a medieval historical, I began work on a historical romantic suspense series about an elite group of Scotland Yard detectives set in London in the Late Victorian period. The first book in the series, AN AFFAIR WITH MR. KENNEDY (originally titled THE YARD MAN) won the 2010 Golden Heart and shortly after, I accepted a three book offer from Pocket Books!
Barb –  Who are your cheerleaders?
Jillian – Who continues to encourage you to write? I am fortunate to have a wonderful network of romance writers who keep me sane and make me laugh! My family has been amazing as well. It's not easy living with a writer on deadline.
Barb –  When you made your first sale, how did you celebrate and with whom?
Jillian – Besides happy dancing around the house? My agent, Richard Curtis, called me to present the offers I received for AN AFFAIR WITH MR. KENNEDY and we both agreed that Pocket Books offer was the one to accept. That afternoon I celebrated with my critique partner long distance (humorous popping of corks over the phone) and then went out to dinner with friends and family.
Barb –  What's the hardest part of writing a book?
Jillian – Sticking with it, even when you think the writing is crap and the plot sucks. I find that if I just keep schlepping along most of the problems are fixed or edited out in rewrite.
Barb –  What's your favorite part of writing a book?
Jillian – Writing a scene and the characters mysteriously take over and surprise me with something wonderful. I know, it's metaphysical, but it really happens!
Barb –  Which scenes were the hardest to write?
Jillian – Love scenes are some of the hardest to write. You are dealing with emotion, action, dialogue, and tingling. A really good love scene has its own arc, but if you get it right––hot!
Barb –  How long did it take you to write your current book?
Jillian – The first book took about a year and a half. The second two books each took six to eight months. (I just completed book three.)
Barb –  Who is your favorite character in your new release?
Jillian – Detective Zeno "Zak" Kennedy will always be a favorite character of mine. He comes off as stern, cold and analytical, but he's one of those still waters run deep kind of men who turns out to be…;) I don't want to be a spoiler!
Barb –  Do you see yourself in any of your characters?
Jillian – Not as much as readers might think. To keep things interesting I like to write characters who will surprise me as I write them.
Barb –  What were the challenges in bringing this book to life? 
Jillian – Since this is the first book in The Gentlemen of Scotland Yard series, I did a good deal of research on late 19th century London. I knew I wanted to write a historical romantic suspense series and got to thinking about Scotland Yard detectives. It seemed to me that Yard men were always portrayed as bumbling inspectors, five moves behind Sherlock Holmes. So I thought, what if there was an elite group of detectives? During the research phase I discovered that there really was a division of Scotland Yard created in the 1882 called Special Branch! I added a dash (as in dashing) of James Bond Steampunk and that was the start of The Gentlemen of Scotland Yard. The heroines in each book are fascinating, progressive Victorian women. There is an Impressionist painter, an industrialist and a ballerina/jewel thief/spy!
Barb –  Do you have an all time favorite book?
Jillian – I have at least a hundred all time favorites. Here's a few: Anne of Green Gables, The Adventures of Sherlock Holmes, Outlander, Do Androids Dream of Electric Sheep, and many more!
Barb –  Where can your fans find you?  
Barb –  Where is your work available?
Jillian – Barnes & Noble, Amazon, Powell's, and bookstores across the country including my local Indie, Mysterious Galaxy. All of them are taking pre-orders by the way!
Barb –  Anything else you'd like to add?
Jillian – In April I have another debut release (is there such a thing as two debut releases? I guess so!) from Kensington Brava THE SEDUCTION OF PHAETON BLACK, a sexy historical paranormal about a paranormal investigator who has taken up residence in the basement of London's most notorious brothel.
I'd like to thank Jillian for stopping by and offering such interesting giveaways!  Be sure to leave a comment with your email address to be entered!  And good luck to everyone.  I'll leave you with the blurb…..
London, 1887. Part stoic gentleman, part fearless     Yard man, Zeno "Zak" Kennedy is an enigma of the first order. For years, the memory of a deadly bombing at King's Cross has haunted the brilliant Scotland Yard detective. His investigation has zeroed in on a ring of aristocratic rebels whose bloody campaign for Irish revolution is terrorizing the city. When he discovers one of the treacherous lords is acquainted with his free-spirited new tenant, Cassandra St. Cloud, his inquiry pulls him unexpectedly close to the heart of the conspiracy and into the arms of a most intriguing lady.


     And Cassie is no Victorian prude. An Impressionist painter with very modern ideas about life and love, she is eager for a romantic escapade that is daring and discreet. She sets her sights on her dour but handsome landlord, but after she learns their meeting was not purely accidental, she hardly has a chance to forgive her lover before their passionate affair catapults them both into a perilous adventure.