Welcome to Sugarbeat's Books – The Home of the Romance Novel
Today we are celebrating the success of Mancode: Exposed by my friend Rachel Thompson.  At the bottom of this post, please find my thoughts on this great book!
Why is today different than any other day?
It's not, really. After all, it is only Tuesday (hey, at least it's not Monday so there's that).
However, today is a big deal for this chick, self-published author and social media consultant you may or may not have heard of, Rachel Thompson. People like to give her lots of nicknames, but mostly she goes by RachelintheOC, aka the Queen of Snark and oh, don't forget BadRedhead. #asif
Here are a few facts about this fiery spitfire (and we'll get to the BIG deal in a minute):
So…what's the BIG deal?
Today, for ONE DAY ONLY, The Mancode: Exposed is FREE! (Reg. price $2.99.) Yep, you read that right. That's why today, Tuesday, is special. No free Mancode on Wednesday so don't wait!
No strings, no hoops. Simple click here (Amazon exclusive, no Kindle required) and download your free copy of this popular #1 bestselling humorous collection of essays on men, women, relationships, chocolate, and sex. (Adult content warning.)
Remember, no Kindle is required to download an Amazon eBook. But you already knew that, yes? Simply download their free Kindle apps for computer, tablet, or smartphone. Even cloud. It's very easy.
Do you have questions for Rachel? Visit her site, Twitter, Facebook, or email her at RachelintheOC@gmail.com. She's very friendly….after coffee. Especially if you send Nutella (we hear she's a fan).
Finally, Rachel is happy (well, as happy as she gets) to eSign her eBooks for you (go to Kindlegraph.com) to request her signature. Again, no Kindle required. It kinda rocks.
Thanks for hanging and enjoy the free read! 
Mancode: Exposed by Rachel Thompson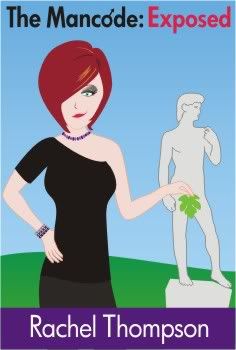 Release: November 2011
Source: I received a copy of this book to read and review by the author
Previously posted on Amazon
Welcome to another episode of Rachel's snarky humor and enlightening look on the world around us – specifically the men in our life. Just a quick warning, do not attempt to drink liquids while reading this book! Think little brothers, glasses of milk and the family dinner table…
I had the opportunity to read Rachel's A Walk in the Snark when it was released. This book, like the previous book is partially based on her ever entertaining blog. If you haven't had the opportunity to read her blog, you are missing out!! Mancode is a series of essays on a variety of topics from Dirty Laundry to Cabana Boy (one of my personal favorites) to Mancode DNA. Mancode talks about the differences between men and women, specifically the meaning behind the language and action of men and their inability to understand women.
This book is absolutely the funniest I've read since Rachel's last release, but maybe more important, it cuts close to the bone! Although I laughed alot reading this, I found myself smiling and nodding to a lot of the comments that Rachel makes. The book brings up topics to talk about with your spouse. She suggests topics and then deconstructs them, looking at the topic from the man's point of view and the woman's point of view.
Pick up a copy of this book for the male/female in your life and read it together. Maybe then the man in your life will understand that he needs to keep a constant supply of chocolate on hand and not object to your shoe collection, or the female in your life will understand your need to speak in points, and leave your garage alone.
A must read! Looking forward to the next book that Rachel writes!!
Related articles