Welcome to Sugarbeat's Books – The Home of the Romance Novel!
Today we are welcoming author Gail DeYoung to the blog.  She is a multipublished author of some nice steamy stories!  Today she is going to entertain us with her thoughts on her two favorite things!
Guest Post and Giveaway with Gail DeYoung,
Author of "Decadent Delights"
Chocolate and Sex – My Two Favorite Things
Writers are often told, "Write what you know." That advice makes a lot of sense. When you write about a topic you know, you draw upon your own experience and knowledge of that topic to make the story believable and interesting. However, that doesn't rule out the requirement to do research. There's always more information that can be discovered about most any topic, as long as one is willing to go that extra mile.
As a "romantica" author, I get offers from my boyfriend to "act out" sex scenes — all in the name of research, of course — to make sure things work the way I wrote them. During the first draft of "Decadent Delights", I accepted his offer. I actually thought it might be interesting to have the heroine blindfold the hero and drizzle chocolate on his chest so she could lick it off. I went a little further with my boyfriend and tied his hands behind his back as well as his ankles. Unfortunately, he lost his balance while I licked the chocolate off of him, and he fell and hit his head. Afterward, we had a good laugh about it, but at the time, it ruined the mood. It made me rethink that scene, which I eventually deleted from the book.
Readers like their fantasy based on reality. That is why it helps to have a victim — I mean partner — who is willing to put up with acting out scenes in order to ensure one hasn't strayed too far in the "suspension of disbelief". Most important is that the person helping with the research should have a good sense of humor. Thanks to my boyfriend's help with research, I have revised several stories.
I imagine others have had similar experiences. I'd love to hear what they did to test the validity of actions scenes in their stories.
Your browser may not support display of this image.
DECADENT DELIGHTS
ISBN 9781419962899
PUBLISHER: Ellora's Cave
Released: September 14, 2011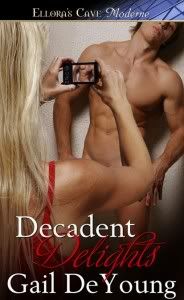 Chocolate and sex—two of life's most decadent pleasures—are the marketing tools Dana Evans uses to lure customers to her erotic candy store. Her sexy dancing gets her customers hot and bothered for her confections and Trevor Stanton, owner of Trevor's Treasures, realizes he'd rather be on her side than competing against her. He pursues her with wit, charm and an offer to model nude for one of her statues.
Dana can't believe her luck when she discovers the hunky ex-model has an identical twin brother. Little does she know that her strong attraction to Trevor will cause conflict between the two brothers, especially because she wants both of them to model nude for her.
When the competition gets hot, Dana is caught in the middle. What's a girl to do?
Snippet from "Decadent Delights"

The sign on the door to Decadent Delights read, "Mature audiences only. Anyone under eighteen not allowed."

"What the…" Trevor Stanford shook his head. A candy shop with a disclaimer—well, that was a first!

The crowd of customers surrounding him pressed close together as the store owner unlocked the latch on the front door. Like a herd of wild animals, they burst into the interior of the shop, propelling him along with them. He'd never seen such a frenzy at a candy store's Grand Opening. But the moment he entered the interior, he understood their craze. It smelled like chocolate heaven and was decorated like a sex addict's dream. As if that wasn't enough to set their mood, Robert Palmer's Addicted to Love played in the background.

Every aisle had a unique array of candies crafted into sexy shapes or what could only be described as toys for the uninhibited. He stopped by one display of red licorice straws fashioned into whips of varying shapes and sizes. Looming above the display was a chocolate sculpture of a perfectly round behind. His eyebrows rose appreciatively.

"Welcome y'all! I'm Dana, owner of Decadent Delights. Thank you for coming to the store's Grand Opening." The petite blonde stood upon a raised platform next to a cellophane-covered chocolate statue of a well-endowed male figure.

"I'd like to introduce you to David." She walked slowly around the life-size confection, her painted fingernails scraping along the sculpted muscles of his chest and over his biceps. "Isn't he yummy?"

In sync with the music, the store owner sensuously moved her lower body against the chocolate statue with a slow, deliberate rotation of her hips, a look of pure ecstasy on her face. Her white short-shorts barely covered her bottom when she bent forward to rub against him and the buttons holding her blouse together strained across her generous bosom.

"Did I mention he's good enough to eat? He's made of hollow milk chocolate. Mmm." She wrapped her full lips around her pointer finger and sucked it all the way into her mouth with agonizing slowness, then dragged it back out, not once, but twice. Her eyelids drifted closed and a smile of deep satisfaction crossed her lips.

Trevor couldn't stop watching. He was hooked, just like the rest of the crowd. This was better than a scene out of a strip club show. The woman made all the rest look like a bunch of amateurs.

She walked behind the statue and wrapped her arms around his waist. Her hands moved steadily down his abdomen and circled the cock. Once she had him in her grip, she peeked around him, a sinful smile lifting the corner of her mouth.

"If he's too big for you to handle," she winked at her audience, "you can also just buy your favorite parts, like this one."

The audience clapped and whistled.

Trevor swallowed hard. With her every stroke of her fingertips over the statue's cock and balls, the tension in his body wound a little tighter. Perspiration dotted his upper lip.

God, she's good. So very good.

His cock twitched and swelled. Damn! It was difficult enough to concentrate on his reason for visiting Decadent Delights without the added distraction of its owner putting on an outrageously erotic show. Her mischievous behavior, the sparkle in her blue eyes and her sexy little smirk gave him the impression that doing it in front of an audience was an everyday occurrence for her.

She stepped down from the stage and smiled at her customers while tying an apron around her waist.

"Join me for a tour of the store and I'll introduce you to my collection of naughty confections."

The perky blonde tossed a smile over her shoulder as she led the way. Damn if she wasn't dancing down the aisles and the women, caught up in her enthusiasm, were joining her! The way she mesmerized the crowd reminded him of the Pied Piper with women parading behind her. Trevor wanted to get closer, but his every move was blocked.

"Samples anyone?" He heard her lilting voice above the music. Once again, the crush of bodies overwhelmed him. This time, instead of participating in the rush, he stepped back to lean against a wall so he could observe the action.

The women bit into the candy and moaned. Trevor's brow furled. Could the chocolate really be that good? After all, it was just candy, wasn't it? Perhaps he needed a closer inspection of the merchandise.

Trevor had come to the Grand Opening because the owner's flyer had piqued his interest. Now he understood why she was the talk of the town.

The audience's reaction made him want to know a lot more about his newest competitor. Was the novelty of this store something that would wear off? Or did she truly have the "it" factor that could claim his customers forever?
Bio: Gail DeYoung works as an Administrative Assistant during the day and a romance author at night. Needless to say, her night job is much more exciting. She resides in Florida, which has inspired many of her books. You can find her on Twitter as AuthorGail, visit her website, www.gaildeyoung.com, or check out her blog at www.authorgaildeyoung.blogspot.com
Her books are available from Ellora's Cave, Amazon, and Barnes and Noble as well as many other fine e-tailers.
I'd like to thank Gail for dropping by and sharing!  Be sure to check out her books and pick up a copy of one that interests you!
Amazon Purchase Links for Decadent Delights