Welcome to Sugarbeat's Books – The Home of the Romance Novel!
Today is an exciting day!  We are welcoming Kristan Higgins to the blog!  She is the author of Somebody to Love and is here to giveaway a copy of her book as well as tell us a bit about herself and her book. Although I haven't read Someone to Love, I have read several other books that Kristan has written and they were all excellent!  I imagine this one will be great as well!  If you are interested in winning a copy of this book, fill out the form below, and Kristan will be dropping by to say hi, so leave any questions you might have in the comments!
Barb – Tell us a bit about yourself and your writing.
Kristan – Let's see…I once told Stephen King to get a life when he mocked my Yankees shirt at Fenway Park during a Boston/New York ball game. That may be the most interesting thing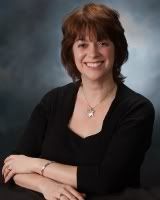 about me. Oh, and I can whip up a batch of chocolate chip cookies in under six minutes. Land-speed record, I think.
I'm a happily normal person who has a very fun job. I backed into writing when my kids were little (they're teenagers now). I was a stay-at-home mommy looking for a way to stretch that out, and since my expertise in life seemed to be ironing, imitating bird song and reading romance novels, I figured I'd give romance writing a try. I picked contemporary because I wanted to write love stories about regular folks, you know? People like my friends, siblings, self—not spectacularly gifted or beautiful or wealthy…just regular people who got to have wonderfully romantic love stories.
Barb – Tell us about your latest release, Somebody to Love?
Kristan – Now see, you've already caught me in a lie, because when the book starts out, Parker is fabulously wealthy. Well, actually, she's broke, but she doesn't know it yet. Though she had a very privileged life growing up, she's just learned that her daddy has emptied the family coffers, including her trust fund, and she's got to move and find a job that'll pay the bills, just like the rest of us. All she has left is a decrepit house on the northern coast of Maine and about six weeks to flip it so that she can have a little starting-over money for her and her son.
James Cahill is the son Parker's dad never had. He's Harry's personal attorney, and he's nursed a crush on Parker for years. When Harry heads off to prison for insider trading, James figures he owes Parker some help whether she wants it or not. Maybe he can change her mind about him. He's certainly going to try.
Barb – Do you create an outline before you start writing, or do you let the characters take the story away?
Kristan – A little of both, actually! I do like to have an outline to keep me grounded in the story, because otherwise, I tend to lose my place a bit. But the characters definitely drive the car, as it were. Sometimes I'm surprised at what I learn about them while writing the book; we authors think we know what our people will do, and then bam, they surprise us by veering off the road. It's always worth it.
Barb –  What is it you love most about writing? What's the hardest part of writing for you?
Kristan – I love coming up with a new idea; I love falling for a character, whether it's the hero or a secondary character or a kid in the story. I also love the reaction from readers, which has been overwhelming. I still remember my first fan letter (Alana in Montana, I'm talking to you!) and how stunning it was that someone would write to me.
The hardest part for me is the first draft, which I view as necessary drudgery. The outline is fun because the story is completely fluid at that point. Revisions make the manuscript turn into a book. But the first draft is…well, it's like soil preparation in the garden. The fun part is designing the garden and planting the flowers. The hard part—and the most important—is preparing the soil, fertilizing it, getting rid of the rocks, digging it up. It's not as glam as the other parts, but without that, your garden won't grow.
Barb – Do you have a favorite character from your stories or are they like your children and you can't choose between them?
Kristan – The latter. It really depends on the day. A few favorites are Liam from UNTIL THERE WAS YOU; BeverLee from MY ONE AND ONLY; Angus from TOO GOOD TO BE TRUE. I love Callie and Malone, Crazy Dave, Danny and Chantal…it's tough to choose just one. Or even one dozen!
Barb –  What book is currently on your nightstand?
Kristan – I'm reading PARIS IN LOVE by Eloisa James.
Barb –  Where can your fans find you ?
Kristan – www.kristanhiggins.com and www.Facebook.com/KristanHigginsBooks.
Barb –  What project are you working on now?
Kristan – I'm currently working on the first book in a series set around a family-run vineyard in the Finger Lakes region of New York. Readers can expect gorgeous scenery, a dopey and wonderful Golden Retriever, and a hero to swoon over. Well. At least I've been swooning over him. It's a little embarrassing, how much I love this guy.
Barb –  Anything else you'd like to add?
Kristan – Thank you so much for having me today! It's a pleasure.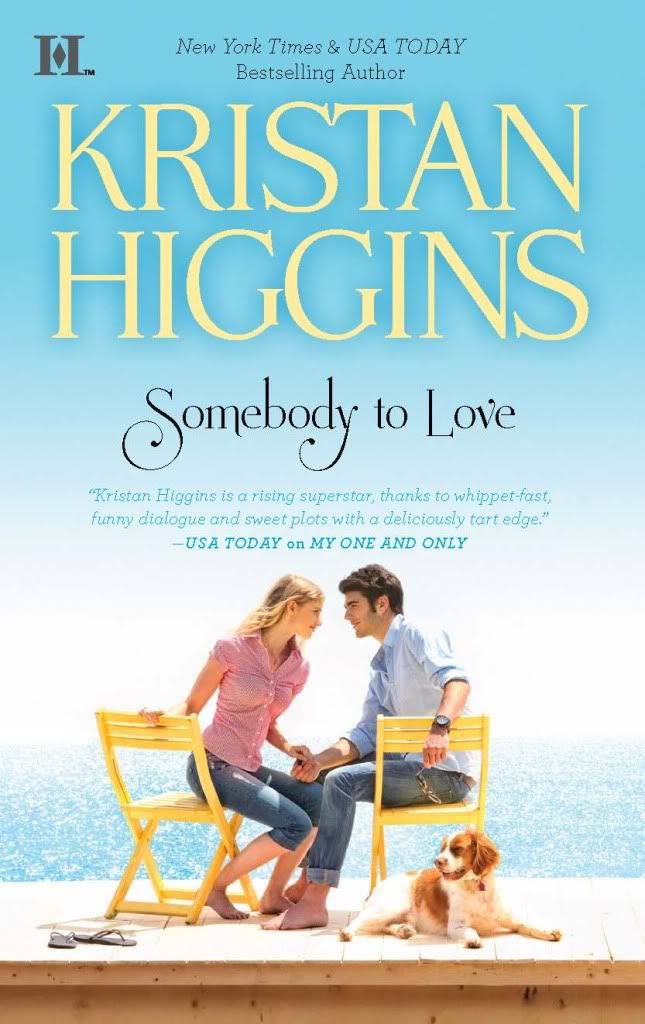 SOMEBODY TO LOVE is a timely story about a rich girl who discovers that a little hard work may be just the thing she needs. After her father loses the family fortune in an insider-trading scheme, single mom Parker Welles is faced with some hard decisions. First order of business: go to Gideon's Cove, Maine, to sell the only thing she now owns – a decrepit house in need of some serious flipping. When her father's wingman, James Cahill, asks to go with her, she's not thrilled, even if he is fairly gorgeous and knows his way around the toolbox.
Having to fend for herself financially for the first time in her life, Parker signs on as a florist's assistant and starts to find out who she really is. Maybe James isn't the glib lawyer she always thought he was. And maybe the house isn't he only thing that needs a little TLC… In addition to the great chemistry between Parker and James, SOMEBODY TO LOVE is sure to make readers fall in love all over again with Gideon's Cove (the charming town from Kristan's bestseller Catch Of The Day).
I'd like to thank Kristen for dropping by and sharing!  If this sounds like a book you are interested in winning, fill out the form below!
Related articles