Welcome to Sugarbeat's Books – The Home of the Romance Novel!
Today we are welcoming Leslie Wright to the blog!  She's here to share some information with us about her book, Basement Level 5: Never Scared, and herself.  She answering some questions for us so that we can learn more about her and her writing!
Barb – Tell us a little about you—what inspires you to write?
Leslie – I've always had a wild imagination. When I was younger, I made up
stories with my Barbie Dolls that mostly resembled soap operas. I was kid making my Barbie Doll beat up an abusive husband or jump off a cliff or meet the man of her life and run away from her suffocating family. It was sometime in college that I actually decided to put my stories down on paper. And now I can't stop.
Barb – Tell us about Basement Level Five: Never Scared.
Leslie – The idea for Basement Level Five: Never Scared came from a dream. I had a week-long dream about the premise and the characters. I'd wake up and fall back into the same dream. I told everyone I knew about the dream and I can still remember it in vivid detail.
Once I started writing, I realized that there were so many themes running through the book and that made me want to keep going. I fell in love with the characters. I know them. I rooted for them to escape their environment.
Alexa hates what her life has become and wants her children to have different choices in life. But her past threatens to mess that up. In the end, she has to make a choice. Is she willing to leave everything behind—including her husband to protect her kids?
Blurb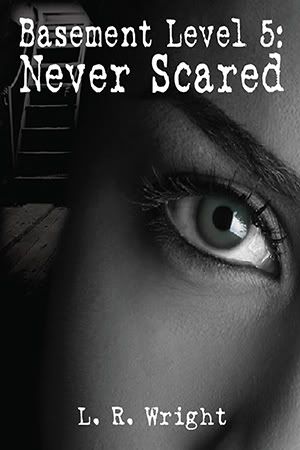 Alexa Martinez was raised to believe that murder, deceit, and lies were a part of life. A trained killer, she follows in her father's footsteps, specializing in political assassinations for Martinez Security—contracted through the CIA. She thrives on the power, money, respect, and—most of all—the adrenaline rush.
Despite the danger associated with her profession, Alexa strives to give her children a normal life. But when her past catches up with her, they become pawns in a deadly game of revenge. Operating from a secret base five levels below ground, Alexa struggles to unravel the puzzle, uncovering secrets that will alter their lives forever.
Barb –  Do you write from the hip? Or do you outline?
Leslie – I think it's a combination of both. With BL5, I didn't use an outline—at all. It just happened. With other works, I normally write the first 10,000 words or so before I sit down and do a basic outline.
Barb – How did you celebrate your first sale?
Leslie – I cried…. I actually didn't celebrate much because I was preparing for surgery and I had to fast for it.
Barb –  What do you love most about writing? What's the hardest part of writing for you?
Leslie – I love coming up with new ideas. The best part is getting the first pages down on paper and realizing this is a viable story—whether it's a short, a novella, or a full length novel.
The hardest part for me is editing and revising. It's like cutting a limb off or something when I have to get rid of my words.
Barb – Do you have a favorite character from your stories or are they like your children and you can't choose between them?
Leslie – I'd have to say my favorite character is Alexa. But I love all of them. They are all my babies, but Alexa is dear to my heart. I love that she's human and she's kind of leading a double life, with a hidden past that she's firmly running away from. She loves with her whole heart—unconditionally.
Barb –  Do you see yourself in any of your characters?
Summer – Of course, I'd love to say I was this kick-ass woman who could pistol whip a bad-guy, but I'm not. Ironically, though, I was "Alexa" in my dream. When it started, I looked like… me laying on the couch watching General Hospital. But when the danger came, I eventually morphed into this beautiful assassin in all black leather with long flowing hair slicked back into a ponytail. I was the Bomb.com in that dream.
But in my new novel, I'm more like Sydney (the heroine). She's…funny. What can I say? She's a planner (and that's what I love to do). She's constantly worried about what others think of her (that's so me, but I'm working on it).
Barb –  What are you reading?
Leslie – Right now, I'm reading Chancing Faith by Empi Baryeh.
Barb –  Where can your fans find you?
Leslie – Facebook. I love FB because most of my family is active on it and it's a good way to keep up with them. And it's easier to navigate. If you ever want to find me, I'll be on there at some point throughout a day. You can also find me here:
My website: www.lwrightauthor.com (still under construction)
My blog: thebasementlevelfive.blogspot.com
Facebook: www.facebook.com/lesliewrightauthor
Twitter: @LWrightAuthor
Black Opal Books: www.blackopalbooks.com
Black Opal Books Blog: www.somestoriestold.com
Barb –  Where is your work available?
Leslie – Black Opal Books (www.blackopalbooks.com), Amazon, B&N, Smashwords, Fictionwise…
Barb – What project are you working on now?
Leslie – A contemporary romance—a spin on a marriage of convenience (one of my all-time favorite types of romance)
Barb – Anything else you'd like to add?
Leslie – Thanks for having me. I enjoyed it.
I'd like to thank Leslie for dropping by and sharing!  If her book sounds like something that you would enjoy, pick up a copy and let me know what you thought!
Related articles