Welcome to Sugarbeat's Books – The Home of the Romance Novel!
Today we are going to learn about a romance that is newly released – Clear As Day by Babette James.  This book is being toured by Bewitching Book Tours.  I hope you enjoy learning about this book as much as I did, and add it to your wish list at Amazon! Babette is giving away a set of Romance Trading Cards to a lucky winner. To be entered, leave your name and email address and we will contact you if you win.
Clear As Day
By Babette James
Genre: Contemporary Romance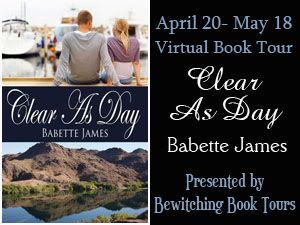 Thanks so much for letting me visit here today and share a little about my debut novel, Clear As Day, a sweetly scorching contemporary romance about two friends with benefits facing the fears and uncertainties of their changing relationship.
Clear As Day began as a short story years back when I was in college, an exercise featuring the desert setting of Lake Mohave, a reservoir downstream from the Hoover Dam formed out of stretch of the Colorado River by the Davis Dam. I grew up in Southern California and I've always had a love of the deserts of the Southwest, particularly the areas of Lake Havasu and Lake Mohave, and even took a college class on desert biology. I loved the juxtaposition of the stark, hot landscape with the cool waters and wanted to play with that particular setting. I'm delighted with my cover and how it shares some of the area's unique beauty.
But a story needs more than a setting, and my artist character Kay appeared in her lakeside campsite as the sole first person point of view, already independent, reserved, and commitment-shy. Then the man who would become easy-going, globetrotting photographer Nate showed up to disrupt her careful, comfortable rut in life. I never quite found a place for Clear As Day in its short story form, but never gave up on it, and two years ago took on the experiment of expanding the little original story first into a novella. I had fun with the story, adding in bits of my family's trips to the river, other camping and fishing experiences, and my own enjoyment of watercolors, music, photography, and the desert.
The expansion was an interesting experience. Kay's viewpoint changed from first person to third. The biggest change and challenge was adding in Nate's viewpoint, and once I did that, the story just bloomed into the full novel length it is now. The simple friends-with-benefits relationship proved not so simple and from there exploded the beginnings of their conflict, love story, and their tight-knit group of friends. I had to explore the whys of all the characters and asking one question led to another and more.
I learned despite his happy-go-lucky ways and years of traveling, Nate longed for commitment and settling down. Coming from a close, loving family, Nate believes love is forever and Kay is his forever. I discovered that Kay hid the pain of her childhood and dysfunctional family from everyone and she believes love is only true in fairytales. Friendship is all she will allow. Kay and Nate painfully discovered, despite years of close friendship, just how much they didn't know about each other and had assumed. Nate's faced with just how hard loving can be and Kay finds denying love doesn't keep it from happening to her.
Clear As Day was no longer a just scenic location and simple moment in time between two occasional lovers, but a full story world with a crowd of interesting secondary characters, and all the characters' lives intersecting and affecting one another. Not only did I have to ask what has happened in just Kay's and Nate's backstories to bring them to the story's point in time, I needed to explore their friends' lives, and additionally, ask what happened next to all of them, after Kay and Nate reached their point of happily ever after. I found that the story of Kay and Nate and their friends had not ended, but had more still to tell. I'm currently hard at work on the sequel and other friends will be joining Kay and Nate in falling in love at the river.
I loved writing Clear As Day, it's been a story of my heart in many ways, so seeing this story published is a dream come true. Receiving the 4 1/2 star scorcher review from Romantic Times and being able to hold my book in my hands have been truly thrilling moments. I hope you enjoy Nate and Kay's journey to love as much as I have.
What do you enjoy most about reading romances?
Babette will be giving away set of Romance Trading Cards to one lucky person. Please fill out the form at the bottom of this post to be entered.
Blurb: 
What's a girl to do when her summer lover wants forever?
Haunted by dark memories of her parents' volatile marriage, artist Kay Browning keeps her heart locked behind a free-spirit facade and contents herself with the comfortable affair she has every summer with easygoing photographer Nate Quinn.
The only trouble with her plan? This summer Nate's come to Lake Mohave to claim the lover he can't let go. He's done with the endless traveling and settling for temporary homes and temporary loves. Kay's always been more than just a vacation fling, and now he must convince this woman, who sees love as a course to certain heartbreak, to take that leap of faith and learn how safe love with the right man can be.
The Wild Rose Press– Paperback & eBook
Amazon.com – Paperback & Kindle
Excerpt:
"Kay!" That male voice was not her imagination.
"Oh, shit!" She twisted and dropped into the water, sinking neck-deep.
Mother always said, among other things, that a lady never goes skinny-dipping and must always wear a proper hat. Kay was only half skinny-dipping, but she fervently wished she'd worn something a bit more substantial than a baseball cap and the bottom half of the quintessential teeny-weenie yellow polka-dot bikini.
Shit, oh, shit, oh, shit. She so hated when Mother was right.
Okay, time to find out who'd just gotten an eyeful. The guy had called her name, so she should know him. Oh boy, if she'd flashed old George…
She wiped water from her face, sucked in a breath against her pounding heart, and peeked around.
Nate.
She must be sun-dazed. Nate? With a beard? Hair curling over his ears? No way.
Just because a familiar slouchy fishing hat topped those unruly, sun-bleached blond curls and just because this guy possessed the same deep-water tan and footloose taste in clothes as Nate with his electric blue Hawaiian shirt, bright orange swim trunks, and beat-up deck shoes didn't mean—
"Hey, babe. Now that I've finally caught your attention, how about a hug from my girl?" He opened his arms. "Am I coming in after you or are you coming out?" Only Nate's voice held that mellow timbre like chocolate for her ears.
"Nate! What…" Giddy delight flushed over Kay, clearing her shock. She dashed from the water and into strong arms, a wonderful hug, and a better kiss that launched her mind into a blissed-out whirl of oh, yes and why?
The oh, yes won out until the need to breathe forced them apart.
Nate gave her a long look, his usually easy gray eyes holding a new, simmering heat.
Wow. Whoa.
About the Author:
Babette James writes contemporary and fantasy romance and loves reading nail-biting tales with a satisfying happily ever after. When not dreaming up stories, she enjoys playing with new bread recipes and dabbling with paints. Babette is a member of New Jersey Romance Writers, where she has served on the Board. She is also a Pro member of Romance Writers of America, and the Fantasy, Futuristic & Paranormal, Celtic Hearts, and ESPAN Chapters of RWA, Liberty States Fiction Writers, and Romance Divas. As a teacher, she loves encouraging new readers and writers as they discover their growing abilities. Her class cheers when it's time for their spelling test! Born in New Jersey and raised in Southern California, she's had a life-long love of the desert and going down the shore. Babette now lives in New Jersey with her wonderfully patient husband and three extremely spoiled cats.
Web and social media links:
Website: http://babettejames.com/
Twitter: https://twitter.com/BabetteJames
Facebook Profile: https://www.facebook.com/babette.james
Facebook Page: https://www.facebook.com/BabetteJamesAuthor
Youtube Book Trailer: http://youtu.be/E1ur-avq5YI
Goodreads: http://www.goodreads.com/babettejames
LinkedIn: http://www.linkedin.com/pub/babette-james/39/b5/418