Welcome to Sugarbeat's Books – The Home of the Romance Novel!
Today we are welcoming Mona Karel to the blog!  She is here to promote her soon to be released book, Teach Me To Forget, and she's here to share her thoughts on Romance.
Thoughts on Romance
Mona Karel
My husband died in January. I've said this often enough, it's not so difficult any more. I think. At 3:30 in the morning on January 27, his breathing stopped, though he'd stopped fighting the end a week before. We had the great good fortune for him to leave the hospital and come home for what the doctors thought would be a couple weeks and ended up to be three mostly good sometimes awful months.
What in the world does this have to do with romance, and with writing Romance? For those who think love can only be understood by the younger generation, or who believe only raging passions and throbbing body parts can illustrate romance, the idea that less than ideal conditions can still illustrate love might come as a surprise. But romance exists on many levels. The commercials showing older people holding hands and staring lovingly into each others eyes resonate with many of us, perhaps because they trigger our imaginations to see them as a younger couple, and bring us hope for our own futures.
Romance, and life long love, isn't always being carried up the stairs by the dashing hero, nor is it endless nights of squeaking bed springs. Too often, romance is a combination of small acts of caring and sharing. It's remembering how much your partner loves sea otters, and picking up that tiny sea otter bronze you see at a craft fair. It's using ginger and not cinnamon in the spice cake, or where to find that very special type of pasta sauce. For some couples it's stopping for a grocery store chicken when you know your partner is too tired to fix dinner, or to even think about what to fix.
Some authors can write grand drama romance, with dashing heroes and fainting maidens, and their stories enthrall readers. For some authors the romance is more subtle, and the story is more about discovering each other than playing tunes with the bed springs. We all know from personal experience, or the experiences of acquaintances, that love can creep up on you over a period of time, or it can blast you off your feet in a single meeting. Love can be an all consuming fire or a gentle ongoing warmth. Neither one is better than or more real than the other.
Love is the one of the strongest forces in our world, and Romance can be the public expression of that force. But Romance can also be the glue holding together a relationship, in the ongoing daily recognition of the importance of that other person in our lives.
The timing of this blog is propitious, since my next romance, Teach Me To Forget, releases in two days from Black Opal Books. Jonathan romances Bethany by taking care of her in subtle ways. This throws Bethany, a self sufficient fiercely independent woman who has learned she can't depend on anyone else, off stride and lets him into her lonely heart.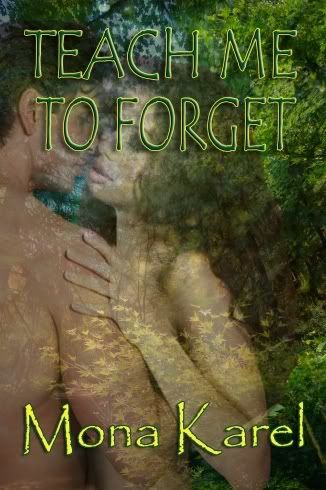 Her past was behind her…or so she'd thought.
Bethany Acton has come a long way from the day she was an abused child-bride of a dissolute jet setter. Now divorced and single, she writes for a lifestyles magazine, lives out of her motor home, and answers only to her boss—when he can find her. She has overcome her horrendous past and taken control of her own life. But when Jonathan Merritt, a rising star in wildlife photography, enters her world, she learns that control is a tenuous thing.
His past was despicable, but it hasn't affected his future…until now.
Jonathan knows he has met the woman with whom he wants to spend his future, but first he must admit his role in her past. Afraid the truth will turn her against him, he tries to gain her trust and affection before confessing. But the longer he hesitates, the harder it becomes to tell her. Can Jonathan gain her love soon enough to forgive what he did, or will his past indiscretions destroy his only chance at happiness?
Mona can be found here:
http://mona-karel.com/
http://www.blackopalbooks.com/coming-soon
I'd like to thank Mona for dropping by and sharing.  Drop by Black Opal and pick up a copy of her book.