Today we are welcoming Zrinka Jelic, author of Bonded by Crimson to the blog.  She's here to share about her book and share a story!  I hope you enjoy what she has to say, and the blurb and excerpt for her story that she has also allowed us to share!
I am delighted to be your guest today, Barb. My debut novel "Bonded by Crimson" has been released on January 28th, and it is available in all formats at Black Opal Books, Amazon, Smashwords, Barnes & Noble and All Romance eBooks
I left the best for my last blog stop. So without the further ado, I give you the love story of Miljenko and Dobrila, a famous legend which I used as a base in my novel and also developing it in the prequel, my current work in progress, titled "Rose of Crimson".
In Kaštel Lukšić in the second half of 17th century aristocratic Vitturi family have had a daughter Dobrila, and Adalberto Rušinić a son Miljenko. Fair looking boy and gentle girl fell deeply in love. Quarrel between their fathers over feudal rights regarding peasants, forced
lovers to meet secretly. Maid Antica facilitated their secret meetings. Eventually, their parents found about their affair and Dobrila was put under strict supervision of her mother Contessa Marija. Miljenko was, on lawyer Doroteo's suggestion, sent to dodge's service in Venice.
Soon after that Dobrila's father Conte Radoslav, out of sheer spite, arranged marriage of his daughter to Družimir, an elderly nobleman from Trogir. Dobrila's aunt, Contessa Demetrija had her doubts regarding nature and righteousness of such a marriage. Miljenko in Venice was informed about that by a soldier from Lukšić. He arrived in Kaštel Lukšić on the day of wedding. A the very moment of exchanging wows at the local church, in front of consternated priest don Mavro and the wedding guests, he had forcefully stopped the wedding. Vengeful Dobrila's father, Conte Radoslav decides to confine his daughter in the nunnery of St. NIkola at Trogir. Miljenko met their boat at the port in Trogir, wielding his sword and causing upheaval in attempt to stop it.
The magistrate, with his father Conte Adalberto's consent, exiled Miljenko to a Franciscan monastery on the islet of Visovac on the Krka River, not far from Šibenik. He met there a peasant woman Božica, who was onetime Dobrila's wet nurse. She conveyed his message to his lover at the convent in Trogir. Dobrila tricked mother superior Gertruda and escaped skillfully, but Miljenko was not at the arranged place near Trogir.
Dobrila wandered alone through a stormy night, and in the morning she was captured by brigands. After suffering fear, defenseless girl accepts a dangerous offer of highway robbers to lead her to the Visovac monastery to Miljenko. In the meantime Miljenko disguised as a monk, because Dobrila's father Conte Radoslav hired brigands to assassinate him. Dobrila thought that he was ordained and disappointed, lost every hope that she would wed Miljenko secretly at Visovac.
When he learned of his daughter's flight, Conte Radoslav's tyrannical paternal pride was hurt. He used cunningness to avoid family shame and offered a reconciliatory hand to ever good-hearted Miljenko's father Conte Adalbert. Now reconciled parents sent three emissaries to Visovac to cajole disobedient lovers and bring them to Kaštel Lukšić for a ceremonial wedding.
The lovers from Kaštela agreed to the parents' offer and went home. But the very next summer night in August around year 1690 after magnificent wedding and feasting, Dobrila's father,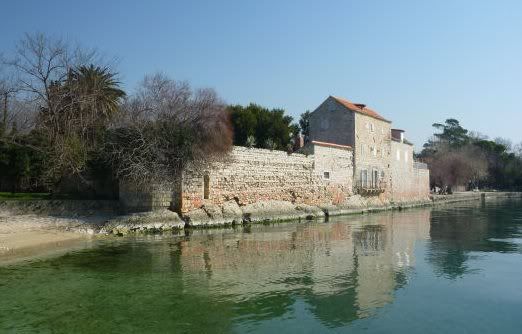 Conte Radoslav, possessed by uncontainable hatred and desire for revenge, shot his son-in-law dead with a flintlock pistol on bridge in front of his castle at the Brce Square in Kaštel Lukšić. He couldn't cope with the fact that Miljenko won and that he would take his daughter Dobrila as his wife to her new home in the castle of the Rušinić family.
A few months later, desperate Dobrila, crushed by grief, lost her mind, got sick and died. Her last wish was to be buried in the same grave with Miljenko in the little church of St. Ivan at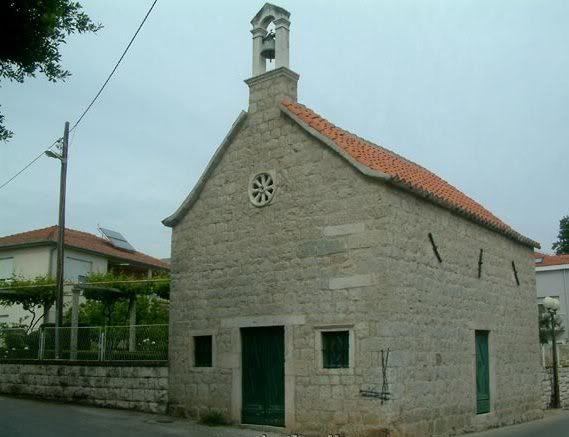 Rušinac where on the gravestone is written: "Pokoj ljubovnikom" (Peace to the lovers). Beside the grave in Kaštel Lukšić still stands the authentic Dobrila's castle Vitturi from 15th -16th century, Miljenko's castle Rušinić from the15th century and the old church from 1530 where they were married. A novel, drama and an opera were written about this legend.
And now I'll leave you with a short EXCERPT (in my book I've changed Miljenko for Miles for the ease of pronounciation)
He pressed his back against the balustrade and shoved his hands in the large side pockets of his cargo shorts, staring at her in silence for an eternal moment. "Will you do me a favor and sign this?" He extended a book to her.

She took the pages bound in a cover of red and white squares with a rose across the middle. Funny, she'd chosen this picture for her novel to have on the sleeve, if it ever got published. Rose of Crimson, by Kate Rokov was printed on the front. The words started to sink in as she leveled her eyes with his. "You want me to sign this for you?"

He drew a long breath and nodded again.

"How?" she asked. "This never left my computer." Puzzled, she searched his face.

His smile vanished. "I found the files on the memory stick on your first day."

She shook her head in disbelief. "You returned it."

"Forgive me." His gaze travelled back and forth from her face to the floor. "I copied the files."

Silence followed. She stood transfixed. He had copied her files? Why would he?

He reached out to her. "Wasn't this what you wanted? To see it published one day?"

She lowered her gaze to book in her hands. Her book. Not just an electronic file anymore, but pages with a hard cover and a sleeve. How did he know she was dying to see it as a book

one day?

He took a step closer. "This is the only copy. Just for you." His breath caused wisps of her hair to flutter. "Please say something."

A tsunami of joy, disbelief, and anger rose inside her. "Why did you do this?"

He turned his head to his right. A pained expression filled his rugged features. "Miles and Dobrila's story is mine and Emina's."

Kate frowned, still examining his face. "You mean their story reminds you of your and Emina?"

"No." His brows arched and he tensed. "It is our story."

"You lost me." She faked a laugh to mask her confusion.

"Miles and Dobrila lived in the seventeenth century. How can it be your story?"

His broad shoulders rose and fell when he blew air out. "What happened to them at the end?"

"They died. Didn't you read it?" Wide-eyed, she pressed index finger of her free hand to her lips. She got it. He'd point at her any moment now, say something like gotcha and burst into laugh.

"I did, even if I didn't need to. It's my life story. I held Dobrila in my arms through the night as she was dying. It was me who made her immortal and me who helped her out of the grave."

"Yes, and they walked away holding hands. The ending is fiction. Are you trying to tell me its real life?"

She waited for him to tilt his head and wink. Her heart sank when she realized he wasn't joking. Typical, just when she started to like a man, he turned into a weirdo. How could he come up with lies like this and stay so collected?

"I've been living like this since sixteen-ninety." The sadness in his voice caused weakness in her knees, but she steadied herself.

"Miles was barley nineteen when Dobrila's father shot him. You're older." Yes, Rosalia had said he turned forty-four, but to Kate he appeared to be in his mid-thirties. She thought about trying to escape, but her ankles felt as if they were attached to a ball and chain. No way could this man be Miles. Could he? Miles and Dobrila existed once. Kate didn't pull their story from her head. Only the ending was fiction, but she wasn't sure whose imagination was at play there, hers or Miles'. What kind of force made them immortal? Could immortals have babies? Why then didn't he save Emina?

No, this was too far-fetched.

"I do age." His solemn voice startled her. "And to answer your other questions would require more than a pot of coffee."

She cast him a sharp glance. He heard her thoughts? "I get it. Now you going to tell me you're an

immortal."

"I am."

"Prove it." Surprised at her actions and words, she forced out a laugh to mask her fear and wagged her finger.

"Prove it?" His forehead creased. "What do you want me to do?"

"You started this charade. It will be interesting to see how you're going to get yourself out of this. There's something crucial about Miles I didn't put in the book." She'd be lucky if he didn't fire her after the way she talked to him.

"I'm not in the position to show you my heart shaped mole." He shifted his feet and lowered his voice to a whisper when another couple of tourists came in. "It's higher up my inner thigh than you thought."

"That's not what I meant." How could he know this? "Try again."

He stepped closer to her and lowered his head to her ear. "You assumed I'm a vampire."

Not believing her ears, she jerked her head back. "Not you, Miles. I mean, he is. I mean–argh–you know what I mean." In the book, she might not have spelled out that Miles became a vampire, but she had hinted at it.

Matthias's lips stretched in a tight smile. "I'm immortal but not a vampire."

"Miles fed on humans." She hissed when a tourist strolled by them.

"You're wrong." Matthias kept his voice low. "I was merely ending the agony of those near death."

"What do you mean 'ending the agony'? How do you think Miles did it? What am I saying? You're not him. You can't be." She gave an exhausted sigh, annoyed because Matthias had her babbling as if fiction were fact.

"I've been a doctor for a long time. I can ease the dying, so they don't die alone and scared."

"What are you then or rather him, Miles? What is he then?" When had she started to believe this nonsense?

"Still searching for an answer myself. I'm alive, but not a beast. Let's leave it at that."

"What does that even mean?"

"Means, I don't have fangs. You're safe. Do you need more proof?" He mocked her with a wide grin exposing his human teeth. Perfectly white and straight, she had to admit.

"Are there others like you?" She frowned, not yet convinced.

"Not many." A muscle on his jaw twitched. "I see you still don't believe me. Let's step behind this." He pointed at the enormous poster of upcoming exhibition at the archaeological museum on Iliryc's artifacts.

"Why?" She turned at the placard.

"I want to show you something."

"Not your mole, I hope." Although under the different circumstances, she wouldn't have minded checking his goods.

"You'll see." He reached out to grab her hand. "Trust me, Kate."

"Crazy kook." She sighed, shaking her head, and stepped behind the advertisement without taking his hand, asking herself why she wasn't running the opposite direction.

He blinked, looking toward the ceiling and let out a loud laugh. "I only wish."

She raised an eyebrow. "You are making fun of me."

"No, but you've made me laugh for the second time today. That's nearly impossible." He took her hand in his and brushed his thumb over her fingers. His soft touch flooded her with ease.
BLURB
Love isn't in the cards for her…
After her short failed marriage, Kate tries to rebuild her life and takes a position as a nanny to three small boys. She quickly grows to love them, but their father, terrifies her, while igniting a passion she didn't know she possessed. Disturbed by his distant manner with his sons, Kate struggles to make him more involved in the boys' daily lives. Her efforts are mysteriously supported by an entity that cannot really exist. Or can she? And if she does exist, is she really trying to help Kate, or just take over her body?
But when he deals the hand, all bets are off…
Six years after his beloved wife passed away, Matthias is still trying to become the father she wanted him to be. Not an easy task for a three-centuries-old immortal. His search for the ultimate nanny ends when Kate Rokov stumbles to his home and into his arms. The immediate attraction he feels for her seems like a betrayal of his dead wife, a love he's harboured for over three hundred years. But when Kate is stalked by a deadly stranger, life he clung to in the past begins to crumble and break down. Can Matthias learn to trust and to love again in time to save his family from disaster, or will his stubborn pride destroy everything worth living for?
AUTHOR'S BIO
Zrinka Jelic lives in Ontario, Canada, with her husband and two children. A member of the Romance Writers of America and its chapter Fantasy Futuristic &Paranormal, as well as Savvy Authors, she writes contemporary fiction–which leans toward the paranormal–and adds a pinch of history. Her characters come from all walks of life, and although she prefers red, romance comes in many colors. Given Jelic's love for her native Croatia and the Adriatic Sea, her characters usually find themselves dealing with a fair amount of sunshine, but that's about the only break they get. "Alas," Jelic says, with a grin. "Some rain must fall in everyone's life."
Contact me @: www.bondedbycrimson.blogspot.com
http://zrinkajelicromanceauthor.wordpress.com/
Watch the book trailer: Bonded by Crimson