Welcome to Sugarbeat's Books – The Home of the Romance Novel!
Welcome also to Steamy Saturdays!
This is the day of the week where I post a review that I've done for a book that is on the steamier side of romance. Since I'm a big fan of Harlequin Blaze, we're going to talk about a Blaze today.
Blame it on the Bachelor by Karen Kendall
ISBN: 978-0-373-79677-9
Release: May 2012
Publisher: Harlequin Blaze
Source: I purchased this book to read and review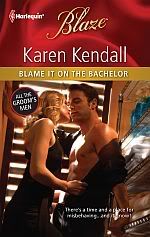 Blurb:
Being led astray never felt better
Banker Kylie Kent is looking for a hookup. Granted, a rehearsal dinner isn't the best place to find a little man-action…until she spots Devon McKee. Devon is all temptation, right down to his melt-your-panties smile that always gets him what—and who—he wants.
And he wants Kylie. But after a scorching encounter, Kylie makes it clear this is a one-time deal. That is, until she learns that she's his account manager.
That could spell disastrous results for her upwardly mobile career. Worse, Devon's sinful suggestions that they chase their business with a giant shot of pleasure can't be ignored. Would it be so wrong to give in…and blame it on the bachelor?
Blame it on the Bachelor is another book in the "All the Groom's Men" series that has been ongoing at Blaze.  Kylie Kent is still smarting from losing her fiancee to drugs and internet porn, and is determined to find a hot man to hook up with at this lame rehearsal dinner that she has to attend.  She sees the perfect target in Devon McKee and zeros in on him for the kill!  Problem – he doesn't go away after she's done with him.  Worse problem – she's now his account manager and his finances aren't looking too good for the next advance of a loan that is essential to the expansion of his bar.  Every time they meet, their laundry seems to hit the floor, regardless of their intentions!
I like how this story was so empowering for Kylie.  It turned a one-time encounter into a wonderfully spicy HEA.  It was also a subtle commentary on the difficulties faced by women in management positions in business.
This is a great all round read.  Pick up a copy, find a comfy chair and enjoy a few hours.


Buy a copy of Blame It on the Bachelor (Harlequin Blaze)