Welcome to Sugarbeat's Books – The Home of the Romance Novel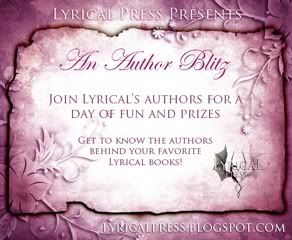 This is a massive giveaway sponsored by Lyrical Press.
There are 7 blogs taking part in this Blitz and all of us are giving away a copy of each of the author's books! To increase your chances of winning, drop by each blog and leave a comment on each blog!
Here's the list:
Rachel Firasek
Babs Book Bistro
Jess Resides Here
Lisa's World of Books
Sugarbeat's Books
Book & Movie Dimension
Earth's Book Nook
 We're going to learn about the three authors that are giving away a copy of their books.  Sit back and enjoy!  If these book s sound like something that you would like, leave a comment with your email address.
Brynna Curry
Ultimate power, or endless love?

 

Born the son of a Scottish laird a thousand years ago, but now trapped by his cousin's spell, Devin McLoch has seen countless battles and death. The erstwhile thief has turned away from darker pursuits to lead a life of peace, protecting those he loves and considers part of his clan. However, there is one woman he can never forget, who must be given a chance to change, to accept her heart and his.

Arianne Farrell is just as dangerous and intoxicating as her power. Imprisoned in an ancient stone dance more than a thousand years ago, her only chance at freedom from the spell is through love–a love she denied. When Devin asks for her aid to save another from imminent death, she realizes there is more at stake than just her freedom or her heart.

WARNING: Two stubborn sexy wizards using magic with no bounds, scorching love scenes, and happy ever after. Ever play with fire? 
A Lyrical Press Paranormal Romance
Excerpt
Arianne felt Devin's power ripple on the wind, buffeting against hers as he crossed the threshold of the standing stones. He didn't bother with the ceremony of asking permission to cross the circle. His eyes skimmed over her, heating her skin with just his gaze. 
"You came." Oh, how she wanted to run into his arms and cling to him. Why was he just standing there?
He frowned and crossed his arms over a wide muscled chest hidden in a black shirt. "I need your help, Ari." 
There was a sense of urgency in his step and desperation in his voice when he spoke. He hadn't come for her. Nothing he could have said would have surprised her more. "I beg your pardon?"
"I don't have time for games, Ari. I need your help."
"The child is ill? Allaina told me."
"What?"
"She visits me. I've been teaching her about healing herbs."
"I see. That makes things easier. Do you know what a phoenix is?"
"I am looking at one. An extraordinarily powerful witch with fire magic. I may not be as skilled as my sister was, but I know a great many things Brie never took the time to learn about lore and truth in myth."
"Raine Roarke is a phoenix. She's three and her powers are emerging early. Allie and I can't bind them any longer and she's too young to control them on her own."
"Allie said as much." Her heart jerked hard in her chest. Her niece, Sorca, had been only half that age when she had last seen her. Regardless of the hate she felt for her sister, she hadn't been able to scorn the child, and loved her dearly. "The fevers have started?"
"Yes."
She saw the grief in his eyes, the ache he felt for the child and her parents. How could she turn him down? Perhaps the truth would be kinder than a lie that wouldn't come true. "The child will die, then. What can I do that you cannot?"
"You can drain her excess magic. Link with her as you did to steal Briella's powers."
"I had reasons for what I did. And you would be the resident expert on the subject of thievery." She bristled.
"I'm not trying to judge you. My past isn't the issue here and neither is yours. Would it work?"
"I suppose, but it would be a temporary solution at best."
"And more than anyone else can do to help her right now."
"You are forgetting one vital truth. I cannot leave the circle. My sister's beloved demon saw to that. I would have to go to the child. And even then, the link might not save her and could kill both of us."
"Agree to help Raine and I will free you from your prison."
"And then what? Send me back here after a taste of what I've lost?"
"No. That would be beyond cruel. I think you'd find Scotland much more pleasant."
"Where in Scotland?"
"I want you to stay with me at Glen McLoch, Ari. I want you with me. There is a circle scorched in fire and blood surrounding the castle. As long as you are within that line, you'll be free to do as you please if your actions don't harm others."
"So I'd merely exchange one prison for another, then."
"Until another way is found."
"I turned down your offer once."
"I would give everything I have, do whatever in my power to save that child, Ari. Understand? Whatever you want, it is yours. Anything."
"Dangerous words, lover."
"I mean them. I don't give my word lightly."
"The Corrigans fear me because of the legend. They might turn you away if you show up with me on their doorstep. "She turned her back on him, crossed her arms to stave off a shiver. She was afraid. Afraid of how they would treat her. And how would she be able to give him up when it was time for her to return? There would be no happily-ever-afters for her.
Devin's hands rested lightly on her bare shoulders. Rough, not smooth or pampered. "No one will harm you, Ari. I protect what is mine."
Turning under his hands, Ari touched his cheek and looked deep into those tawny eyes. Searching them for the answer, she asked, "And am I yours, then?"
He smiled. "You've always been mine"
About Brynna
Picture taken by: Kayla Cagle Brynna's 13 year old daughter.
Author Bio: Paranormal romance and romantic suspense author Brynna Curry is a lifelong believer in the importance of reading. She enjoys the writing process, helping others hone their craft by lending her time to review books, critique manuscripts and serving as a contest judge. She loves hearing from her readers.
When she isn't writing, she's often found haunting the library for new books to read, at the park with her children, or just spending an quiet evening at home with her husband Jackie watching old westerns on TV. She makes her home in North Alabama where the history is rich with music and culture, forests and lakes are abundant and beautiful, and every day is another adventure.
Visit her at www.brynnacurry.com.
Facebook: http://www.facebook.com/pages/Brynna-Curry/123687767669232
Twitter: @BrynnaCurry http://twitter.com/#!/brynnacurry
Buy Links
Amazon:  http://www.amazon.com/Brynna-Curry/e/B0043WRLUS
B&N.com:  http://www.barnesandnoble.com/c/brynna-curry
Sony: http://ebookstore.sony.com/author/brynna-curry_135783
Sondrae Bennett
Alpine Woods Shifters Book Four

All's fair in love and war. 

As leader of a fox skulk, Cody is used to feeling protective. But when his best friend, Misty, gets attacked, his panic has nothing to do with duty. Suddenly, he's noticing Misty as a woman instead of the girl he grew up with. But pursuing those feelings would risk their friendship, something he's unwilling to do. 

Misty's tried everything, without success, to convince Cody she's not "one of the guys". Yet now that he's looking at her like she always dreamed, he pulls away every time she gets close. 

Danger lurks in the background, waiting to pounce. Someone plots against the foxes, leaving them all in jeopardy…especially Misty. Will Cody overcome his fears in time to save the woman he loves?
A Lyrical Press Paranormal Romance
 Excerpt:
Wiping her sweaty hands on her jeans, Misty squared her shoulders. Without taking any more time to second-guess her decision, she strode to the front door of Cody's house. Best to get this over with. Either she'd spend the rest of the day in Cody's arms, or she'd spend it in a carton of ice cream. But the sooner she did this, the sooner she could get on with whichever option awaited. Stalling would just make her more nervous and agitated.
She raised her fist to knock on his door, but froze with her hand inches from the wood. A strange scent lingered on his porch, leading straight inside.
She leaned forward and took a deep breath. The faint, but unmistakable, scent of a vixen fox wafted from behind the closed door. The knowledge hit like a blow to the heart, causing her to stumble backward.
Needing to be certain, Misty pressed her nose against the pane and took another breath, picking up traces of both Cody and a woman inside. She glanced at her left wrist for the time. Damn. No watch. How was she supposed to remember something so mundane when she'd prepared to do something so important?
The scent of the strange fox didn't necessarily mean Cody was sleeping with whoever was inside…but it couldn't be later than nine in the morning. What else would a woman be doing in Cody's house at that time of day?
Don't jump to conclusions, she chanted to herself as her breath hitched. Even if he were sleeping with someone, it wasn't as if he owed Misty anything. After all, they weren't a couple yet. She knew there'd been other women in his past, just as there had been other men in hers. But she'd come here ready to lay everything on the line. She'd been ready to confess her love for Cody. Whether he knew her intentions or not, finding him in the arms of another woman hurt worse than she could have imagined.
There she went jumping to conclusions again. Misty backed away from the door and down the porch steps. A strange fox could be in his apartment at nine in the morning for a lot of different reasons. It could be a cousin she had never met, or a long lost sister.
Or he could have found his mate.
The last thought halted Misty in her tracks. Her breath shuttered out. This guesswork solved nothing. All it did was make her feel worse. She needed to find out who that woman was and why she was with Cody.
Determined to learn the truth, Misty snuck around the side of the house to peer in the window. From her vantage point, she saw the living room and the hallway leading to the kitchen. Nothing moved.
As she was about to turn away, ready to seek a different view, the bedroom door off the hallway opened. A woman emerged dressed in Cody's shirt–the one he'd gotten on his trip to California last year–and a pair of his boxers.
Misty wasn't sure how long she stopped and stared, her mouth hanging open. The woman wasn't simply beautiful. With her long white-blond hair and petite figure, she was stunning. There was something…exotic about the woman's looks, yet at the same time, she looked like the girl next door. Never before had Misty seen a fox with such pale coloring.
Misty didn't have self-esteem issues. She knew she was attractive, and she stayed fit. But she didn't hold a candle to this woman. And that knowledge felt like a dagger piercing her chest. Not because the woman was prettier, but because the woman was prettier and wearing Cody's clothes.
I love romance. I love reading romance, living romance (who doesn't), but I especially love writing romance. There's no greater feeling than watching my characters come alive in each other's arms. Most of all, I love giving my characters the happily ever afters they deserve, with a little necessary drama first.
One of my favorite things is picking up a new book and sinking into the story, immersing myself in the emotions between the characters. I hope someday to inspire readers the same way my favorite authors have inspired me.
When not writing, I can usually be found curled up on the couch with a good book, taking my dogs for walks, or spending time with my family.
It always makes my day to hear from my readers.
Buy Link:  Amazon