Welcome to Sugarbeat's Books – The Home of the Romance Novel!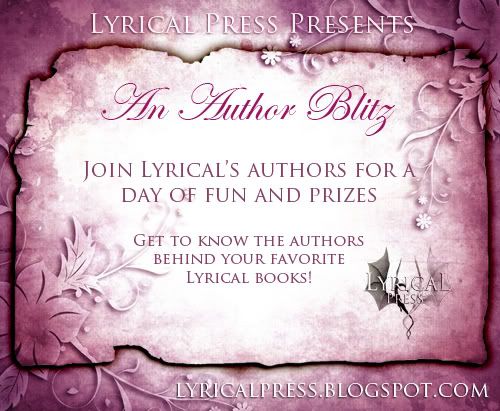 Today we are going to meet three Lyrical Press authors and learn about their books.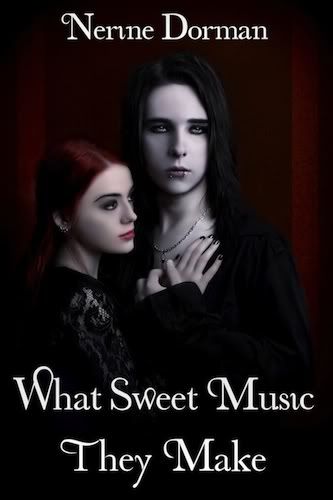 What Sweet Music They Make by Nerine Dorman
Betrayed by those closest to her, musical prodigy Tersia is heartbroken. She immerses herself in her music, turning her back on love. However, when she notices Severin at one of her performances, the serious, pale young man makes her want to risk her heart again.
Severinís future as a lackey to the vampire Lord Murray has him chafing at his bonds. That is, until he encounters Tersia, whose rare musical talent captivates him. But Severin is not the only one to notice her. Other, darker forces have taken a sinister interest in her potential.
Tersia and Severin can't deny the spark that has ignited between them, but can they overcome the shadows that threaten to smother their trust?
WARNING: Some sexual references, drug use.
Excerpt for What Sweet Music They Make:
"We didn't want to say anything because you'd just moved in with him, and he had been drunk at the time, but he'd made advances on her when it's clear she's not into guys."
"You should have said something."
Jim's expression brooked no argument and Tersia sank back into her seat and wiped at her eyes.
Jim found parking at the far end of Pepper Square and waited for Tersia to reapply her liner.
"I look like I've just been punched in the face," Tersia said. She'd clutch at any excuse but knew her friend would remain implacable.
"It's dark inside. No one will notice. You just go sit with the others and I'll organize you a glass of wine. We'll give everyone the low-down but you're so playing tonight."
"No."
"Yes."
"Why are you being so insistent?" Tersia wanted nothing more than to punch Jim but settled for clenching the seat instead.
"Because in all the excitement of this evening, I haven't had a chance to tell you we've got a big paying gig on Saturday eve, and this is the last opportunity for us to play together before then. You are playing, Tersia. And then we're going to sort out that sorry sack of shit that's your soon-to-be-erstwhile boyfriend, and you're going to put on a brave face because you're better than him. No matter how much dross you're dealing with, I won't see you slip into a bad space because of a man and a supposed best friend who're not good enough for you."
Somehow, despite the horror of what she'd just discovered, Jim's words bolstered her and Tersia managed a faint smile for the old man. Although her hands still shook when she helped him carry their instruments up to the venue, she took a deep, steadying breath, straightened her spine and tried to walk as though Robert's dishonesty hadn't stained her soul.
Author bio:
An editor and multi-published author, Nerine Dorman currently resides in Cape Town, South Africa, with her visual artist husband. She has been involved in the media industry for more than a decade, with a background in magazine and newspaper publishing, commercial fiction, and print production management within a below-the-line marketing environment. Her book reviews, as well as travel, entertainment and lifestyle editorial regularly appear in national newspapers. A few of her interests include music, travel, history (with emphasis on Egypt), psychology, philosophy, magic and the natural world.
Her published works include Khepera Rising, Khepera Redeemed, The Namaqualand Book of the Dead, Tainted Love (writing as Therese von Willegen), Hell's Music (writing as Therese von Willegen), What Sweet Music They Make, and Inkarna.
Follow her on Twitter @nerinedorman and see her website http://nerinedorman.weebly.com for additional details.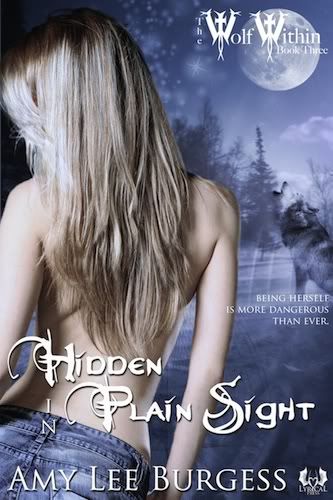 Hidden In Plain Sight by Amy Lee Burgess
The Wolf Within Book 3
As Stanzie discovers her wolf, she learns being herself is more dangerous than ever.
Where is Bethany Dillon? The seventeen-year-old girl is missing from the Maplefair pack and Constance Newcastle–Stanzie–and Liam Murphy must find her. Fast. A serial killer still has not been caught. Bethany could have run away, or killed herself. But no one in her pack seems to know the truth. Or, they're just not telling.
Constance's knack for uncovering secrets leads her into peril, and to save Bethany, she must break every rule. She risks losing everything, including Liam…and her life.
Excerpt for Hidden In Plain Sight:
A dark gray wolf materialized from around the corner of the farmhouse, hackles raised, lips wrinkled back from sharp teeth.
It was the biggest wolf I'd ever seen.
I looked at him and ignored Murphy's frantic pleas for me to get inside the porch.
"I think it's Nate," I told him. "It's somebody Pack definitely."
"I figured that out myself. Please get inside the porch, Constance."
When Murphy called me Constance, he was either scared or mad. I knew I shouldn't ignore him, but felt compelled to point out the facts.
"He's Pack and so are we. He won't hurt us. It's against Pack law."
Everyone knew we weren't allowed wolf-on-human violence. Even my poor wolf before she'd started to evolve had known it was wrong to bite–even wolf to wolf. If Nate bit me, there'd be an investigation at least by the Regional Council and more than likely the Great Council would send an Advisor too.
Because of our laws and the strong indoctrination we all underwent as both wolves and humans, I thought I was safe even though he shouldn't have growled, not after he picked up my scent and realized I was Pack.
Author Bio:
Amy Lee Burgess wrote her first ghost story at age ten. Born in New England, she has also lived in New Orleans and Houston, survived fires, floods, hurricanes, divorce and the premature cancellation of several of her favorite television shows.
Turning her back on such shocking betrayals, she is now writing about ghosts, vampires, and other paranormal things and is much happier for it.
Red and the Wolf by Laura Lee Nutt
Blurb:
Six years after the attack at her grandmother's cottage, Blanchette still hides in her bedroom, unable to hear the wolf's cry without shivering to her soul. Nor can she scent the pine and spruce rising from the Black Forest surrounding her home without remembering the lunge of a savage beast, the thick aroma of blood, and its tooth pricking her finger. But when Karl, the emperor's hunter of the fantastic and monstrous, arrives at the village questioning her tale and threatening Heinrich, her huntsman rescuer, Blanchette's worst fears swarm to the fore. Unless she confronts these fears, embraces her lupine nature, proves her control over her wolf, and accepts the bond of mated love Heinrich offers, Karl will butcher her and Heinrich like the unnatural beasts that they are.
Author Bio:
When the world said that life was little but disappointment, struggle, and pain, Laura chose to still dream upon stars. She believes birthday wishes can come true, that good can triumph over evil, honor and true love really exist, and hope and happiness are worth fighting for. When not living vicariously through her fiction, she seeks to encourage others to aspire to such life-affirming ideals.
Laura has been writing since she could pen sentences and making up stories long before that. She first published a poem, "Glass Eyed Inspiration," about her admiration of
Patrick Hough, a man blinded by a bullet to the head but who still fought for success and a positive attitude, a martial artist who inspired those around him. Later, once she decided to embrace her dream of becoming an author, she published "Entomophobia: An Insect Incident" in A Long Story Short and "War Drums Beat" in Sacred Twilight.
In fiction, Laura continues to build worlds, instigate adventures and romances, spark the fires of vengeance and love, and thread in that ever elusive yet essential hope. Her favorite theme to explore in writing is that, even in the darkest hour, the best of what we are can shine through and amidst calamity something good can take root and blossom.
Currently, she lives in Texas with her equally fiction obsessed husband, her rambunctious boys, and her dog, Shakespeare. Her favorite book is Peter S. Beagle's The Last Unicorn, which has one of the most heart-wrenching romances she has ever read.
Here is the link to her blog: http://lauraleenutt.blogspot.com/http://lauraleenutt.blogspot.com. Please feel free to include my email mailto:LauraLeeNutt@gmail.comLauraLeeNutt@gmail.com and my Twitter ID @LauraLeeNutt.
Related articles