This is a repost of a previous review  – a little walk down memory lane…
We start the second book in the "Company of Rogues" series with Beth Armitage – a woman who is content with her life as a school teacher – finding out that the life as she knows it will change.  It seems that 20 years ago the current wife of the Duke of Belcraven had an affair with an old flame while her husband was away.  The result was a son – a third son – Lord Arden.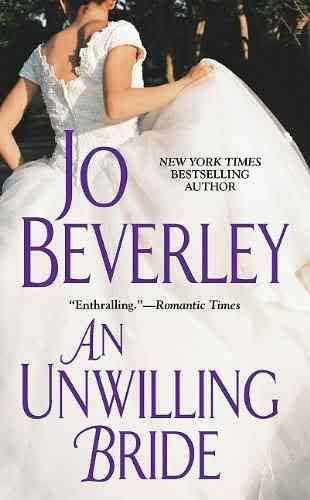 When his two other sons die tragically, the Duke finds himself in the position of having another man's son as his heir. To add to the mix, it seems that the Duke, himself, also has an illegitimate child – a daughter – Beth Armitage – who he now will force to marry his remaining son, so that the "Belcraven blood line" will continue.
This sets the scene for the development of the rocky relationship of "Lord Arden – a full blooded aristocratic male who is finding out for the first time that he is illegitimate and Beth Armitage – an early feminist with republican inclinations"! (as it is phrased on the book summary)  As you can well imagine, this book in the series explores the area of women's rights with Beth being a fiery follower of Mary Woolstencroft.  An Unwilling Bride was the winner of: the RWA RITA award for Best Regency, the Golden Leaf Award  for Best Historical and Romantic Times Best Regency Romance.
I found this book in the series to be very enjoyable!  I didn't really like Lucien, Lord Arden.  At one point he actually backhands Beth.  He is a pretty unlikeable character for most of the book.  Even in future books, he comes off as stiff and unlikeable.  I like to think about him having the label of "No Fun Zone"!  I felt a great deal of empathy for Beth.  It seems that women in Regency England REALLY need woman's rights!  Although I am aware that this is a fictional book, it make me thankful for the rights that I have!
That being said, experience tells me that a Jo Beverley novel is not a nice and easy read.  I may not like Lucien or how he orders Beth around, but I can appreciate how Jo Beverley takes some very unlikeable characters and weaves an incredibly wonderful story around them.  The Company of Rogues aspect adds a nice background to Lucien's earlier years, provides a support system for him and also helps us understand him a bit better.  Definitely a rewarding read!
This book is available from Amazon