Welcome to Sugarbeat's Books – The Home of the Romance Novel!
Today we are welcoming Natasha Blackthorne to the blog!!  Tomorrow I'm going to post my thoughts about her book – Grey's Lady.  I hope that you'll be back to see what you think of this little story!  Natasha is going to share a guest post with us today. She is also giving away a copy of Grey's Lady to a lucky commenter.   Please welcome her and sit back and enjoy what she has to say!
New York City Christmas in Regency Era: Oloffe Van Kortlandt dreams up the modern Santa Claus
'Twas the night before Christmas, when all thro' the house,
Not a creature was stirring, not even a mouse;
The stockings were hung by the chimney with care,
In hopes that St. Nicholas soon would be there;
The children were nestled all snug in their beds,
While visions of sugar plums danc'd in their heads…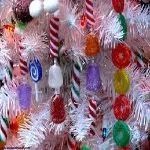 This poem seems so iconic to those in the United States now but its influence brought a radical change in how Americans viewed Christmas Eve.
The question of whether or not to celebrate Christmas was a thorny issue in the early years of the United States, especially for those in the north. Their Puritan heritage led New Englanders to place less emphasis on Christmas. During and after the American Revolution celebrating Christmas took on an additional negative aspect. Making much of Christmas was decidedly English and therefore unpatriotic.
However, by 1809 it was a little different in New York. For cultural distinction, New Yorkers started to look more to the Dutch side of their history and to try to bring more of that into their traditions. Saint Nicholas became the icon of that special Dutch flavor that New Yorkers wished to focus on. It was typical in the time for those in the states to establish a patron saint. For example, Philadelphia had Saint Tammany, an old Native American chief of legend.
Christmas could be a dark time of riots and violence on the part of the working classes. Some in the upper class sought a way to bring some of the harmonious and generous aspects back to Christmas. If they couldn't find what they needed in the old histories, they were determined to build on them and enlarge those legendary images.
Under the penname, Dietrich Knickerbocker, Washington Irving released his satirical A History of New York on Saint Nicholas' Day 1809. This book featured twenty-five references to the venerable old saint. Washington's Saint Nick flew a wagon led by horses but like the modern Santa, he did come down the chimneys to give out gifts.
Washington's character Oloffe Van Kortlandt has a very familiar dream where Saint Nicholas surprises him:
And the sage Oloffe dreamed a dream, — and lo, the good St. Nicholas came riding over the tops of the trees, in that self-same wagon wherein he brings his yearly presents to children, and he descended hard by where the heroes of Communipaw had made their late repast. And he lit his pipe by the fire, and sat himself down and smoked; and as he smoked, the smoke from his pipe ascended into the air and spread like a cloud overhead. And Oloffe bethought him, and he hastened and climbed up to the top of one of the tallest trees, and saw that the smoke spread over a great extent of country; and as he considered it more attentively, he fancied that the great volume of smoke assumed a variety of marvelous forms, where in dim obscurity he saw shadowed out palaces and domes and lofty spires, all of which lasted but a moment, and then faded away, until the whole rolled off, and nothing but the green woods were left. And when St. Nicholas had smoked his pipe, he twisted it in his hatband, and laying his finger beside his nose, gave the astonished Van Kortlandt a very significant look; then, mounting his wagon, he returned over the tree-tops and disappeared.
Washington Irving, A History of New York
Irving's version of Saint Nicholas made quite an impression and this influence would only continue to grow. In December 1810, New York Philanthropist John Pritchard ordered a woodcut of Saint Nicholas dressed in bishop's robes to commemorate the first Annual Saint Nicholas Day dinner on the sixth of the month for the member of the New York Historical Society. By December 23, 1823, a poem named "The Night Before Christmas" was published by the Troy, New York Sentinel and has been attributed to Clement Moore or possibly Henry Livingston Jr.
"The Night Before Christmas" expanded Washington Irving's notions about this historical figure known as Saint Nicholas and set many of our current impressions into stone. The most significant is the change in the expected arrival of Saint Nick from Saint Nicholas Day early in the month to Christmas Eve. Over the years between 1810 to the 1830s, this reflected a gradual change from New Years Day being the central focus of the New York holiday season to Christmas Eve. It also marked a change from the December holiday season being a rather adult focused celebration to a child centered one. At least for the genteel classes. Therefore, modern children spend Christmas Eve eagerly awaiting the arrival of Saint Nick, otherwise known as Santa Claus.
The original version of "The Night Before Christmas"
Sources:
Burrows, Edwin G. & Wallace, Mike. Gotham: A History of New York City to 1898. New York: Oxford University Press, 1999. p. 462-463
Nissenbaum, Stephen (1997). The Battle for Christmas: A Social and Cultural History of Christmas that Shows How It Was Transformed from an Unruly Carnival Season into the Quintessential American Family Holiday. New York: Alfred A. Knopf.
My American set erotic Regency romance novella, Grey's Lady is the story of a wealthy merchant prince that falls for a poor but beautiful young seductress. However, for all their social and economic differences, at their most basic level, Beth and Grey are very similar. Both suffered isolation and emotional neglect in childhood.
The product of an adulterous affair, Beth grew up in the home of her late mother's employer. Separated from her half-siblings and kept at an emotional distance, she felt lost and alone. At age eighteen, she's seduced and betrayed by a trusted wealthy gentleman. After this, she leaves her benefactress's home and goes to live with her half-siblings, and helps them in their struggling shop. Yet, she still feels out of place.
Grey grew up in an upper-class household, a privileged only son, heir to Sexton Shipping, one of the fledgling nation's largest fleets. Grey's father is a stern, strict businessman who does not understand his daydreaming, intellectually curious son. A child in this position might take solace in a closer relationship with his mother. However, Grey's mother is chronically ill and unable to bear his childish energy. She keeps to her chambers and dies while he is still quite young. Later at age nineteen, Grey engages in an emotionally scarring experience with a slightly older woman, something that is not covered in Grey's Lady.
How these back story issues and more challenge Beth and Grey's coming together are explored in depth in the sequel, White Lace and Promises, which is scheduled for release Dec. 26, 2011.
White Lace and Promises is set in Regency Era New York City, during the onset of the War of 1812 when the conflict was just beginning to threaten America's east coast.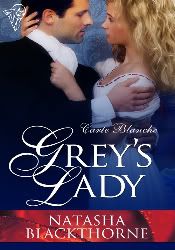 Grey's Lady
Total-e-Bound | All Romance e-Books | Amazon | Fictionwise
Book One in the Carte Blanche Series
Seeking sexual excitement and conquest, poor but beautiful Beth seduces wealthy merchant prince Grey Sexton, only to find herself the pursued as he seeks to own her body and soul.
Flouting the moral standards of Jeffersonian America, temptress Beth McConnell lets no man touch her heart. Her motto is love them once and leave them burning.
But when she boldly seduces Grey Sexton, a self-controlled merchant prince from New York, she finds herself too fascinated by his ice-over-fire nature to stay away. His possessive determination to own her, body and soul, threatens to expose her secret erotic life to public shame.
But Beth will only surrender her love to a man she can trust. And Grey's materialistic approach to relationships leaves her little reason to believe he can ever give her what she truly needs.
For these two cynical yet lonely people, can deep sexual intimacy work a miracle and lead to the opening of their hearts?
(Available starting Dec 26, 2011 from Total-e-Bound in formats compatible for all current e-readers)
Book two in the Carte Blanche Series
Beth and Grey's passionate battle of wills continues…
New York Merchant Prince Grey Sexton loves the audacious, spirited young temptress who seduced him in a Philadelphia bookseller's and made passionate love to him in his carriage. Her fiery nature broke through his cold self-protection. But in a time of war and trade disruption, he cannot allow himself to be distracted. He vows to put business above all else in his life, including his bride.
Shocked and hurt by Grey's distance, Beth wonders whether he truly returns the burning love she feels for him. Beth demands that Grey prove he can truly change once and for all or else she will not start a family with him. But will the dark, sensual secrets she yet keeps repel this arrogant, self-controlled gentleman she has married?
Reader advisory: This story contains scenes of anal play/sex.
Find Natasha: Author Site | Blog | Twitter | Goodreads | Amazon | Shelfari | Facebook |
Giveaway:
I am offering readers an opportunity to win an E-copy of Grey's Lady. One randomly drawn commenter on this post will be chosen as the winner. You must be 18 or older and have reached the age of majority in your country/state of residence to enter. This contest is void where prohibited by law. Thank you and Good Luck!
I'd like to thank Natasha for dropping by and sharing such an interesting post with us.  I learned so much today and I hope you did as well!  Leave your name and email address in the comments to be entered to win!