Welcome to Sugarbeat's Books – The Home of the Romance Novel!
Welcome also to Steamy Saturdays!
This is the day of the week that I review a book that is on the steamier side of romance.  Today's selection is a book that I reviewed for The Romance Reviews.  Be sure to pop over there to see what other steamy books have been reviewed there.
A Lusting Couple by Janet G.
ASIN: B004EYUC74
Publisher: Amazon Digital Services
Release: Dec 3, 2010
Source: I received a copy of this book to read and review for TRR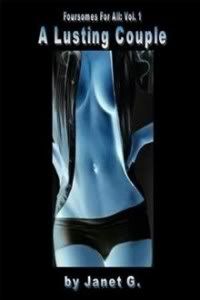 Janet and Toby's youngest child has gone off to college. For the first time in years, their time is their own. One evening Janet receives an email with the subject line, "From Toby's secret admirer." Janet understands why women are attracted to her husband, but that doesn't mean she tolerates those who don't keep it to themselves. For the author of the email to announce herself makes Janet angry enough that she ignores her don't-open-unsolicited-emails rule.
What would you do if you and your husband received an email from a "secret admirer couple"? This hot little story explores the situation of two couples getting together for dates with benefits.
Janet and Toby are a happily married couple in the empty nest stage of life. Their youngest has headed off to college and they are free to explore their adult world again. Years ago, before they had kids, they had a menage relationship with a woman for a period of time. Although they enjoyed each other's company for a period of time, the relationship ended badly. Janet and Toby decided at that point that they wouldn't engage in another menage relationship, but would think about getting together with another couple.
The opportunity arises when Janet gets a "secret admirer" email. Her response to this email sets of a chain of events that moves their lives in a whole new direction. This story is certainly steamy, but there is more to it than just the sex scenes. It discusses the very real issues around engaging in sex with another couple. It reads like a real story, not a make believe story for our titillation. The interaction between the couples explore their rich fantasy lives, but also the ethical and moral situations that they face and their relationship advances.
This story is an interesting read for anyone looking for a realistic tale of two couples forming a relationship. It is hot, yet thought provoking. A hard to put down story.
Related articles