Welcome to Sugarbeat's Books – The Home of the Romance Novel
Welcome also to Series Sunday!
This is one of my favorite days of the week as this is the day that we get to learn about a book that is written in a series.  I love books written in series!  For the past few weeks I've been reviewing Vicki Lewis Thompson's latest "Sons of Chance" series.  Today I'm going to giveaway 5  books!  What could be better than that?
To enter fill out the form below!  To remind you of what is up for the giveaway….
Ambushed
Morgan O'Connelli hated the restless lifestyle she'd had as a child. All she wants now is to create a real home in small-town Wyoming. So first she hangs up her real-estate agent shingle…then she promptly borrows the horse of the hottest cowboy in town!
Cutting-horse champion Gabe Chance is blown away by the feisty redhead who unexpectedly lands right in his bed…and, soon enough, his heart! Morgan's perfect for him in every way. Until he realizes that while she's turned out to be everything he never knew he wanted, he's got everything someone in her profession has ever wanted…his family's ranch.
And that's a legacy he's just not willing to give up–not even for the sexiest woman he's ever fallen for….
Claimed
Following a dream brought Josie Keller to Shoshone, Wyoming. Following her heart brought her plenty of great sex with good-time cowboy Jack Chance! She was head over heels for him… until he left her.
Stay with one woman? Not a chance! Then why does Jack miss Josie like crazy? Had their relationship been more than just incredible sex?
Little do Josie and Jack know that a plan's afoot to get them back in the saddle…together. And once there, it's not long before they're burning up the bedsheets again!
But the past is never far away. Before it catches up with them, Jack has to decide if he's going to stake his claim on Josie, or lose her forever….
Should've Been a Cowboy
Party organizer Tyler O'Connelli is on the fast track to her dream career. She's so close she can almost taste it. But when she returns to her family and sees her one-night stand, Alex Keller, all done up in his cowboy gear, her self-control is stretched to the breaking point….
They're worlds apart. She's a busy career girl, and Alex is a cowboy. But while getting together might not bode well for anything long-term, it more than makes up for it in sheer hot chemistry! Problem is, this is one wrangler she might want to get tied down—and tied up—to…indefinitely!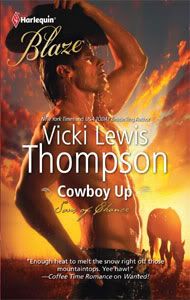 Cowboy Up
"Never fall in love with a cowboy." These words were drilled into Emily Sterling's head since her parents divorced over twenty years ago. But now Emily has returned to her father's ranch… only to find herself face-to-face with jawdroppingly hot rancher Clay Whitaker.
Clay is the resident stud expert at the Last Chance Ranch and isn't so keen on "spoiled" city slickers…until Emily arrives. Now he's showing Emily just what a ranch—and a cowboy—has to offer. And luckily for him, it's an offer Emily can't refuse…
Cowboys Like Us
Real cowboys aren't born. They're made…
Logan Carswell has just kissed his professional baseball career goodbye. Goodbye dreams, career and future. For now, though, he's working at the Last Chance Ranch and the town saloon, where sexy bartender Caro Davis is definitely taking his mind off his troubles…
Caro's days have been so hectic, she's forgotten all about the finer aspects of life. Like men. And sex. And really smokin'–hot sex with men like Logan. But when their two worlds collide—and boy, do they ever collide—they both realize that once the gear is off, a cowboy is still a cowboy!
Sound like a good selection of books?  If so, fill out the form and I'll choose a winner in a week or so.  Good luck!