Welcome to Sugarbeat's Books – The Home of the Romance Novel!
Welcome to Friday! We're going to take some time to talk about upcoming events!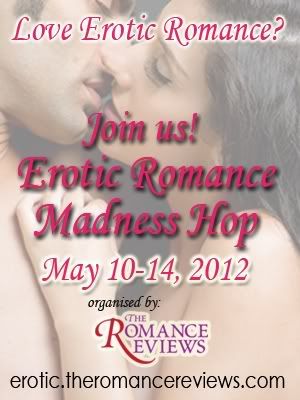 The Romance Reviews is hosting an Erotic Romance Madness Hop.
The date is approaching fast – May 10th to 14th.  Put this on your calendar and stay tuned for more details. Events on The Romance Reviews are always fun and filled with great prizes! I'm not participating in this hop as a blogger/host, but I'm planning on winning some cool prizes and books!  For more information click HERE.
*     *     *     *     *
Now on to books to be released soon….I guess I need to hope for a late season snowstorm to allow me enough time to read….
On May 29th, I'll be sitting waiting for the bookstore to open to get:
Anne Wynter might not be who she says she is…
But she's managing quite well as a governess to three highborn young ladies. Her job can be a challenge— in a single week she finds herself hiding in a closet full of tubas, playing an evil queen in a play that might be a tragedy (or might be a comedy— no one is sure), and tending to the wounds of the oh-so-dashing Earl of Winstead. After years of dodging unwanted advances, he's the first man who has truly tempted her, and it's getting harder and harder to remind herself that a governess has no business flirting with a nobleman.
Daniel Smythe-Smith Might be in mortal danger…
But that's not going to stop the young earl from falling in love. And when he spies a mysterious woman at his family's annual musicale, he vows to pursue her, even if that means spending his days with a ten-year-old who thinks she's a unicorn. But Daniel has an enemy, one who has vowed to see him dead. And when Anne is thrown into peril, he will stop at nothing to ensure their happy ending…
May 22nd is D Day for the next in Karen Hawkin's series.
The fourth book in the Hurst Amulet Series
A DETERMINED EXPLORER
When famed Egyptologist Michael Hurst discovers that the infamous Hurst Amulet is hidden in Scotland, he insists his trusted assistant, Miss Jane Smythe-Haughton, accompany him north. Strangely, the usually unflappable Jane seems perturbed by their destination—the mysterious Isle of Barra. A fascinated Michael watches as his staid assistant transforms, revealing intriguing layers of mystery and vulnerability. Could he be about to uncover not one, but two, precious treasures?
A DAUNTLESS PRINCESS
Once her clan's princess, Jane fled Barra years ago to avoid a forced marriage. Since then, she has made her living as efficient Miss Smythe-Haughton—the perfect (and highly paid) assistant. Now she must confront her secrets . . . including her feelings for her irascible employer, too-handsome-for-his-own-good Michael Hurst.
A PERILOUS PLEASURE
Others are also searching for the missing amulet, however. Can Jane and Michael learn to trust each other in time to solve two riddles: the location of the Hurst Amulet, and the meaning of the vivid passion flaring between them?
And on May 29th, the highly anticipated book from Elizabeth Boyle!  Check out this blurb:
Along Came A Duke
The Duke of Preston is about to take a Bride . . . or so he thinks
The Duke of Preston has ruined more young ladies than Society can tolerate and turns their collective back to him and his family. In order to retake their place in Society, his aunt insists he take a bride to regain their respectability.
What Preston never imagines is that he will fall in love with the most unlikely of ladies–Miss Tabitha Timmons, a vicar's daughter who is cursed in love and vowed never to marry. Now it is up to the notorious duke to change her mind and teach her lesson in love–before the infamous Kempton curse catches up with them.
With 2 books being released on the same day, I guess we know where I'll be for the next few days after that!
What's new on your Friday?