Welcome to Sugarbeat's Books – The Home of the Romance Novel
Welcome also to Steamy Saturdays!
This is one of my favorite days of the week.  This is when I post a review for a book that I have read the is on the steamier side of romance.  Undercover Heat by Sylvie Kaye is a book that I read and reviewed for The Romance Reviews.  Enjoy!
Undercover Heat by Sylvie Kaye
Publisher: The Wilder Rose
Release: Jan 28, 2011
Source: I received this book from The Romance Reviews to read and review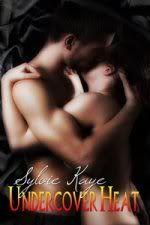 Lori Roberts often mistakes lust for love.  A booty call might be just what she needs to keep her sexually satisfied until she finds Mr. Right.  When her best friend since childhood, Nate Green, offers her just what she needs, lori accepts without hesitation.  With no steady job or girlfriend, he definitely wasn't commitment material.  It was the perfect solution…
…until a mysterious summons jerks Nate from her bed and sends him running for the gun in his car.  Lori suspects Mr. Right Now may be more than he appears.  Can their friendship survive the lust and the secrets or will Lori lose more than her sexual frustrations?
Best friends, booty calls, and suspense all combine to make this book an arousing little erotic mystery.
Lori Roberts  has come to the conclusion that if she has someone she can call for booty calls, she would stop falling in and out of bed with losers.  Her friends are sure they agree with her, but Nate, her best friend since childhood seems to be offering himself up as the "victim".  Who better to satisfy her until she can find "Mr Right" than her studly best friend.  Nate seems to wander from job to job and girlfriend to girlfriend with not much purpose.  Definitely not "Mr Right" material.
This short and spicy little story has all the makings of great entertainment.  It has hot sex, steamy chemistry and a man who keeps a gun in his glove box and keeps disappearing at the drop of a hat.  Although the story itself was entertaining, I felt that the sex scenes were awkward at places.  It was almost as if the natural chemistry that these two had has friends disappeared when they became lovers.  Seasoned author, Sylvie Kaye has put together a sensual happily ever after that will entertain you for an hour or so!
Amazon Purchase Link for Undercover Heat